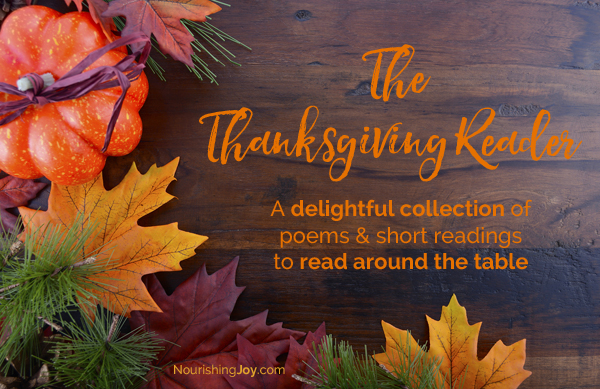 As we gather around the table to feast at Thanksgiving, something profound happens.
Maybe it's because we gather at the same time we know myriads of others are gathering.
Maybe it's because we come extra-mindful of the blessings that fill our lives.
Maybe it's because we're surrounded by family and friends we don't see often.
Or maybe it's because we actually sit down and take the time to rest.
But whatever the reason, gathering to feast and linger together – laughing, crying, sharing, and being deeply present together – is a wonderfully nourishing thing. We come away feeling filled, not just in belly, but in mind and soul.
So, in that spirit, we've put together this Thanksgiving Reader – a small collection of readings to help us give thanks, to be aware of others in need around us, and to give us food for thought so we may grow in thankfulness and deepen our contentment, no matter what life's circumstances may be.
I designed The Thanksgiving Reader so that ANYONE can read together – whether you have a large gathering or small, a gathering with children or with new acquaintances, young or old – these are poems, quotes, prayers, stories, and meditations that can be used however you see fit. It's extremely flexible, so I hope it helps deepen and enliven your time around the Thanksgiving table this year.
So may these readings be a blessing! Use the ones you like, skip the ones you don't, print multiple copies of the ones you'd like people to read together – it's a gift for you to use as you so desire. And please know, as I gather with my family and friends, I give thanks for YOU.


May the joy in your home be nourished in this season!