The Surprise Secret to Thick, Billowy Whipped Cream
This post may contain affiliate links, including those from Amazon.com, which means we earn a small commission off your purchases. And here's the thing: We only mention services and products that we think are truly worth your attention, whether they're free, paid, or otherwise. This site relies on YOUR trust, so if we don't stand behind a product 110%, it's not mentioned. Period.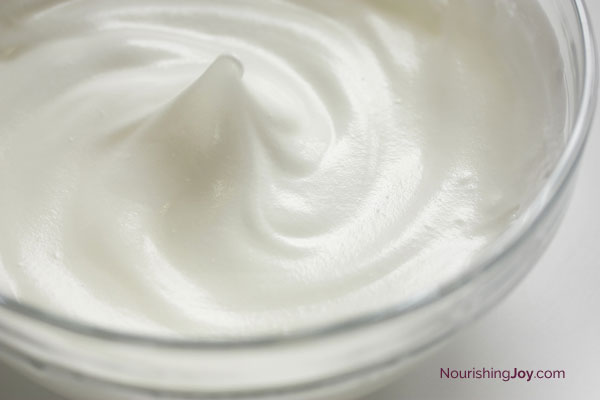 Whipped cream is a delicious addition to pretty much everything, isn't it?
Coffee, caramel apple cider, cake, cupcakes, Thanksgiving pumpkin pie, and just by itself….. (or is that just me?)
However, there's a problem with whipped cream. Because it isn't stabilized with hydrogenated oils like store-bought whipped toppings (yay!), it tends to wilt (boo…).
And thus if you whip it ahead to serve later or if you spread it on cupcakes to serve later, by the time "later" comes, it's lost some of its volume and perhaps even started to weep.
However, there's a simple secret to helping it gain firm, billowy peaks – and KEEP them for 2-3 days.
Well, actually there are two secrets, but the first is good, plain, common sense and best practices when dealing with cream anyway.
So, Secret #1 to thick, billowy whipped cream:
Make sure everything is super COLD when you begin whipping. This means the cream itself, the bowl, the beaters – everything.
And this is rather self-evident: the firmer the fats in the cream are as they are whipped, the firmer (and fluffier) the cream can be as air is whipped in, as it helps hold all those tiny air bubbles in suspension.
However, the true secret to thick, billowy, long-lasting whipped cream is… gelatin.
(Side note: Have you read The Gelatin Secret? It's a jaw-dropping, totally-inspiring read about the largely-unknown health benefits of gelatin. READ IT.)
Gelatin helps stabilize the cream and hold it firm, no matter what the weather or the temperature, so using this trick, you can use whipping cream on a wedding cake in Georgia in summertime just as you can on an ice cream cake in Minnesota in the dead of winter. Of course, food safety guidelines still apply, but the cream will wilt far less than plain whipping cream, so it's incredibly versatile.
So now you know. 🙂
How to stabilize whipped cream with gelatin:
Per quart of whipping cream: Sprinkle 1 tablespoon of gelatin over 1/4 cup cold water in a small saucepan and let bloom. Warm over low heat just until the gelatin is fully dissolved. You can tell by rubbing a bit of the mixture in between your thumb and forefinger – when the gelatin is dissolved, you will no longer feel any gelatin granules. Hold over very low heat.
Using an electric mixer, whip the chilled cream on high speed. When the cream begins to hold soft peaks, drizzle in the gelatin mixture while the motor is running, and continue whipping until the cream holds firm peaks.
Refrigerate for up to 3 days.
This will also work for any flavored whipped cream – just add the dissolved gelatin when the cream begins to form soft peaks.