The Easiest, Fluffiest Mashed Potatoes in the Instant Pot
This post may contain affiliate links, including those from Amazon.com, which means we earn a small commission off your purchases. And here's the thing: We only mention services and products that we think are truly worth your attention, whether they're free, paid, or otherwise. This site relies on YOUR trust, so if we don't stand behind a product 110%, it's not mentioned. Period.
Have you ever heard of the delightful children's book, "Betty Bunny Loves Chocolate Cake"?
It's the story of a little rabbit named Betty Bunny who has never heard of chocolate cake and thus declares it "yucky" – at least, until she tastes it and then loves it so entirely much she wants to marry it and goes through all sorts of capers to attempt to have chocolate cake with her at all times.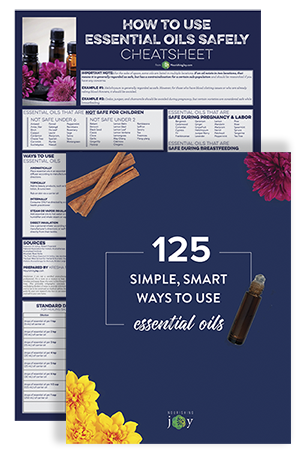 Make using essential oils EASY with our at-a-glance cheatsheets.
Be confident in using essential oils safely AND effectively! Simply click the button to download these two popular cheatsheets and see just how easy using essential oils SAFELY can be.
In our house, that's what could be said of mashed potatoes.
(Needless to say, we eat a lot of mashed potatoes.)
And while making mashed potatoes isn't particularly difficult, it's not exactly easy either. It seems like it should be easy to boil potatoes, drain them, then mash them with a bit of butter and end up with a potato puree that is fluffy, billowy, and light-as-a-feather. At least, that's how easy my mother makes it look. 🙂
Yet somehow, most of the time, mine tended to end up either thick and gloppy or thin and soupy in an attempt to avoid the gloppiness.
(Delicious, certainly, but no billowy clouds of potato, that's for darn sure.)
So I decided to experiment and discovered that making mashed potatoes in the Instant Pot not only solved my fluffiness problem, it actually SIMPLIFIED THE WHOLE PROCESS.
(No more draining! Less cook time! Yay!)
This isn't just a great idea for a day like Thanksgiving when your stovetop is being used for a hundred other uses and you just want to figure out another way to make the Thanksgiving mashed potatoes, making the mashed potatoes in the Instant Pot legitimately makes them EASIER, FASTER, and BETTER.
And since I was so happy with the results after the first round of mashed potatoes in the Instant Pot, I became obsessed with discovering other secrets to achieve fluffy mashed potatoes every time. (This is important stuff, after all. Heh. ) So in true Hermoine Grainger fashion, I consulted my favorite books. In this case, my old and trusty copy of The Professional Chef, Julia Child's gorgeous tome, and The Joy of Cooking. The best "aha" tips I learned in my quest are shared in the instructions below.
So now I make mashed potatoes in the Instant Pot every time. It saves my sanity and we eat mashed potatoes more often, which is great for our budget AND for ensuring smiles and happy eating around the table. It's comfort food – heart-food – at its best.
Use Our Unique Thanksgiving Guide
Get All the Thanksgiving Recipes You Need
Whether you're looking for planning tools, breakfast and leftover recipes, or last-minute feasting inspiration, our Thanksgiving guide will help you enjoy your entire Thanksgiving Day.
Perfect Mashed Potatoes in the Instant Pot
Perfect, fluffy, delicious mashed potatoes every time!
Ingredients
7-8

russet potatoes

,

about 2 ½ lbs, enough to fill a 6-quart Instant Pot about two-thirds full when chopped

1

cup

water

¼

cup

butter

¼

cup

milk, cream, or olive oil

¼

cup

sour cream or cream cheese

,

optional

1

teaspoon

unrefined salt

¼

teaspoon

black pepper

,

more to taste

1

bunch fresh chives

,

minced, for serving
Instructions
Wash and peel the potatoes, then chop roughly into 1-inch pieces. Place the pieces in the insert of an Instant Pot and add 1 cup water.

Choose the "Manual" setting and cook on high pressure for 12 minutes, then let the pot depressurize for five minutes or so before opening the vent and releasing the pressure. (Word to the wise: Potato water will splatter considerably if the pressure is still high, so cover the vent with a tea towel or dish cloth before turning it.)

Remove the insert and place on a heatproof counter or cutting board (as the bottom of the pot will still be quite hot). Mash the potatoes until they are mealy and in small pieces, then add the butter, milk, sour cream, salt, and pepper and mix until well incorporated. Taste and adjust seasonings as desired, adding more butter or cream if necessary.

To serve, mince the chives and sprinkle generously over the potatoes.
Notes
Russet potatoes are one of the secrets to absolutely fluffy mashed potatoes, due to their particular starch content. Any other potato will work as well, but mash them as little as possible to keep them from getting thick and heavy. Russets are definitely preferred. 🙂
Another secret to getting fluffy potatoes rather than lumpy ones is to mash the potatoes when they are HOT, not warm or chilled, so mash them and add the add-ins as soon as possible after cooking. You can refrigerate and reheat the finished mashed potatoes, if desired, but avoid cooling the cooked potatoes before they are mashed.