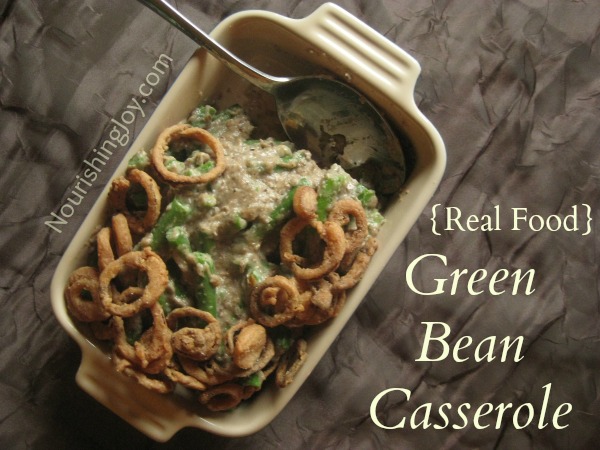 So, what are the essential parts of any green bean casserole?
The green beans, the cream of mushroom soup, and the french-fried onions, right?
This beloved casserole has earned a place of honor on our Thanksgiving table each year, but up until a few years ago, it consisted of opening cans of green beans, opening cans of soup, and yup – opening a can of french-fried onions to whip up and bake to perfection.
But as my family has been on our whole foods journey in the last few years, Green Bean Casserole put me in a conundrum – what to do with our beloved favorite?
Well, as long-time readers of this site know, I have a love of reverse engineering, so as I was writing my cookbook – The DIY Pantry – I made sure there were solidly good recipes for all of the above-mentioned convenience foods so that my family and and yours could once again indulge in this classic holiday side dish.
Now, a word to the wise – the evaporated milk takes a while to make. If you want a much quicker version, feel free to use canned evaporated milk, but preferably find a brand that doesn't contain carrageenan, such as this one, if you can. (Although, that one is fat-free, so choose your poison.)
However, if you really don't want to make your own evaporated milk and can't find an acceptable brand, you can substitute a ratio of one part cream to three parts milk for the evaporated milk when making the cream of mushroom soup, but it won't have quite the same texture. (It will be yummy, nonetheless!)
UPDATE – NOVEMBER 2016: Really don't want to make your own ingredients – or don't have time? There are more and more acceptable store-bought versions available these days, which even two years ago wasn't the case. (Yay!) So, if you're wanting a store-bought organic cream of mushroom soup, try this one or for French-fried onions, these ones are spectacularly delicious. I've also seen acceptable French-friend onions at places like Trader Joe's, so definitely look around in your area.
Happy cooking!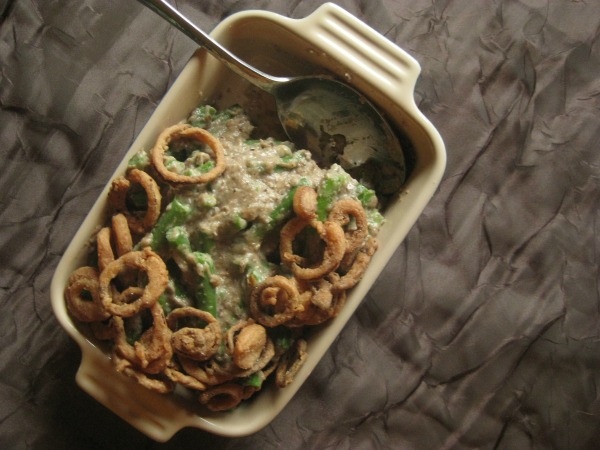 Real Food Green Bean Casserole
2013-11-16 15:09:43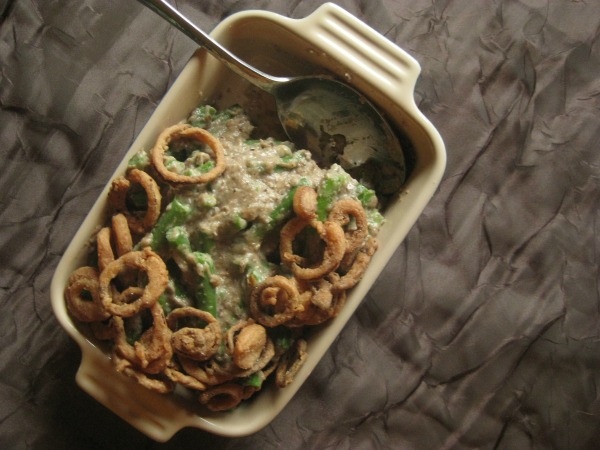 Serves 6
Ingredients
2 pounds green beans, snapped into 2-inch pieces
a dash of traditionally-fermented soy sauce (see where to buy traditional soy sauce)
a dash of Worcestershire sauce (see how to make a homemade version in The DIY Pantry
1/8 teaspoon black pepper
2 cups condensed cream of mushroom soup (see recipe below)
2 cups French fried onions (see recipe below)
Instructions
Preheat the oven to 350°F.
Bring a large pot of water to a boil, then add the beans. Cook until tender but still bright green, 6-8 minutes. Drain well.
Place the beans in a large bowl and add the soy sauce, Worcestershire sauce, pepper, and the cream of mushroom soup. Mix well.
Place in a square casserole dish and bake until bubbly, 15-25 minutes (depending on whether your soup base was hot or cold). Add the French fried onions on top and bake for another 5-10 minutes until the onions are crispy and golden.
Serve hot.
Nourishing Joy https://nourishingjoy.com/
Another helpful hint: if you make the onions and the evaporated milk a day or so ahead, you'll be able to pull this dish together in a jiffy.
Here are the links to the other homemade parts of this casserole, if you so desire…..
Homemade Condensed Cream of Mushroom Soup