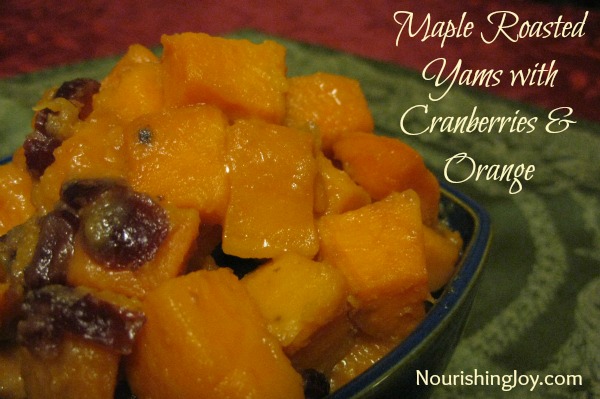 Thanksgiving is coming up in the United States and so in honor of the day, I'm posting one of my all-time favorite holiday dishes – bite-size pieces of roasted yam glazed with buttery, caramelized maple syrup and accented with dried cranberries and fresh orange juice. Even though I love every part of the traditional Thanksgiving feast, this is the dish that I purposely double every time so that there are plenty of leftovers for days to come. It's been on my holiday menu for nearly 15 years and I still look forward to it each fall.
The yams are sweet, but not sickeningly so like they are when they're smothered with marshmallows or even brown sugar. And the marriage of cranberry and orange will always hold a place in my heart (and on my taste buds): anytime they show up together in a recipe – be it in bread, cake, yams, or a condiment – I swoon just a little bit each time they're together.
And when eaten in moderation, this is a nutrient-dense dish to bring to the holiday table. As with most naturally brightly-colored foods, both sweet potatoes and cranberries are high in cancer-reducing phytonutrients and antioxidants. Beta carotene, vitamin A, and potassium also show up in abundance in sweet potatoes, while cranberries possess the unique ability to keep troublesome bacteria from binding to the stomach and digestive tract, thus reducing urinary tract infections and stomach ulcers. The orange-fleshed variety of sweet potatoes to which we have ready access are basically cancer-fighting, anti-inflammatory, blood sugar regulating, anti-oxidant, downright delicious tubers! The caratenoids (such as beta carotene) and vitamins are most bio-available when eaten with a few grams of fat, supplied here by butter, but to be honest, there's far more butter here than the bit that is needed to carry the vitamins into our systems – that's for all that delicious buttery flavor!
Maple Roasted Yams with Cranberries and Orange
Adapted from Bon Appetit magazine
Serves 8-10
You could also mash the yams with the syrup before roasting – just add the syrup mixture in small amounts so that the yams don't get drowned. Save any leftover syrup to stir in just before serving, if desired.
Ingredients:
5 lbs orange-fleshed yams, peeled & cut into 1-inch pieces
1 cup pure maple syrup
1 stick of butter (8 tablespoons) butter, melted
2-4 Tbls. orange juice concentrate OR juice from one large orange (approx. 1/2 cup)
2 tsp. grated orange peel (optional)
1/2-1 cup dried cranberries (I always eyeball and just do two big handfuls)
Method:
Preheat oven to 350 degrees Fahrenheit and bring a large pot of salted water to a boil. Cook cubed yams in the water until they just begin to soften, about 3 minutes. Drain and transfer to a 13×9 baking dish.
In a saucepan, melt butter over medium heat and add orange juice and maple syrup.  Return to a gentle boil and simmer until it thickens just a bit, 3-5 minutes. Pour mixture over yams.
Bake yams uncovered just until tender, about 30 minutes, stirring gently every 10-15 minutes. Mix in cranberries. Continue baking until yams are very tender and juices form a thick glaze around the yams, about 15 minutes longer. Remove from oven, stir, and serve!

[social_warfare]