This post may contain affiliate links, including those from Amazon.com, which means we earn a small commission off your purchases. And here's the thing: We only mention services and products that we think are truly worth your attention, whether they're free, paid, or otherwise. This site relies on YOUR trust, so if we don't stand behind a product 110%, it's not mentioned. Period.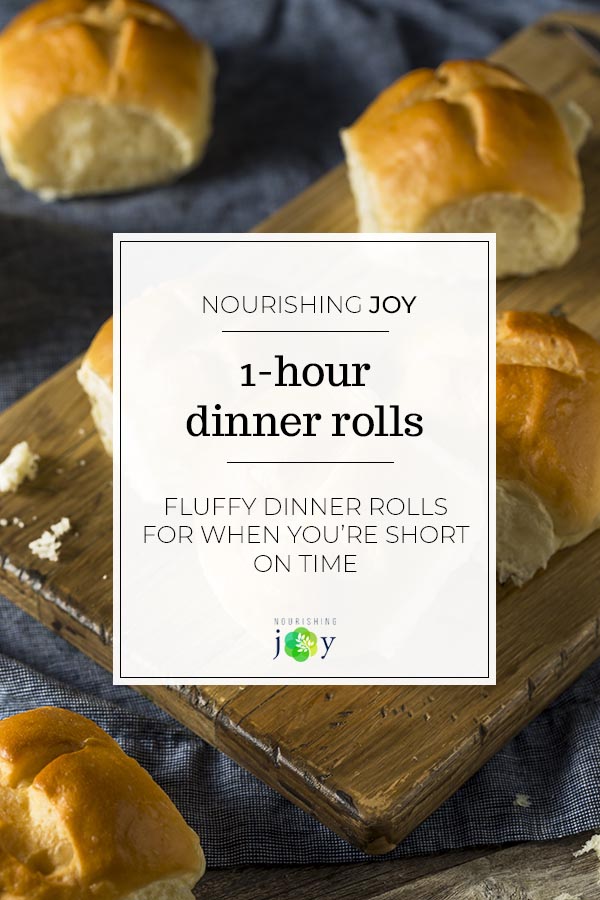 Oh, how I love dinner rolls, especially at Thanksgiving, Easter, and other feasting holidays. Or with pulled pork – they're scrumptious then, too. 🙂
Of course, I love them at the meal itself, but even BETTER is when they're available for leftovers. I absolutely swoon over a Thanksgiving Leftovers sandwich, piled high with leftover turkey and cranberry sauce and made with one of these dinner rolls, which of course has been slathered with Dijon mustard and a bit of mayonnaise.
But – I digress. Since you've landed on a 1-Hour Dinner Roll recipe, I'm assuming you're on a mission and are needing to find a quick dinner roll recipe tout suite.
Thus, I won't keep you waiting. All you need to know is that these dinner rolls are delicious and if you're efficient at pulling the ingredients together, they do indeed prep AND bake within the course of an hour. (Although if you're like me and tend to have multiple dishes – or toddler dramas – going on at once, I usually count on 90 minutes. But that's only because I tend to be distracted.)
But what about their flavor and texture, you ask? Doesn't the rise time typically give dinner rolls their fluffy, melt-in-your-mouth texture?
Yes, indeed!
BUT by using a stand mixer to do an extended kneading time and by upping the yeast by a teaspoon or so from a regular dinner roll recipe, these quick dinner rolls still come out fluffy and delicious. They have a bold, yeasty aroma and they're not *quite* as tender as a long-rise dinner roll, but you certainly won't be disappointed!
Happy feasting!
1-Hour Dinner Rolls
The power of a stand mixer and a bit of extra yeast are the two secrets for this quick recipe.
Ingredients
1

tablespoon

butter

,

for greasing the pan

1 ½

cups

warm milk or water

,

100°-110°F

¼

cup

cane sugar or honey

1

tablespoon

active dry yeast

¼

cup

butter

,

melted

1

teaspoon

coarse sea salt

1

egg

4

cups

all-purpose flour
Instructions
Preheat oven to 400°F. Generously butter a 9"x13" baking dish and set aside.

Pour the warm milk in the bowl of a stand mixer, then add the sugar and sprinkle over the yeast. Stir briefly with a fork, then let stand 5 minutes to bloom.

Add the melted butter, salt, egg, and 3 cups of the flour. With the dough hook, mix on medium speed for 5 minutes.

After the dough has mixed for 5 minutes, add the remaining flour and continue to mix on medium speed for an additional 10-15 minutes. About halfway through the additional mix time, the dough should begin to pull away from the sides and slap the sides of the bowl.

When the dough is soft but still slightly sticky, scrape the dough onto a floured work surface, then divide the dough into fourths. Divide each fourth into three equal pieces. Briefly roll each piece into a loose ball and place the balls into the prepared baking dish, forming a 3x4 array. If you've got an extra minute or two, you may snip an "X" into the tops with a scissors or lame, if desired, to allow for maximum rise while they bake.

Cover with a kitchen towel and let the dough rise until doubled in size, about 10 minutes.

Bake until golden brown, 18-22 minutes.

After removing from the oven, quickly brush the tops with melted butter, then remove from the pan to cool on a cooling rack or place immediately in a serving basket to keep warm.
Notes
These rolls can be stored at room temperature for 5-6 days, although they're best when eaten fresh. They can also be frozen in an airtight container for up to 3 months and reheated, straight from the freezer, in a warm oven.
Quick prep notes: In a hurry? Be sure to take a couple of minutes to prep everything so you can bake quickly! You'll want to get the butter melting and the milk warming, unless you use warm water straight from the tap. Sugar will be quicker to measure than honey.