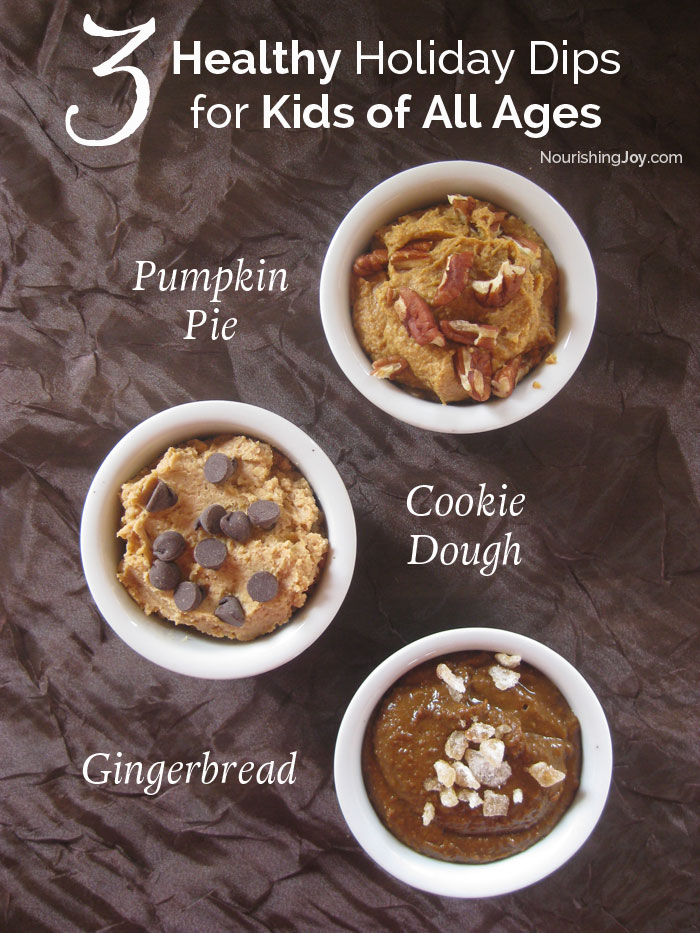 Need a holiday appetizer or everyday snack that everyone will love? These healthy, sweet dips please pretty much anyone who partakes!
The secret? Beans! In these dips, chickpeas provide a subtle nutty flavor and a gorgeous silky texture. And because chickpeas (garbanzos) form the base of the dip, they offer a good amount of protein, vitamins, and minerals, and they're perfect for dipping with apples, bananas, strawberries, or even homemade graham crackers.
Thus, these dips are lovely as an appetizer for holiday get-togethers, an after-school snack, or a healthy school lunch.
And feel free to play around with flavors – perhaps a caramel dulce or peppermint patty or maybe something involving homemade almond paste….. regardless of the flavor, festivity abounds with these dips that seem to disappear at any party.
You can also lacto-ferment any of these by stirring in 2 tablespoons fresh whey from yogurt or milk kefir and let sit at room temperature for 4-6 hours. Make the good even better! The flavor doesn't change, but you'll increase the gut-healing probiotic goodness.
With that, happy noshing!
(By the way, you may notice below that I've called these dessert-like-dips, "hummus." I use the word "hummus" loosely, as the only similarity between these versions and original, classic hummus is a chickpea base, so no worries – there's no garlic or tahini in sight here!)
Cookie Dough Hummus Dip
2014-11-13 18:49:36
makes approximately 2 cups
Ingredients
1 1/2 cups cooked garbanzo beans
3 tablespoons nut or seed butter, such as peanut butter
2 tablespoons maple syrup
4 tablespoons butter, at room temperature
1 teaspoon ground cinnamon
1 teaspoon vanilla extract
large pinch sea salt
1/4 cup chocolate chips, preferably fair-trade and soy-free, such as these
Instructions
Place beans in the bowl of a food processor and pulse until crumbly. Add remaining ingredients except chocolate chips and grind until the mixture is smooth. Scrape into a serving bowl. When ready to serve, top with chocolate chips. Serve immediately or reserve in the refrigerator for up to three days.
Nourishing Joy https://nourishingjoy.com/
[social_warfare]