Homemade French Fried Onions
This post may contain affiliate links, including those from Amazon.com, which means we earn a small commission off your purchases. And here's the thing: We only mention services and products that we think are truly worth your attention, whether they're free, paid, or otherwise. This site relies on YOUR trust, so if we don't stand behind a product 110%, it's not mentioned. Period.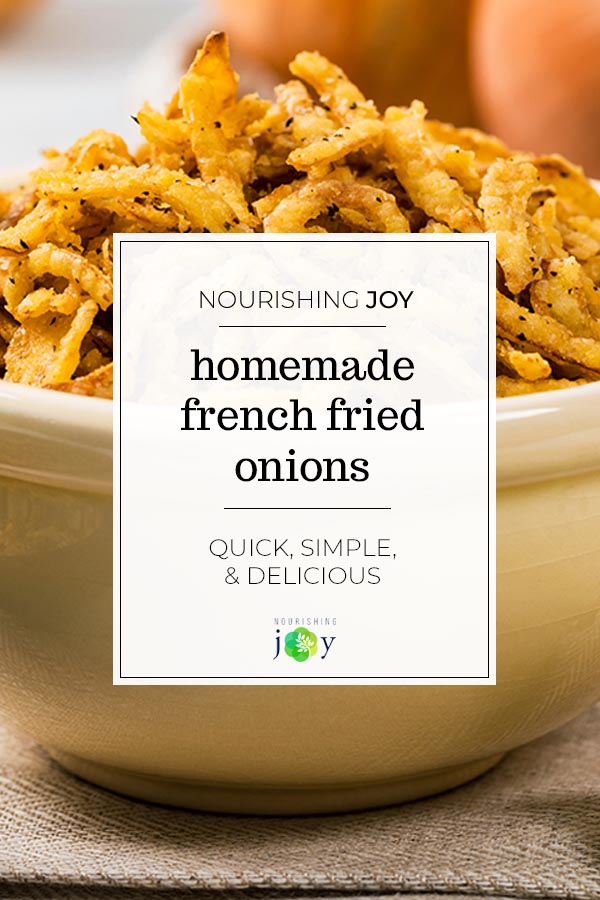 Like many, Green Bean Casserole is a staple at our Thanksgiving and holiday feasts.
Who knows where this tradition began (I'm hoping it wasn't a Campbell's executive who mandated a recipe be devised to peddle their products one Thanksgiving long ago, but I can't find any previous source unfortunately……), but it certainly has stuck, that's for sure.
And what is Green Bean Casserole without French Fried Onions? These crispy onions truly make the casserole – in fact, I used to buy an extra can just to snack on while we MADE the casserole. 🙂
This homemade version is just as additive – in fact, maybe even more so – and they're made with healthy fats without any additives. Now I'm EXCITED to serve Green Bean Casserole once again!
Enjoy!
Real Food French-Fried Onions
Ingredients
1

large onion

,

sliced very thinly

2

cups

milk or buttermilk

1½

cups

flour

,

any variety, including gluten-free varieties

1

teaspoon

unrefined sea salt

Black pepper

,

to taste

⅛

teaspoon

cayenne pepper or smoked paprika

2-3

cups

palm shortening, lard, tallow, or your favorite deep-frying oil (enough to have about 2" of heated oil in your pot)
Instructions
Separate all the onion strands and layer them in a wide bowl or shallow baking dish. Pour the milk over and let them sit for 20–30 minutes.

Meanwhile, sift the spices into the flour in a large bowl and heat the oil over medium-high heat until it's hot. (If you slip one onion strand in, it should bubble vigorously without splattering. On a thermometer it's about 375°F.)

Working in small batches, grab a handful of onion strands from the bowl, shake off the excess milk, dredge them in the flour, shake off the excess flour, and then drop them into the hot oil. Stir lightly to keep them from sticking. Remove when they're golden brown, 2–3 minutes.

Drain on paper towels and use immediately for best flavor and crunch. Store in an airtight container at room temperature for up to 3 days.
Notes
If you need to be grain-free, feel free to skip the breading altogether, as these will still crisp up quite nicely. Be sure to rinse and drain the onion strands thoroughly after soaking them in the milk if you skip the dredging.