We love feasting!
Use our online guide to find delicious, healthy, soul-satisfying recipes for the holidays >>
Welcome!
Natural, non-toxic living made beautifully simple.
Because what's the point of living healthy if there's no joy?

For well over a decade, Nourishing Joy has equipped and encouraged parents who want to make healthy changes in their homes and live lives that feel purposeful – even when life is really busy and really (really) hard. We're particularly known for our in-depth guides for essential oil safety, DIY pantry staples, and herbal remedies.
As part of our parent company, Ethical Green Living, we're proud of the reputation we've earned for being willing to ask hard questions, weigh pros and cons, dive deep into academic research to ferret out facts so we can help you make informed decisions, and do it all with a whole lot of grace.
We're firmly dedicated to the belief that there is more to life than overwhelm and that simple and natural is best.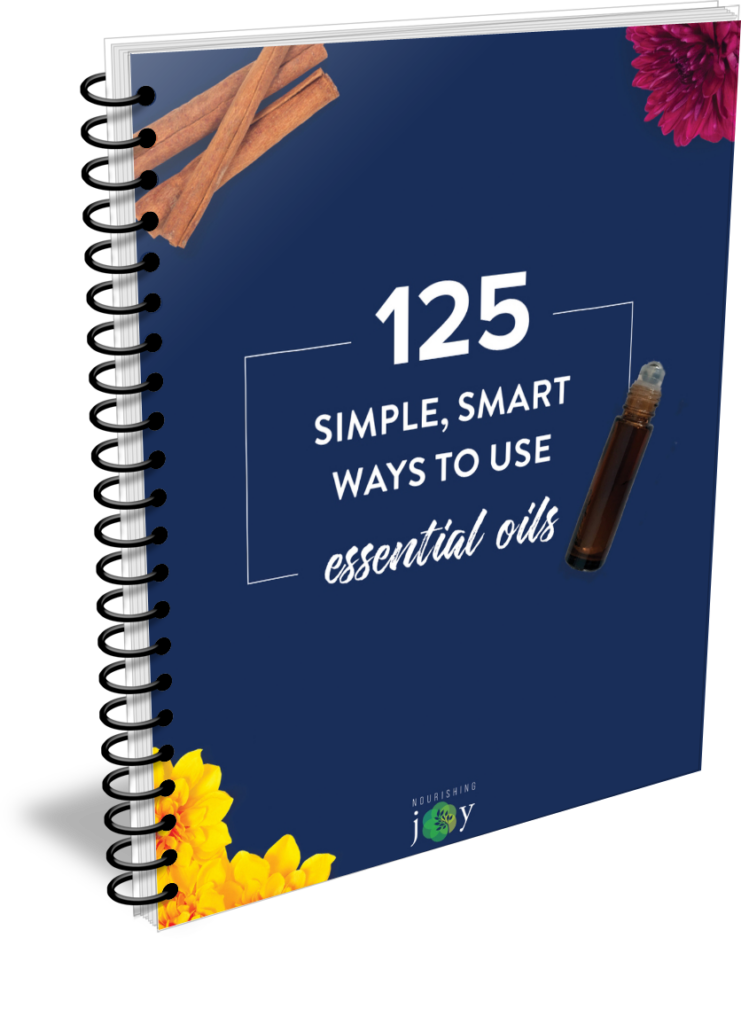 Discover 125 easy + effective ways to use essential oils.
Essential oils can have a dramatic effect on mood, sleep, and general well-being. They're also an easy way to make your home smell wonderful. So using them should be simple!
In this guide, you'll get 125 simple, creative essential oil recipes.
Get Our Newsletter
Join the thousands of subscribers
who have said "yes!" to simple, healthy living.
Our newsletters are packed with encouragement and tips that *actually* help you make REAL changes to live a healthy, vibrant life.
Hi, I'm Kresha!
I'm an author, herbal educator, and busy mom of four on a mission to make natural, purpose-filled living SIMPLE – or at least, simpler.
As a busy mom, wife, teacher, volunteer, and business owner, I know exactly what it's like to try to keep all the balls in the air. Life is often hard – and even more so when you're striving to be intentional and thoughtful as you raise your children and make natural living second-nature in your home.
No matter whether you're wanting to create a sustainable off-grid homestead in the country or a healthy urban oasis in your tenth-floor apartment, if you're passionate about feeding your family well, making mindful decisions about your family's purchases, raising your children to be compassionate and rigorously inquisitive, about living free of the toxins and chemicals that surround us in our daily lives, and about making a difference in the world – then you're in exactly the right place. 😊
This site exists because I long for you to be able to create a natural, joy-filled, non-toxic home, as well as raise your children purposefully AND have more time for the things you love – without losing the JOY in the journey.
You can see more about what we do HERE.
Buy the book
Our book, The DIY Pantry, makes it simple to ditch processed foods and eat healthier.
The DIY Pantry is available at booksellers worldwide. You'll find 150+ recipes for pantry staples that you used to buy but can now easily make at home, including crackers, cookies, condiments, cake mixes, beverages, breads, soups, and SO MUCH MORE.
You can also see more books and printables in our shop.