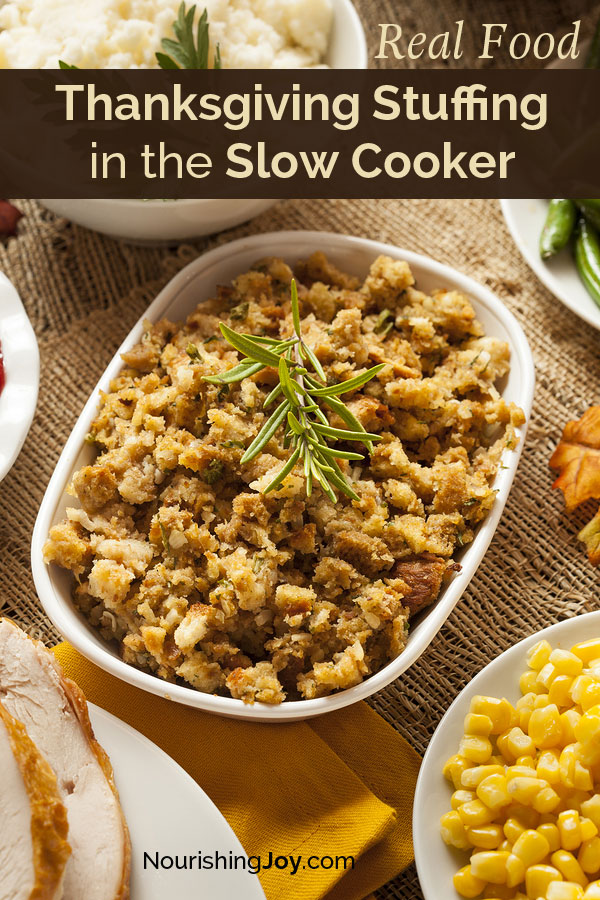 Stuffing might just be my absolutely favorite part of the traditional Thanksgiving feast.
The problem, however, is that even when you plan well, the oven tends to be needed for several dishes right before serving, stuffing being one of them.

Download our handy planner:
The 4 Secrets to a Stress-Free Feast & Thanksgiving Meal Planning Made Easy.
So, considering that stuffing is really just a glorified bread pudding, why not move it to the slow cooker? We make bread pudding regularly in our slow cooker, and stuffing works beautifully!
And as an added bonus, if you are responsible for bringing the stuffing to this year's gathering, just pack the prepped ingredients and your slow cooker and you're golden. 🙂
This recipe is based both on the stove-top stuffing recipe in my book, The DIY Pantry, and the shortcut version I mentioned in our Sunday Morning Bread Pudding article. You're certainly welcome to add other favorite stuffing items, such as cranberries, apples, or sausage, if those are ingredients you love – it's versatile.
In fact, you can use any stuffing recipe you'd like – grain-free, gluten-free, an old family favorite, whatever you like! Just follow the cooking instructions below (and make sure any meats, such as sausage, are pre-cooked).
See More Thanksgiving:
I hope you swoon as much as I do each time I scoop lovely, savory stuffing onto my plate, giving great thanks for the deep blessings in my life, which certainly includes the opportunity to feast with those whom I love dearly!
A very happy Thanksgiving to you all!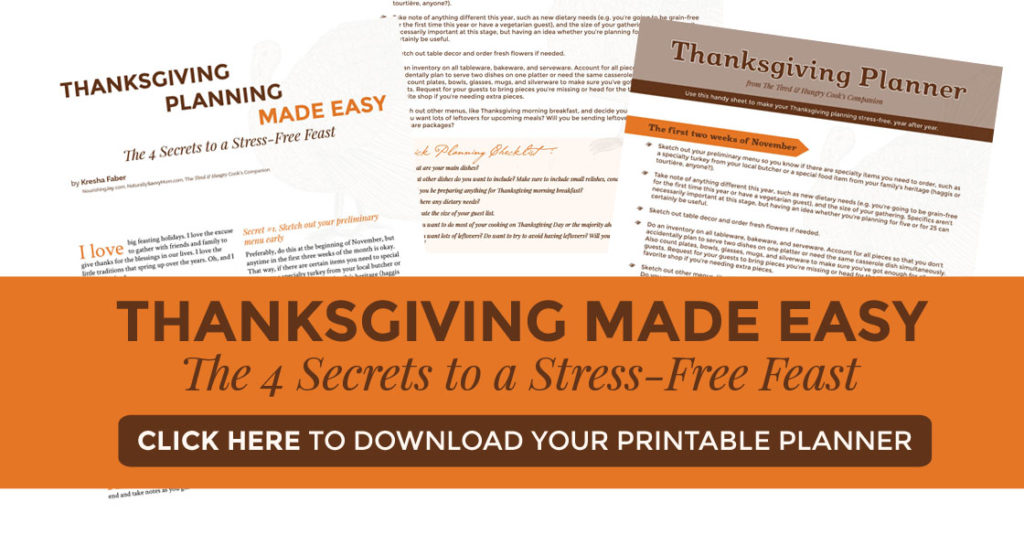 Slow Cooker Thanksgiving Stuffing
2014-11-22 20:23:02
serves 6-8
Ingredients
6-8 cups dried bread cubes, any variety, including grain-free varieties (from 1 pound of bread)
4 tablespoons butter
3 stalks celery, finely chopped
1 onion, finely chopped
1 teaspoon dried sage, or 3-4 fresh leaves finely minced
1 teaspoon dried thyme, or the leaves from 3 fresh thyme sprigs
1 teaspoon finely chopped fresh or dried rosemary leaves
1 teaspoon sea salt
1/4 teaspoon black pepper
1 1/2 - 2 1/2 cups chicken or turkey stock
Instructions
If your bread is not yet stale, chop it into cubes and dry it in a 300°F oven for 25-30 minutes, stirring once. I prefer to leave the cubes out on the counter for a day or two to dry, if possible.
Place dry bread cubes in a large bowl and set aside.
Generously butter the inside of your slow cooker insert and keep at the ready. (Alternatively, line the slow cooker with 2-3 overlapping pieces of parchment paper. I love this eco-friendly parchment paper and have used it for years. It makes clean-up SO much easier!)
Melt butter over medium heat until melted and the foaming has subsided, then add the celery and onion and sauté until translucent. (If using sausage, crumble and cook the sausage first and use the sausage drippings to saute the celery and onion.) Add the herbs and saute until fragrant, about 30 seconds.
Add the sauteed celery, onions, and herbs to the bread cubes, along with the salt, pepper, and 1 1/2 cups of the chicken stock. Toss well, adding more stock if the cubes are still very dry, then pour into the prepared slow cooker, cover, and cook on low for 4-5 hours.
When ready to serve, scoop stuffing into a serving bowl and top with additional herbs or fresh parsley, if desired.
Alternatively, if you have a large slow cooker, find a heatproof bowl that fits inside your slow cooker. Butter that bowl and pour the stuffing mix into it. Place the bowl in the slow cooker and add just enough water to the slow cooker around the bowl (NOT inside the bowl!) to come halfway up the sides of the bowl. Cover the slow cooker and cook on high for 4-5 hours.
Nourishing Joy https://nourishingjoy.com/