Thanksgiving Slow Cooker Stuffing: Recipe + Tips
This post may contain affiliate links, including those from Amazon.com, which means we earn a small commission off your purchases. And here's the thing: We only mention services and products that we think are truly worth your attention, whether they're free, paid, or otherwise. This site relies on YOUR trust, so if we don't stand behind a product 110%, it's not mentioned. Period.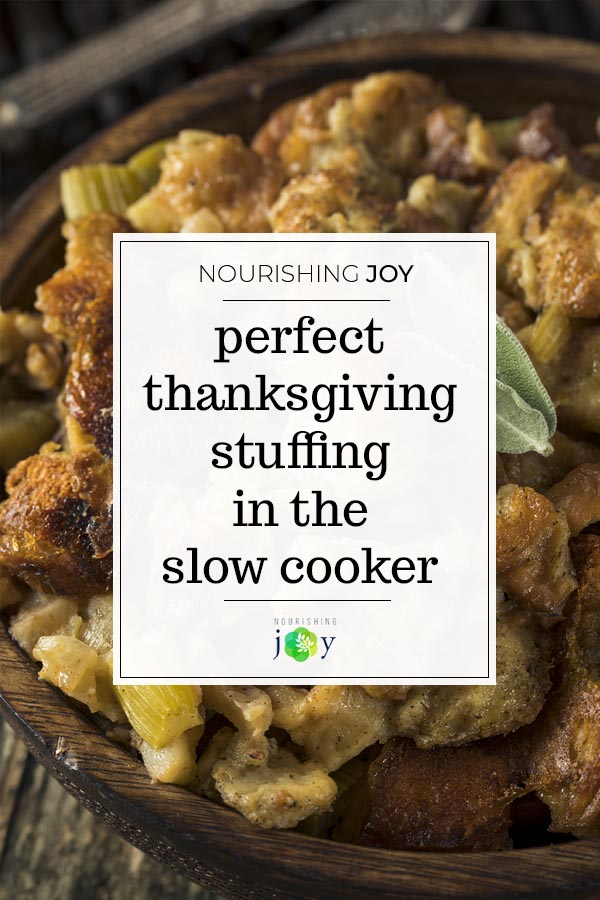 Slow cooker stuffing is your new secret weapon for Christmas, Thanksgiving, and all those cozy fall days when you just want comfort food for dinner…
Stuffing might just be my absolutely favorite part of the traditional Thanksgiving feast.
The problem, however, is that even when you plan well, the oven tends to be needed for several dishes right before serving, stuffing being one of them.
So, considering that stuffing is really just a glorified bread pudding, why not move it to the slow cooker? We make bread pudding regularly in our slow cooker, and stuffing works beautifully!
And as an added bonus, if you are responsible for bringing the stuffing to this year's gathering, just pack the prepped ingredients and your slow cooker and you're golden. 🙂
This recipe is based both on the stove-top stuffing recipe in my book, The DIY Pantry, and the shortcut version I mentioned in our Sunday Morning Bread Pudding article. You're certainly welcome to add other favorite stuffing items, such as cranberries, apples, or sausage, if those are ingredients you love – it's versatile.
In fact, you can use any stuffing or dressing recipe you'd like – grain-free, gluten-free, an old family favorite, whatever you like! Just follow the cooking instructions below (and make sure any meats, such as sausage, are pre-cooked).
Tips for Making Stuffing in the Slow Cooker or Crock-Pot: Your Questions Answered
How do I know when I've added enough liquid?
No matter whether you're using chicken broth, turkey stock, or water, the amount of liquid matters.
Also, the moisture level in whatever bread you're using can vary greatly depending on how dry it is, how large the cubes are, what kind of bread it is, etc.
That said, there's zero need to stress about getting the amount of liquid right when making this slow cooker stuffing recipe. Dried bread is rather forgiving, and you can most definitely make perfect Thanksgiving stuffing with varying amounts of liquid!
There are two rules of thumb I like to follow when adding liquid to the stuffing mixture:
Use less liquid than you think you'll need. You can always add more, but you can't take it away. Also, other ingredients, such as celery, will be sweating out their liquid during cooking, which will add to the total moisture content.
Remember that the stuffing will become softer and moister as it cooks. As you stir, you want bread pieces that still feel firm but are beginning to wilt or appear soft at the edges. (It's totally okay if some pieces are soggy, but you don't want all of the pieces soggy.)
Do I need to sauté the vegetables before I add them to the slow cooker?
Thankfully, no, but you're more than welcome to do so if you so desire. 🙂 Here's why sautéing isn't required:
Magazines and chefs that advocate for sautéing the vegetables (such as celery and onion) first have good reason for doing so. Anytime you brown or caramalize vegetables, you highlight the rich and savory flavors of those vegetables, which deepens your final stuffing.
It also makes all those flavors meld – typically this is a wonderful, desired outcome, but in the case of stuffing, you want that sweet, earthy flavor of celery and onion present and balanced in the final dish, not hidden to merely provide a rich and savory base for the bread and spices.
Obviously, this is a matter of preference, so if you have time, by all means sauté the vegetables if you desire, but this is one time when I advocate that skipping the sauté step isn't just a shortcut, it's preferable!
Besides, if you're needing to get the dressing made NOW because it's already Thanksgiving morning and you want to move on to working on other dishes, then by all means, toss in the vegetables raw and don't worry one iota about having "done it wrong." There is no wrong here – only delicious. 🙂
Why is this stuffing recipe made without eggs? Can I make stuffing with no eggs?
Yes, absolutely stuffing can be made without eggs.
Eggs are often included in stuffing recipes for a number of reasons: to act as a binder, to create a more custard-y texture, and to create a rich flavor. All good reasons, but none of which are actually *needed* to create a flavorful, delicious stuffing.
So, for the sake of simplicity and because the recipe below simply tastes delicious just the way it is, I've left the eggs out.
Eggless stuffing – who knew?! 🙂
What size of slow cooker or Crock-Pot® do I need to make stuffing in the slow cooker?
A 6-8 quart size slow cooker is easiest and is the size that is used in the recipe below, but you can use any size. Here are a few best practices to keep in mind:
The stuffing will likely expand by 10-20% while it cooks (perhaps a bit more if you use a recipe that includes eggs), so don't fill the slow cooker more than 3/4-full when you pour the stuffing mix in.
You can definitely use a larger slow cooker for a larger amount, but you may want to stir it after the first three hours to aid in even cooking and may need to add an additional 30-60 minutes on the cook time.
A smaller slow cooker will work just fine for smaller amounts, but it will likely only fit enough stuffing for 1-2 people. You may want to check the stuffing after two hours to make sure it's not burning on the edges.
As I've said before, making dressing in the slow cooker is super-versatile!
How do I know when the stuffing is done?
Whether you cook your stuffing or dressing in the oven or in the slow cooker, the stuffing is finished when the middle is piping hot. According to the USDA, this is when the middle reaches at least 165°F.
This is particularly important if you have made the dressing with a poultry stock or have included meats or mushrooms. If you've made the dressing with water and vegetables only, then it's not as critical, but you still want to serve it hot and fully cooked!
And if you want crispy edges, you'll definitely want to leave it in the slow cooker for at least 4-5 hours. Just peek in on it every 30 minutes or so after the initial 3 hour cook time to decide when it's done to your liking.
Can I customize the stuffing recipe?
Absolutely! The recipe below is the classic Thanksgiving stuffing recipe, but you can customize it however you like. Common riffs on the classic theme use sausage, mushrooms, peppers, fresh herbs, and even corn. Cornbread stuffing is a Thanksgiving tradition for some, as well.
These directions can be used for cooking any stuffing in the slow cooker. If you already have a favorite family stuffing recipe, or need a gluten-free stuffing, or simply want to try something new – they'll all work well in the slow cooker. Just make sure your bread or cornbread is well dried before you start and pay attention to your moisture content using the tips above to keep your stuffing from getting soggy.
Note: I can't guarantee the outcome of other stuffings when they're made as a slow cooker stuffing, particularly grain-free or gluten-free ones, simply because there are so many different ways to make breads using non-grain flours. However, the ones I have tried have worked just as well in the slow cooker as in the oven.
Can I make box stuffing or packet stuffing in the slow cooker?
Absolutely! You can make any stuffing in the slow cooker, including the packaged varieties. Just skip the recipe below and follow the package instructions for prepping the stuffing cubes.
Once everything's mixed according the package instructions, simply follow the cooking instructions below. Super simple!
Does this stuffing recipe taste anything like Mrs. Cubbison's?
Actually, yes!
In my early adult years, "cooking for Thanksgiving" meant going to the store and buying everything in convenience packages: frozen bread rolls, cranberry sauce in a can, and definitely Mrs. Cubbison's stuffing. That was my absolute favorite.
Once I started cooking with real food from scratch, it was definitely my intention to create a Thanksgiving stuffing recipe that tasted as much like Mrs. Cubbison's as possible.
The good news is that whether you cook entirely from packages or entirely from scratch, making stuffing in the slow cooker is simple and delicious either way.
Can I make slow cooker stuffing from cornbread?
Definitely! As I mentioned above, you can customize this recipe however you like, including using cornbread or gluten-free breads.
The recipe below doesn't use cornbread, but as long as your cornbread is well-dried so that it doesn't get overly soggy during cooking, you can definitely use your favorite cornbread stuffing recipe and cook it in the crockpot.
What's the best bread for making stuffing?
Honestly, you can make delicious stuffing with ANY kind of bread (although I don't recommend cinnamon-raisin in this particular application – heh).
I've made delicious stuffing with at least a dozen different types of bread, each with their own textures and flavors, but all using the same techniques and the same delicious outcome. 🙂
One way I make this easy is that I've gotten in the habit of drying leftover bread. Whenever we've had bread at a meal – my husband's no-knead sourdough bread, our favorite dark rye, Sunday morning's brioche, hot dog buns, bagels, etc – I toss any crusts and leftover pieces on a baking sheet so they can dry out undisturbed. Once they're dry, they keep for months and are ready whenever we want to make stuffing, bread pudding, or strata.
All that said, the best bread for stuffing is any hearty bread that can be easily sliced, which makes it easy to cut and dry uniform cubes. For flavor, whole wheat bread or rye bread blend particularly well with the savory herbs and spices that are traditional in stuffing. Yum, yum!
If you purchase bread cubes from the store or your local bakery, be sure to purchase unseasoned ones. This is both because you want to be able to add your own herbs and spices as part of the recipe, but also because commercial seasonings tend to have the types of preservatives and additives that we eschew as eaters of real food. 🙂
(The herbs and spices are provided in this recipe, but if you want the simplicity of already-flavored bread cubes, toss them with homemade poultry seasoning or homemade chicken bouillon powder.)
How to Dry Bread for Stuffing
There are two ways to dry bread for stuffing:
Dry the bread on the counter: Tear or cut the bread into large cubes (1 – 1 1/2 inch) and leave them on the counter uncovered for 24-48 hours. Turn the cubes occasionally.
Dry the bread in the oven: Preheat oven to 300°F. Tear or cut the bread into large cubes (1 – 1 1/2 inch) and scatter them on a baking sheet, making sure they're in one single layer. Bake 25-30 minutes or until dried, stirring once. Remove from the oven before bread toasts or browns. (A little browning won't hurt, but more will change the flavor of the stuffing.)
Do I have to calculate the cook time exactly to be ready for serving time?
The beauty of slow cooker stuffing is that it is so incredibly flexible. The stuffing can be served right as it finishes cooking or it can sit for hours waiting for everything else to be done.
That said, here are a few tips for perfect slow cooker stuffing with regard to how long it sits:
The stuffing is ready to serve after the first three hours of cooking. If it's going to sit longer than that, switch the slow cooker to the "Keep Warm" setting, if your slow cooker has it. Otherwise, keep it on the lowest temperature your slow cooker will allow to keep the edges from burning.
Stir the stuffing every 30 minutes or so to keep the edges from becoming overly crunchy, if desired. (This may be skipped if you used parchment paper to line the insert.) If the stuffing sits for several hours, you may also want to add 3-4 tablespoons of water every couple of hours.
Can I make and bake stuffing a few hours ahead then transfer to a crockpot to keep warm?
Yes, absolutely! No matter whether you use the stuffing recipe below or use your own favorite recipe, you can certainly use the slow cooker just to keep the stuffing warm, regardless of whether you baked it in the oven or cooked it on the stovetop.
Here are a few tips:
Butter the slow cooker insert or line it with parchment paper up the sides so that the stuffing doesn't stick as it sits.
Stir it every 30-60 minutes if you don't want crispy edges.
Keep the temperature low. Set your slow cooker at the lowest temperature it will allow.
If the stuffing is going to sit for several hours, you may want to add an additional 2-3 tablespoons of water every 2-3 hours.
What can I make ahead in this recipe?
As long-time readers of this site know, I am a HUGE advocate for prepping ahead as a remedy and strategy for stress-free meals. (Don't believe me? I've created all of our meal plans and our entire Meal Planning Toolkit around that concept.)
In the case of feasts and large meals, prepping is even more advantageous.
So what can be made ahead for slow cooker stuffing? Here are a few options:
Up to 1 month ahead: Dry the bread cubes. Once dry, store in an airtight container in the freezer. Remove from the freezer to sit on the counter 12-24 hours before making the stuffing. Let them come to room temperature before making the stuffing.
Up to three days ahead: Dry the bread cubes. Once dry, store in a paper bag or other container that allows a bit of air flow.
Up to three days ahead: Measure and mix the spices so they're ready to dump in. Store in an airtight container.
The day before: Chop the vegetables. Cover and refrigerate.
Happy Thanksgiving!
I hope you swoon as much as I do each time I scoop lovely, savory stuffing onto my plate, giving great thanks for the deep blessings in my life, which certainly includes the opportunity to feast with those whom I love dearly!
A very happy Thanksgiving to you all!
Thanksgiving Slow Cooker Stuffing Recipe
A simple way to make classic Thanksgiving stuffing without eggs that's perfectly moist and frees up room in the oven.
Ingredients
6-8

cups

dried bread cubes,

any variety, including grain-free varieties (from 1 pound of bread)

4

tablespoons

butter

3

stalks

celery,

finely chopped

1

onion,

finely chopped

1

teaspoon

dried sage,

or 3-4 fresh leaves finely minced

1

teaspoon

dried thyme,

or the leaves from 3 fresh thyme sprigs

1

teaspoon

finely chopped fresh or dried rosemary leaves

1

teaspoon

sea salt

¼

teaspoon

black pepper

1 ½ – 2 ¾

cups

chicken stock, turkey stock, or water
Instructions
Dry the bread cubes, if necessary. If your bread is not yet dry, chop it into cubes and dry it in a 300°F oven for 25-30 minutes, stirring once OR leave the cubes out on the counter for a day or two to dry, turning occasionally.

Prepare your slow cooker insert. When ready to cook, generously butter the inside of a 6-quart or larger slow cooker insert and keep at the ready. (Alternatively, line the slow cooker with 2-3 overlapping pieces of parchment paper. It makes clean-up SO so so much easier!)

Melt butter. Melt butter over medium heat and reserve.

Combine all dry ingredients and spices. Place dry bread cubes, celery, onion, herbs, salt, and pepper in a large bowl. If you're customizing the recipe, add all other ingredients at this time. (Safety note: if you're customizing the recipe and using ingredients such as sausage or bacon, be sure they are precooked before adding to the mixture.)

Pour over the wet ingredients and toss. Pour over the melted butter and toss briefly, then drizzle over 1 1/2 cups of stock and toss again. At this point, the cubes should feel mostly firm, but slightly soft around the edges; the mixture should not appear soggy. If the cubes still seem dry, add more stock 1/4 cup at a time, tossing well after each addition.

Cook. Scrape into the prepared slow cooker, cover, and cook on low for 3-4 hours.

Stir, if desired, and place on "warm." At the end of the cook time, switch the heat to the "Keep Warm" setting, if your slow cooker has that option. Otherwise, keep it on the lowest setting your slow cooker will allow.

If you haven't used parchment paper, stir the stuffing every 30 minutes or so to keep the edges from burning or becoming overly crunchy. If it sits for several hours, you may also want to add 3-4 tablespoons of water every couple of hours.

Serve. When ready to serve, scoop stuffing into a serving bowl and top with additional herbs or fresh parsley, if desired.
Use Our Unique Thanksgiving Guide
Get All the Thanksgiving Recipes You Need
Whether you're looking for planning tools, breakfast and leftover recipes, or last-minute feasting inspiration, our Thanksgiving guide will help you enjoy your entire Thanksgiving Day.