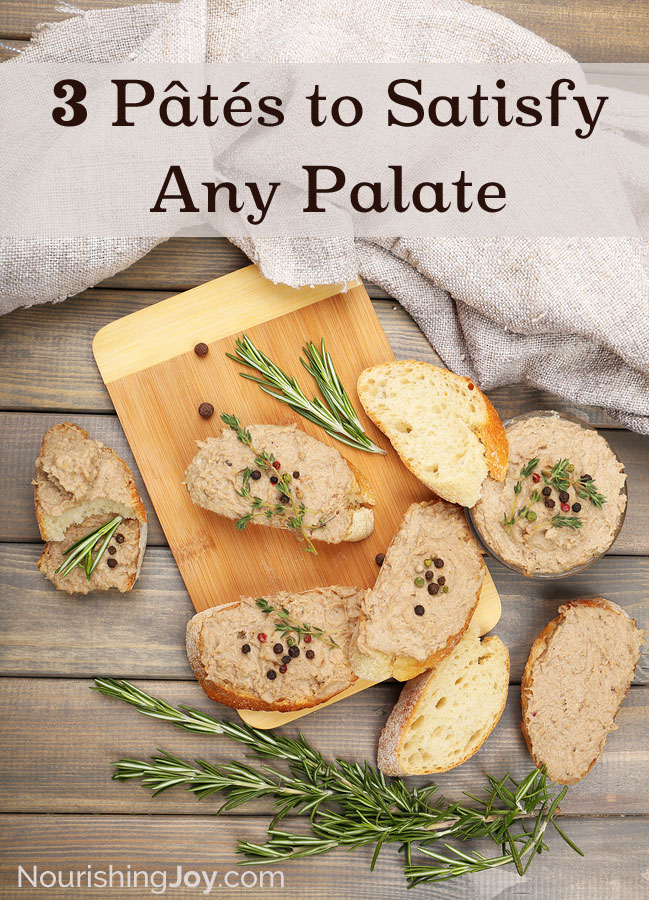 Liver is a super-food. Many balk and squirm at the thought of eating it, perhaps from memories of over-cooked liver and onions splatted on a plate at some point in their childhood memories, but it has been considered a delicacy by people the world over for centuries. It's also one of the most nutrient-dense foods available. Pâté is what I connotate the most with liver and I have come to crave pâté for its deep, rich, salty taste.
Liver is like the multi-vitamin of the food world – only better, obviously, since the vitamins are natural rather than synthetic and easily bio-available. Vitamin A and Vitamin D, especially if the animal was pastured, are present in abundance, as well as large amount of folate. (A small 3-oz serving of beef liver provides more than half of a woman's daily recommended intake of folate!) All the B-vitamins show up in great prominence, as does iron and the trace minerals copper, zinc, and chromium. All in all, it's food that does a body good.
But there's still the hurdle of actually eating the liver. That's where delicious recipes come in – I've been on a kick lately trying to find the best ways to prepare liver and I've poured through my various recipe collections and come up with these favorites pâtés. Admittedly, all three of these recipes are from the French tradition of cooking, so if you would like to try a pâté that doesn't use alcohol or would just like a slightly different take on these yummy delights, be sure to check out this Scandanavian liver pâté from The Bare Ingredients.
As always, if at all possible, source your liver from pastured animals. Vitamin D, in particular, disappears from the nutrient list if the animal was not exposed to natural sunlight. And if the Vitamin D is not present, then the Vitamin A is nearly unusable by the body. All the nutrients interplay with each other and if you're not eating grass-fed, pastured animals, the nutrient balance becomes difficult to discern – this is especially true for liver and butter, which are foods where nutrients tend to concentrate. Obviously, it's not always possible to find pastured animals, so just use the best quality, non-conventionally-raised ingredients you can find as a substitute if needed.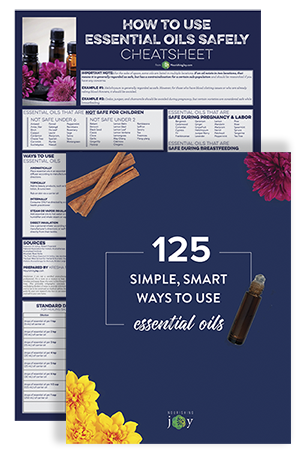 Make using essential oils EASY with our at-a-glance cheatsheets.
Be confident in using essential oils safely AND effectively! Simply click the button to download these two popular cheatsheets and see just how easy using essential oils SAFELY can be.
Also, in all of these recipes, it is definitely preferable to use ghee or clarified butter instead of whole butter when cooking the livers, as the regular butter will burn during the process.
Here's a tip: To cut down on the "liver-y" flavor, soak your livers ahead of time by placing them in a deep bowl and covering with fresh water and the juice of 1 lemon. Lift each piece of liver to make sure the lemon water gets in between each piece, then set aside in the refrigerator for 8-12 hours. When you're ready to make your pâté, drain the water and proceed with the recipe as normal.
Chicken Liver Pâté with Sage
1 lb livers from pastured chickens
4-5 oz clarified butter
8 oz regular or clarified butter, at room temperature
2 large shallots, roughly chopped
1 clove garlic, coarsely chopped
2 Tbls. fresh sage, snipped OR 1 Tbls. dried sage
½ cup brandy, cognac, or sherry
salt and pepper to taste
fresh sage leaves (to garnish)
Rinse chicken livers gently to remove any excess blood.
Heat the 4 oz clarified butter in a skillet until melted. Add the diced shallots and sauté until just starting to brown. Add the chicken livers.
Simmer until livers are browned through, the liquid has largely cooked away, and the livers begin to fall apart.
Add the garlic and sage and cook until fragrant, about 30 seconds, then deglaze the pan with brandy. Continue to cook until brandy has nearly completely evaporated. Remove the mixture from the heat and allow it to cool.
Place liver mixture and the remaining butter to your food processor and process until smooth.
Place pâté in a serving bowl and set in the fridge for a few hours or overnight, but bring to room temperature prior to serving. Serve with sourdough toasts or whole grain crackers. (Or just eat it straight off the spoon, as my one-year-old does with great gusto…)
Variation – Duck Liver Pâté with Herbes de Provence: this lovely smooth pâté can also be made by substituting an equal amount of duck livers using either duck fat or clarified butter for the sauté, and replacing the sage with 1 1/2 tsp. dried herbes de provence.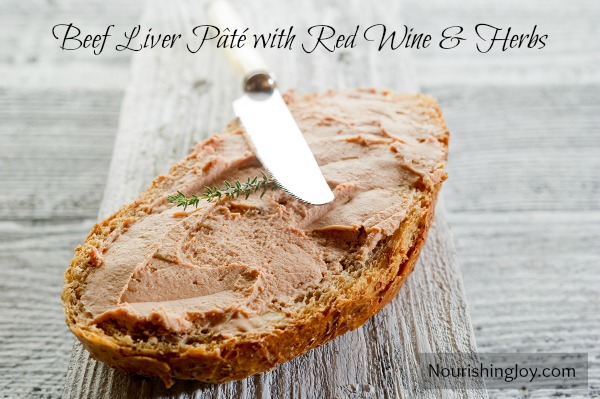 Beef Liver Pâté with Red Wine and Herbs
1 lb. beef liver, cut into pieces
2 Tbls. clarified butter
6 oz. regular or clarified butter, at room temperature
1 small red onion, chopped
1/2 cup red wine
2 cloves garlic, crushed
1 teaspoon dijon mustard
1 sprig fresh rosemary
1 sprig fresh thyme
1 tablespoon lemon juice
salt
cracked black pepper
Sauté the liver and onions in 2 tablespoons of the butter until the livers are browned and the onions are tender.
Add wine, garlic, mustard, herbs and lemon juice and cook uncovered until most of the liquid has evaporated.
Cool and blend in the food processor until smooth, along with the remaining butter. Add salt to taste.
If the pâté is dry and crumbly rather than smooth and creamy, add more butter one tablespoon at a time.
Place the pâté in a serving dish and grind a generous amount of cracked pepper over the top.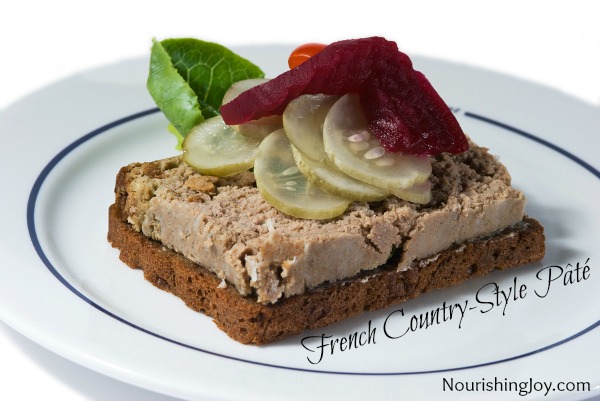 French Country-Style Pâté
Country-style pâté is not a spreadable pâté like the others here, but it is more like a meatloaf traditionally served with mustard and cornichons. It makes a lovely summer lunch when accompanied with a salad with fresh vinaigrette.

I can take no credit whatsoever for this recipe – this was passed onto me by the born-and-bred French chef at the restaurant where I work. I have deep respect for this man and his sensibilities about food and this pâté is one of my absolute favorites. I have adapted it just slightly so that his recipe will remain his own, but this version is also absolutely lovely and elegant, yet simple enough for everyday fare.
2 lb. pork shoulder, ground
1 lb. chicken livers, chopped
2 shallots, roughly chopped
1 Tbls. dijon mustard
1/4 cup brandy
2 Tbls. green peppercorns or 1/2 tsp. fresh ground black pepper
1/4 cup pistachios (optional)
salt to taste
2 eggs
2 1/2 tsp (1 envelope) unflavored gelatin bloomed in 2 cups cold water
Preheat oven to 450F and prepare a bain marie (water bath) by filling a 9×13 cake pan half-full with warm water.
Place pork, livers, and shallots in a food processor and process until finely chopped. Add mustard, brandy, peppercorns, salt, and eggs and process again until all ingredients are incorporated. You don't need a completely smooth, homogenous mixture. Add pistachios if using and pulse to mix.
Place meat mixture in a large, buttered bread pan and cover with foil. Place in the bain marie – the water should come at least halfway up the sides of the bread pan. Bake in the oven for approximately 1 1/2 hours until a thermometer reads 160-165F. Refill the bain marie occasionally with hot water if necessary.
When the pâté is cooked, remove it from the bain marie and brush it with a generous coating of the gelatin. As it cools, pour several light applications of gelatin over it to let it sink in and to create a protective coating on the outside of the pâté. This will keep it moist and succulent. Cool in the refrigerator until completely cold, then unmold and wrap in plastic wrap or place in a glass storage container.
To serve, slice the pâté into 1/2 inch slices. Serve with a selection of mustards, pickles, olives, hard-boiled eggs, or sliced tomatoes, and pair it with other charcuterie, a green salad, or rustic breads.
[social_warfare]