Homemade Condensed Cream of Mushroom Soup
This post may contain affiliate links, including those from Amazon.com, which means we earn a small commission off your purchases. And here's the thing: We only mention services and products that we think are truly worth your attention, whether they're free, paid, or otherwise. This site relies on YOUR trust, so if we don't stand behind a product 110%, it's not mentioned. Period.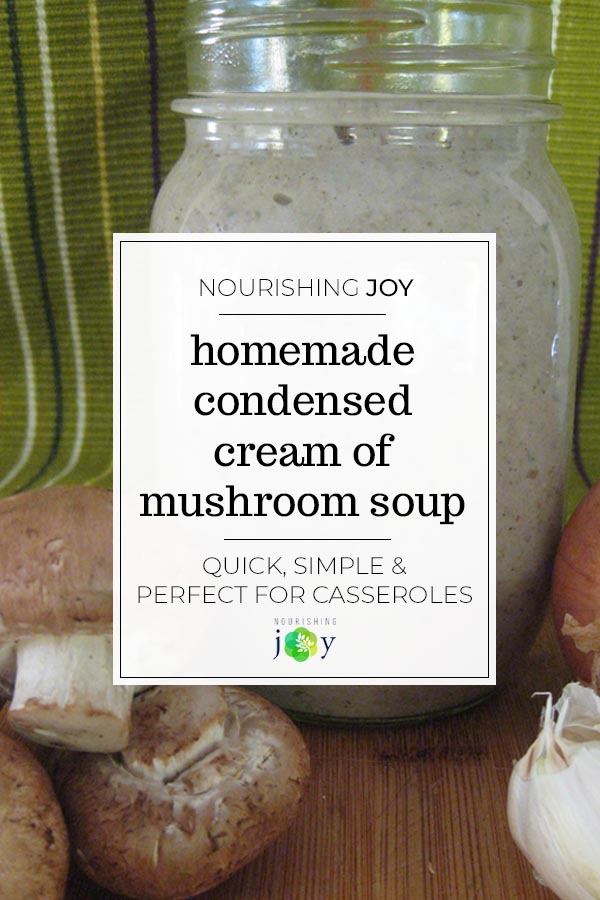 One of the quintessential ingredients in many homemade casseroles is Cream of Mushroom Soup. Mix a few vegetables, toss in cream of mushroom soup, stir, and bake.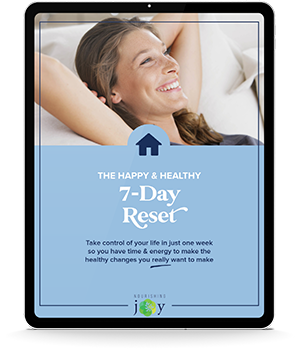 More calm, less chaos.
Use our step-by-step method to take charge of your life so you have time for what *really* matters.
It really is an amazing convenience food, which is why it has been a bastion of "home cooking" for decades.
The problem is that cream of mushroom soup – as well as other store-bought "cream of…." soups – is made more of industrially refined ingredients than it is of whole food. According to Campbell's Away from Home division, the ingredients in their classic cream of mushroom include:
WATER
MUSHROOMS
VEGETABLE OIL (CORN, COTTONSEED, CANOLA, AND/OR SOYBEAN)
MODIFIED FOOD STARCH
WHEAT FLOUR
SALT
MONOSODIUM GLUTAMATE
SOY PROTEIN CONCENTRATE
DEHYDRATED CREAM (CREAM [MILK], SOY LECITHIN)
YEAST EXTRACT
FLAVORING
DEHYDRATED GARLIC
Blech.
But cream of mushroom soup is so darn yummy – and so convenient! Thus, a few years ago I decided a homemade version was most definitely in order.
This is the recipe I included in my book, The DIY Pantry, and it makes the equivalent of one can of CONDENSED soup. If you'd like to make more to have on hand (so that it's just as convenient as having the cans ready to grab), just scale up the recipe accordingly.
Also, please note that this is a CONDENSED version – I've created this recipe specifically to have a homemade version on hand to replace the cans of condensed soup, and while it certainly makes a delicious soup to eat just as soup (as opposed to in a casserole) and provides excellent real-food convenience, if you're just in the mood to have mushroom soup for dinner, I recommend this recipe from Simply Recipes.
How to Store Homemade Cream of Mushroom Soup
One of the best reasons to make homemade cream of mushroom soup is to have it on hand for convenience. But unfortunately it can't be canned at home easily, as the pH is too high to do it safely.
Thus, your best best is to freeze it in useable portions.
However, do change just one ingredient in the recipe if you freeze it: switch out the cornstarch for tapioca starch. Cornstarch tends to turns spongy when frozen, while tapioca remains more stable. Arrowroot is not recommended, unfortunately, as it renders dairy products slimy and ropy. So tapioca starch is the winner here. 🙂
If you don't have tapioca starch on hand, you can use flour and butter to create a traditional roux and add the blended ingredients, but it is quite thick (since it's a concentrate), so it sometimes burns quickly, which is the reason I've created the recipe using starch in the blending phase rather than the roux method. This also has the advantage of being gluten-free. 🙂 However, if roux is your only option, go for it!
And if you'd prefer not to freeze it, you can always skip this recipe altogether and use our homemade mushroom bouillon cubes to pull together a sauce the next time you need to make a casserole. 🙂
Use Our Unique Thanksgiving Guide
Get All the Thanksgiving Recipes You Need
Whether you're looking for planning tools, breakfast and leftover recipes, or last-minute feasting inspiration, our Thanksgiving guide will help you enjoy your entire Thanksgiving Day.
Homemade Condensed Cream of Mushroom Soup
The cream of mushroom soup that schlops out of a can doesn't hold a candle to the flavor of real cream of mushroom soup. This condensed soup version, though, mimics the texture and versatility of the canned variety, while capturing the richness and flavor of using all real ingredients.
Ingredients
½

of an onion,

coarsely chopped

2

cloves

garlic,

coarsely chopped

4

tablespoons

cornstarch,

(use tapioca starch if you're going to freeze the soup)

4

tablespoons

butter,

at room temperature

2

cups

evaporated milk

2

tablespoons

Worcestershire sauce

1 ½

teaspoons

sea salt

¼

teaspoon

black pepper

⅛

teaspoon

smoked paprika,

optional

2

teaspoons

dried parsley,

optional

16-20

large mushrooms,

any variety, coarsely chopped
Instructions
Purée the ingredients. Place all ingredients except for the mushrooms in a blender and combine until the mixture is fairly smooth.

Pulse in the mushrooms. Add the mushrooms and pulse until well blended but still a bit chunky.

Simmer the mixture. Pour the entire mixture into a large saucepan and bring to a very gentle simmer over medium heat, about 5 minutes. Reduce heat to medium-low and continue to cook until thickened, 6–7 minutes, whisking often.

Use or prepare for storage. Use the mixture immediately or store in the refrigerator for up to one week. It may also be frozen for up to 3 months, although the texture may change slightly (it's still delicious and will work just fine in a casserole).
To Use in a Casserole:
Stir and bake. Mix the condensed soup with the other casserole ingredients, according to the casserole recipe. Bake as directed.
To Prepare as a Soup:
Heat with milk or water. Heat the condensed soup with one cup of water or milk and simmer until heated through.
Notes
If you don't have evaporated milk on hand, feel free to substitute 1/2 cup heavy cream and 1 1/2 cups milk in its place. It changes the texture slightly, but it's still gorgeously delicious, so it's an easy replacement.