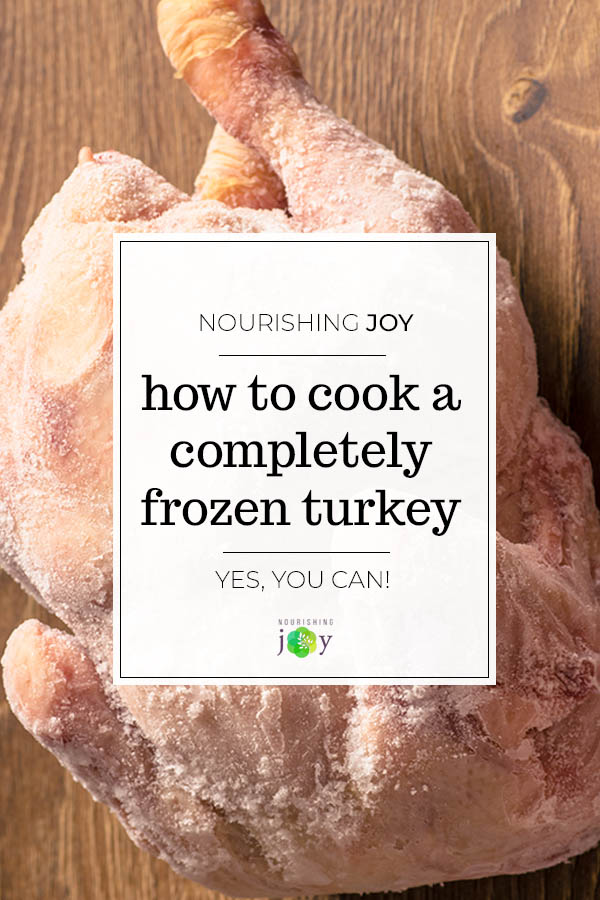 It's Thanksgiving morning…
It's Thanksgiving morning and – either purposely or accidentally – you've got a frozen turkey on your hands.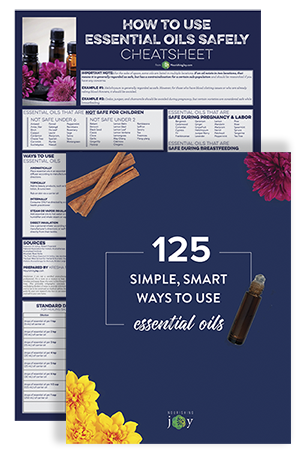 Make using essential oils EASY with our at-a-glance cheatsheets.
Be confident in using essential oils safely AND effectively! Simply click the button to download these two popular cheatsheets and see just how easy using essential oils SAFELY can be.
And you want to serve your feast in just a few hours, preferably WITH the main course safely and deliciously at the center of the table.
So, what to do????
First of all, let me assure you there is ZERO reason to panic – at least half of the time, I cook my turkey and chickens straight from the freezer and in some ways, I actually prefer to cook them that way. You can't do any fancy brines or spice rubs and the giblets are still stuck inside (if they were originally packed that way), but the meat tends to stay quite juicy and the skin browns gorgeously (perfect for those of us who like crispy, crunchy skin).
So, since you've got a dinner to make, let's speed through this…
How to Cook a Frozen Turkey
First of all, this is as simple as it gets – it's even easier than our usual foolproof method: simply toss your turkey into a roasting pan (preferably on a rack inside the roasting pan, but hey, at this point we won't be picky), then bake at 325°F until it's fully cooked – anywhere from 4-8 hours. (See the cook times chart below.) Just remember – it takes at least 50% longer to cook a frozen turkey than a thawed bird, so allow for extra time.
(For a partially thawed turkey, the cook time will simply be somewhere in between.)
? Cook Times for a Frozen Turkey ?

* Bake at 325°F.

* The turkey is finished when all parts of the meat register 165°F or above.

Fully Thawed
Frozen
4 to 8 pounds (breast)
1½ to 3¼ hours
2¼ to 4¾ hours
8 to 12 pounds
2¾ to 3 hours
4 to 4½ hours
12 to 14 pounds
3 to 3¾ hours
4½ to 5½ hours
14 to 18 pounds
3¾ to 4¼ hours
5½ to 6½ hours
18 to 20 pounds
4¼ to 4½ hours
6½ to 6¾ hours
20 to 24 pounds
4½ to 5 hours
6¾ to 7½ hours
There are a few things you'll want to remember, however:
No stuffing inside. Not only does stuffing make the cook time take longer since the stuffing has to come fully to temperature as well as the bird, but having the stuffing inside the turkey tends to dry out the meat due to the extended cook time. It's not recommended by the USDA normally, and it's definitely not recommended when the bird starts from frozen or partially frozen. That's where our slow cooker Thanksgiving stuffing comes beautifully to the rescue.
Deal with the giblets partway through cooking. It will be impossible to remove the giblets from the inside of the turkey before cooking unless you have a hacksaw and want to cook turkey halves. Thus, simply remove them whenever the turkey is cooked enough to be able to reach into the cavity. This is especially important if your giblets were packed in plastic (after all, no one wants their turkey with a side of plastic), but you also want them to add flavor to the gravy or as a gourmet Thanksgiving treat for your pet. Use a fork or a pair of tongs to make pulling them out easy. 🙂
The magic number is 165°F. Your turkey is finished when the entire bird registers at or above 165°F. The thigh will likely get there significantly ahead of the breast, but that's okay, because the dark thigh meat can typically withstand extra cooking without becoming dry much better than the white breast meat. The meat cooks from the outside in, so the outside will register as "done" long before the more inward layers, so in order to test for doneness, you'll want to check in at least five places around the bird, including the thigh and the breast at varying depths.
Oven only. As delightful as it might be to deep-fry, smoke, or barbecue a turkey, those methods only work – both for safety and for flavor – when the bird is fully thawed. When you're cooking a frozen turkey, roasting it in the oven is the only way to go.
Is it safe to cook a frozen turkey???
Yes, indeedy. It's even USDA-approved.
In order to be safe, no part of the bird can be within the "danger zone" – that is, between 40°F and 140°F – for more than two hours. As long as your oven stays above 325°F through the cook time, your meat will go quickly through this zone and remain safe.
But what to do with all the other dishes that need the oven?
One of the downsides of cooking a frozen turkey is that it takes up precious oven space for even longer. So what to do with all the side dishes that need to go in too?
Thankfully, many dishes can be relegated to other cooking methods and turn out delectably. For example, try moving the stuffing into the slow cooker and make the mashed potatoes in the Instant Pot. They both work wonders. 🙂
Happy Thanksgiving to you and yours! May your day be enormously peaceful and may your home be nourished by joy.
[social_warfare]