25 Christmas Morning Breakfast Recipes
This post may contain affiliate links, including those from Amazon.com, which means we earn a small commission off your purchases. And here's the thing: We only mention services and products that we think are truly worth your attention, whether they're free, paid, or otherwise. This site relies on YOUR trust, so if we don't stand behind a product 110%, it's not mentioned. Period.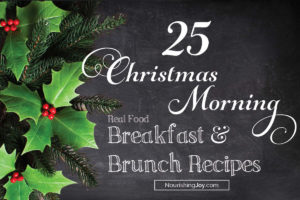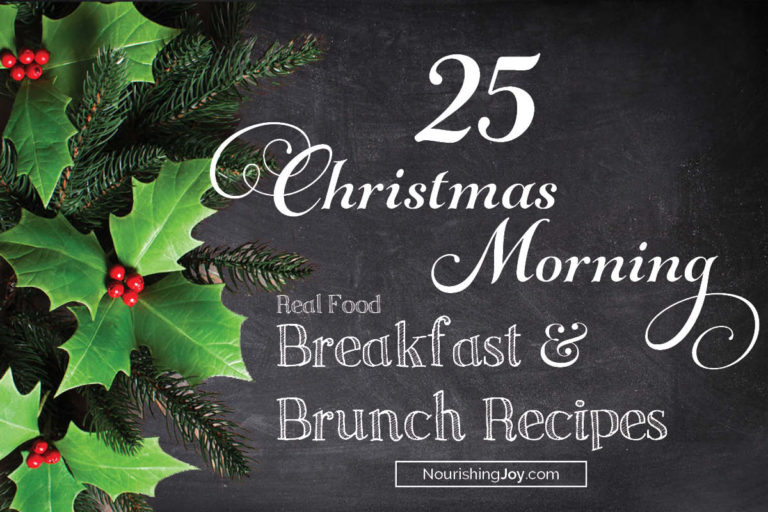 There's something special that happens at holiday meals – but morning meals especially, when everyone is still in their pajamas, the scent of winter spices fills the air, and no one is rushing anywhere.
When the mood is one of excitement and joy, sharing food together is an especially joyous occasion.
And since my love language is feeding people, I love to have recipes on hand that make the morning feel cozy and bright and that nourish my family and guests heartily. <3
May your Christmas and New Year celebrations be holy, peaceful, and joy-filled!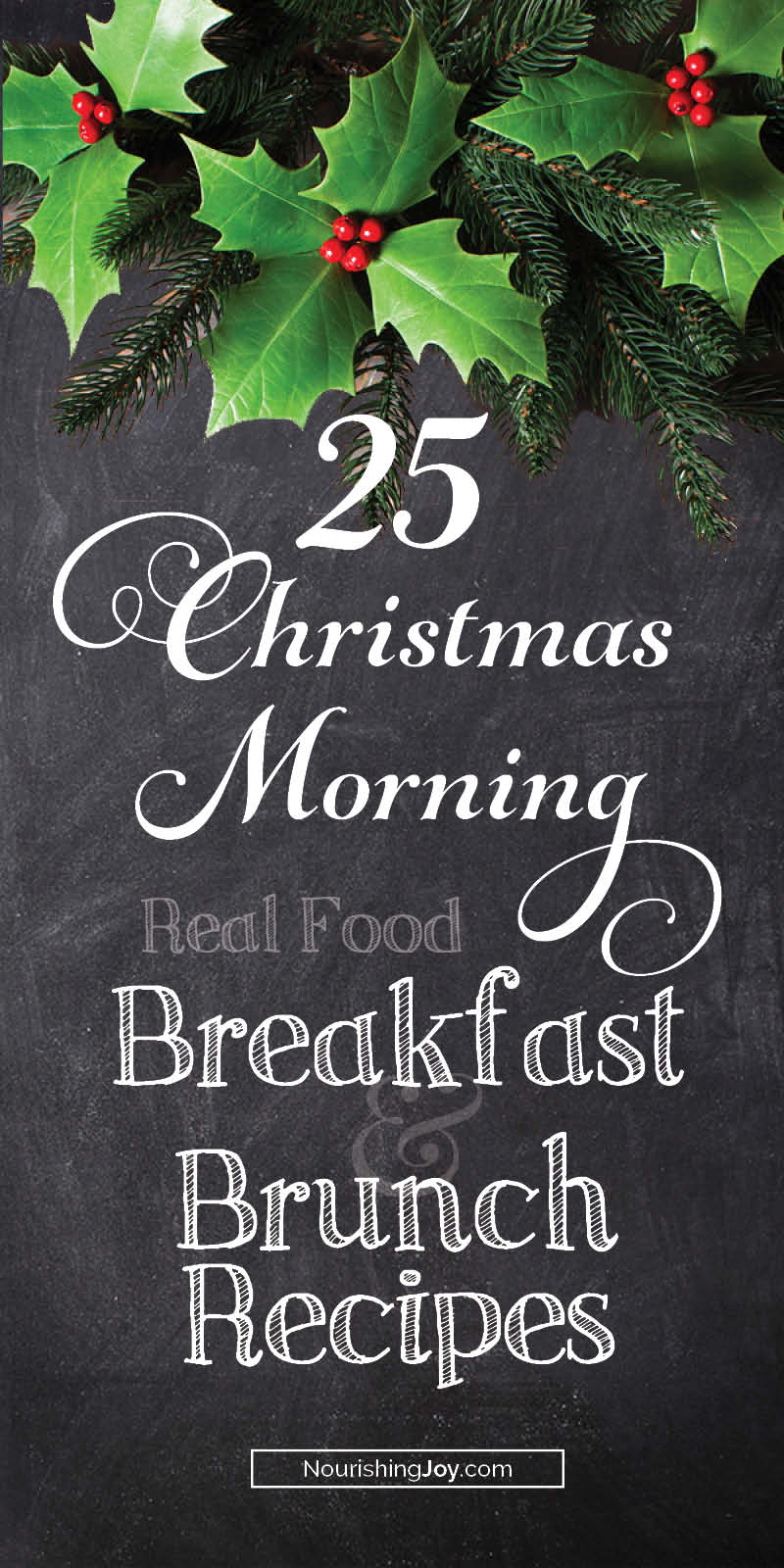 Are you really dreading cooking a big breakfast on Christmas morning? If you're looking for simple, look no further than the nourishing Candy Cane Smoothie Bowl at Kitchen Stewardship.
Make-Ahead Casseroles
1. Eggs Benedict Casserole | Spicy Southern Kitchen – I ADORE eggs benedict and this recipe is wonderful – except for the hollandaise sauce. Use this classic hollandaise sauce recipe instead.
2. Veggie-Loaded Breakfast Casserole | Little Spice Jar
3. Nourishing Wife-Saver Breakfast Casserole | Keeper of the Home
4. Easy Cheesy Breakfast Casserole | Gimme Some Oven
5. French Toast Breakfast Casserole | Simplify Live Love
6. Spiced Cranberry Apple Baked Oatmeal | Just Making Noise
Slow Cooker Breakfasts
7. Slow Cooker Baked Apples | The Magical Slow Cooker
8. Caramelized Apple Slow Cooker Oatmeal | Nourishing Joy
9. Slow Cooker Creamy Banana French Toast | Diethood – the only adaptation needed here is to skip the skim milk. As always, use whole or raw milk all the way!
10. Slow Cooker Bread Pudding | Nourishing Joy
11. Slow Cooker Denver Omelette Casserole | Slow Cooker Gourmet
12. Slow Cooker Hash Brown Breakfast Casserole with Leeks, Mushrooms, and Bacon | Nourishing Joy
and, in case you're needing coffee for many…
Slow Cooker Vanilla Lattes | Kitchen Treaty
Eggs
13. Lox & Scallion Scrambled Eggs with Herbs | Nourished Kitchen- if you can't find lox in your area, see how to make lox
14. Bacon, Egg, and Cheese Muffins with Coconut Flour (grain free) | Cheeseslave
15. Crustless Sausage and Spinach Quiche | My Humble Kitchen
16. Spinach & Bacon Oven Omelette | Riddlelove
17. Huevos a la Mexicana | The Nourishing Home – these are particularly light on the tomato
18. Herby Baked Eggs | The Nourishing Gourmet
Bready Breakfasts
19. Gingerbread French Toast with Cinnamon Honey Syrup | Happy Foods
20. Soaked Double Chocolate Velvet Pancakes | Just Making Noise
21. Cranberry Orange Cardamom Clafoutis | Baking the Goods
22. Eggnog French Toast or Eggnog Pancakes – if you need eggnog, just make a batch of our our old-fashioned eggnog
23. Sourdough Stollen (Christmas Bread) | Nourishing Joy
24. Gingerbread Scones | Heritage School House
25. Christmas Morning Scones | An Edible Mosaic
26. Almond Dutch Baby (grain free) | And Here We Are
27. Santa Lucia Sweet Saffron Buns | Nourishing Joy- these are traditionally served on December 13, Santa Lucia Day, not on Christmas, but their scent of cardamom and saffron is just too alluring not to enjoy as part of Christmas Day as well.
28. Cranberry Orange Cinnamon Rolls | Nourishing Joy
29. Molasses Cranberry Cinnamon Rolls | Nourished Kitchen