This post may contain affiliate links, including those from Amazon.com, which means we earn a small commission off your purchases. And here's the thing: We only mention services and products that we think are truly worth your attention, whether they're free, paid, or otherwise. This site relies on YOUR trust, so if we don't stand behind a product 110%, it's not mentioned. Period.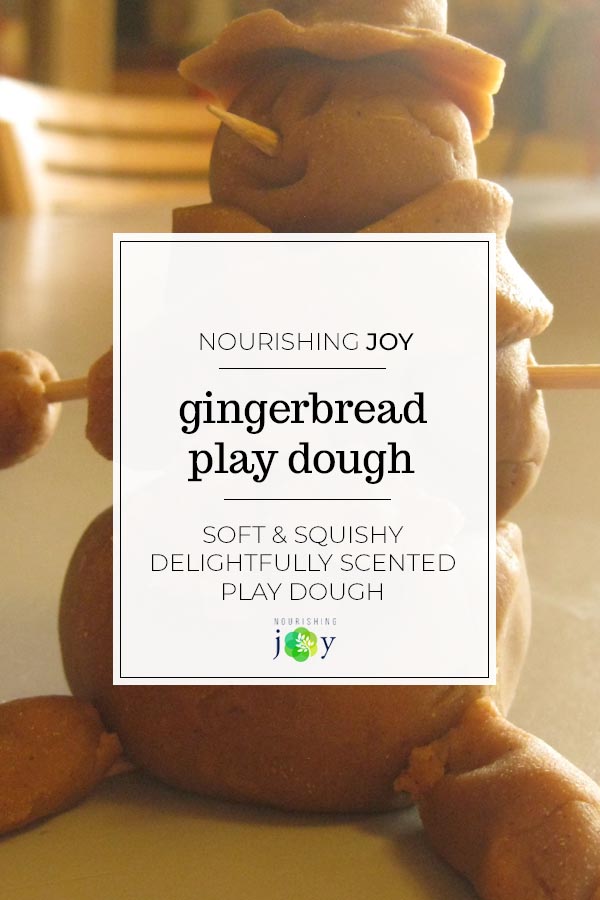 Since play dough factors in heavily in our homeschool (our two preschool-aged kiddos play with play dough for hours while I work with their older sister), I make a lot of homemade play dough.
And when I saw Tiny Peasant's recipe for Pumpkin Spice Play Dough in October, I just knew I had to make a gingerbread version at Christmas! Not only does it make the kitchen smell homey and delicious in no time flat, but it's great for sensory play.
This is also a great activity through the holiday season – say if you're needing to provide an activity for children who are home from school, or if you have extra children who are visiting, or if you just need to occupy a young child while you work on a holiday project. Gingerbread play dough to the rescue!
This is about as easy as you can get – I used our standard play dough recipe and merely added the spices from our favorite gingerbread cookie recipe. (If you need a gluten-free version, see Tiny Peasant's recipe.)
May your home be overflowing with joy in this holy season!
Gingerbread Play Dough
A soft and squishy play dough that's delightfully scented for all your child's holiday play times.
Ingredients
1

cup

boiling water

½

cup

salt

1

cup

flour

2

tablespoons

cream of tartar

1

tablespoon

olive oil

1

tablespoon

molasses

2

teaspoons

ground ginger

1

teaspoon

cinnamon

½

teaspoon

ground cloves

½

teaspoon

vanilla

,

optional
Instructions
First, mix the salt and boiling water in a small mixing bowl. Stir to dissolve the salt as much as possible. (There will be a few crystals left.) This step is merely to keep the play dough from feeling grainy.

Mix the flour, cream of tartar, olive oil, molasses, spices, and vanilla in a medium, heavy-bottom saucepan. Add the salted water and cook over medium heat, stirring constantly, until the mixture gains a matte sheen rather than glossy and gathers together in a ball, 2-3 minutes.

Immediately dump out onto a flat work surface and knead until smooth, 5-10 kneads.

Gingerbread play dough may be used immediately, but some children may prefer that it cools for a few minutes first.

Store in an airtight container for up to 1 month.