The Simple Technique for a Perfect, Foolproof Roast Turkey
This post may contain affiliate links, including those from Amazon.com, which means we earn a small commission off your purchases. And here's the thing: We only mention services and products that we think are truly worth your attention, whether they're free, paid, or otherwise. This site relies on YOUR trust, so if we don't stand behind a product 110%, it's not mentioned. Period.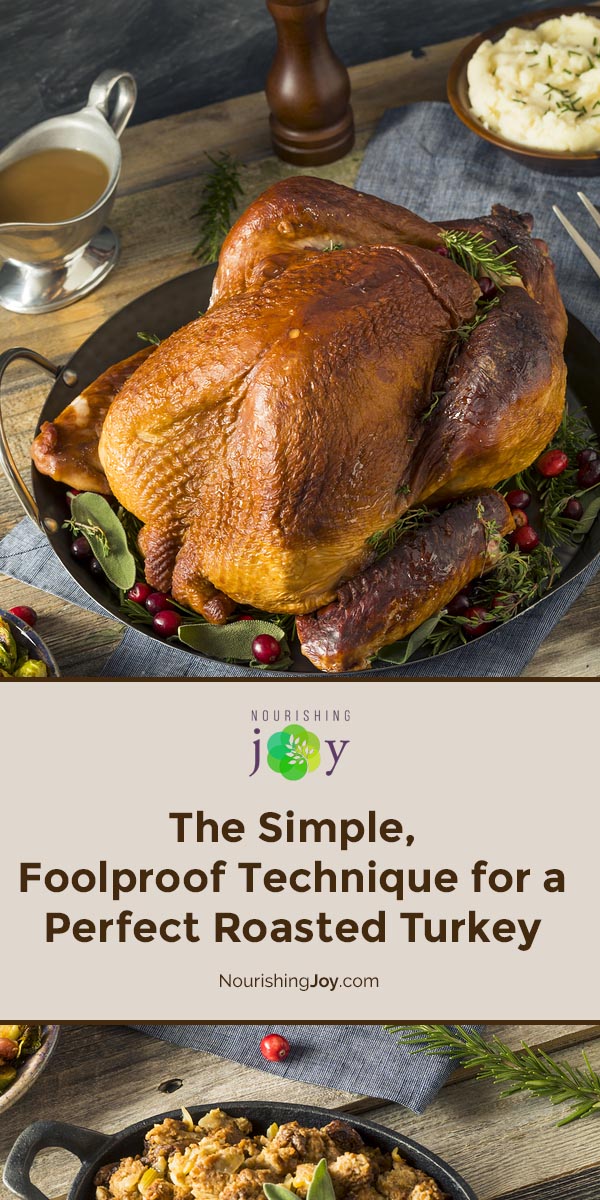 So many people stress out about cooking a turkey (I've been there!), but while it may seem like a monumental task – really – it's super-simple.
If this is your first year roasting a turkey, or if you just like to review the basics each year before popping the turkey in the oven, this quick guide is for you.
Why This Isn't a Recipe
When I originally published this technique in our meal planning service, The Tired & Hungry Cook's Companion, I included the recipe for a brine that I particularly love. It produces a moist, juicy, herby turkey that's succulent and delicious. (Most brines do, so if brining is your thing, absolutely go for it.)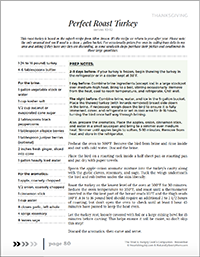 Want that recipe, Perfect Roast Turkey with Juniper Berry Brine, along with the other 65+ recipes we published for November? Usually we charge $15 for one month's issue of the meal plan, but as a Thanksgiving special, you can snag the entire issue for just $7 by
clicking here
.
But sometimes, we just don't have time or energy to deal with a brine and I want to shout from the rooftops that simple is absolutely okay!
My goal in offering this tutorial is to help you get a beautiful, delicious turkey to the table with as little stress as possible.
Because whether you use a brine or not, whether you have a super-secret recipe handed down from your great-great-grandmother, whether you use a dry rub, or whether you grab a Butterball turkey on sale the day before Thanksgiving or reserve a free-range bird from the farm down the road months in advance – THIS technique WORKS. It's meant to be SIMPLE, without fanfare, and can be used with any recipe. I've used it for more than 15 years without fail – and it produces a perfect bird every time.
Turkey Basics: At a Glance
Turkey Timing: The turkey is done when it registers a minimum of 161°F in the thickest part of the breast and the thigh reads a minimum of 180°F.
Plan on 13 minutes of cooking time per pound of turkey (17 minutes per pound if stuffed). I DO NOT RECOMMEND cooking the turkey with stuffing inside, largely because it requires an extended cooking period, which can dry out the turkey, but also because it's more prone to salmonella poisoning. Use our slow cooker method for stuffing instead.
Let the turkey rest for 15-30 minutes before carving. Use the time to warm the last side dishes in the oven and make your gravy.
This technique works best for a turkey that weighs at least 12 pounds. If your turkey is smaller than that, reduce the time the bird spends at 500°F to 15 minutes. If your turkey is larger than 18 pounds, cover just the breast portion with aluminum foil once the heat is reduced to prevent over-browning.
No basting is necessary! Basting does nothing to keep a bird moist. Basting's only purpose is to crisp the skin, and in this case, the butter already does that beautifully.
The important technique here is the high-heat-sear transferring to a low-slow-roast – that's why this technique will work with any recipe. Even the apples and onions I mention here can be omitted – they are a simple way to add gorgeous flavor, but they're not the secret to a great roasted turkey. (Side note: they are, however, very much like the classic bread-free herb & onion stuffing used by cooks to stuff roast goose in Victorian times that I've written about before… so, SO delicious.)
Use Our Unique Thanksgiving Guide
Get All the Thanksgiving Recipes You Need
Whether you're looking for planning tools, breakfast and leftover recipes, or last-minute feasting inspiration, our Thanksgiving guide will help you enjoy your entire Thanksgiving Day.
How to Roast a Perfect Turkey
Ingredients
1

14 to 16 pound turkey

,

fully thawed

4-6

tablespoons

butter
For the aromatics (optional)
1

apple

,

coarsely chopped

1

onion

,

quartered

8

cloves

garlic

,

left whole

4

sprigs fresh rosemary

8

leaves

fresh sage
Instructions
Heat the oven. Preheat the oven to 500°F.

Place the turkey in the roasting pan. Place the bird on a V-shaped roasting rack inside a roasting pan and pat dry with paper towels.

Stuff the turkey with the aromatics (optional). If you're using them, place the aromatics into the turkey's cavity.

Rub in the butter. Rub the butter under the skin generously as far as you can reach.

Roast the turkey. Roast the turkey on the lowest level of the oven at 500°F for 30 minutes. Reduce the oven temperature to 350°F, and roast until a thermometer inserted in the thickest part of the breast reads at least 161°F and the thigh reads 180°F. (Yes, I know that salmonella is killed at 165°F, but the temperature will continue to rise more than four degrees once it's removed from the oven, so all is well.) A 14 to 16 pound bird should require an additional 2 to 2 ½ hours of roasting, but don't open the oven to check until at least 1 hour 45 minutes have passed to keep the heat even.

Rest the turkey. Let the turkey rest, loosely covered with foil or a large mixing bowl for 15-30 minutes before carving. This helps ensure it will be moist, so absolutely do not skip this step!

Serve the turkey. Discard the aromatics, then carve and serve.
Notes
This technique works with a goose as well. If your goose is smaller than 14 pounds, reduce the amount of time the bird spends at

500°F

to 15 minutes. If the goose is smaller than 10 pounds, turn down the heat from

500°F

as soon as the goose is added to the oven.