Crisp & Crunchy Lacto-Fermented Pickled Asparagus
This post may contain affiliate links, including those from Amazon.com, which means we earn a small commission off your purchases. And here's the thing: We only mention services and products that we think are truly worth your attention, whether they're free, paid, or otherwise. This site relies on YOUR trust, so if we don't stand behind a product 110%, it's not mentioned. Period.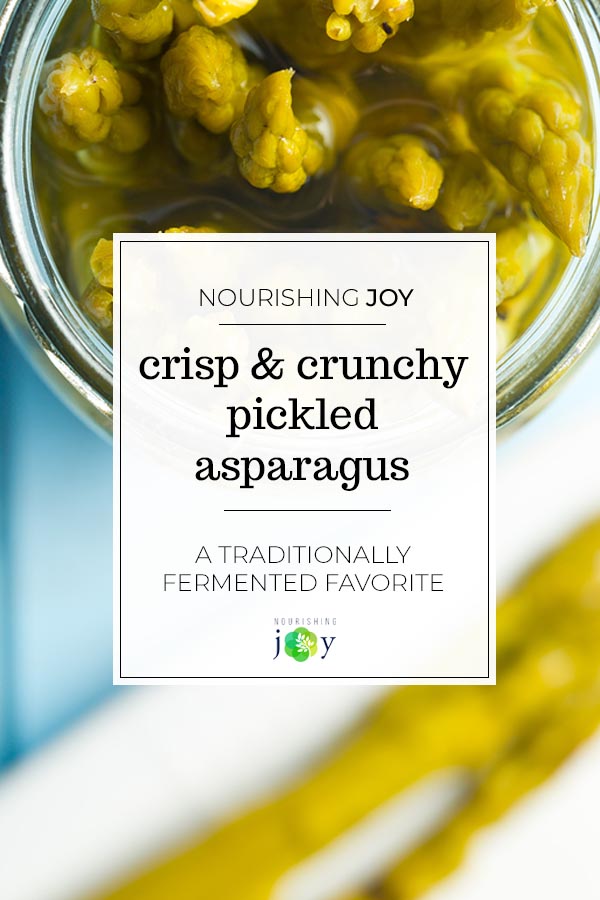 It's asparagus season – the season that declares the winter has officially gone and the earthy freshness of spring has come, which is to be celebrated with abundance.
Asparagus is one of those plants that likes to celebrate in full style. Once a stalk starts producing, it needs to be trimmed often – sometimes daily – in order to keep producing, so that tender sweetness of fresh picked asparagus can and should be enjoyed fervently through the few weeks that asparagus has its run.
It's also a deeply nourishing plant. It's high in Vitamins K and A, as well as folate, and rich in minerals, since its roots tend to go deep, thus drawing nutrients both into its sprout (the stalk we eat) and the oft-depleted topsoil, making it both a nourishing plant to consume and a plant that helps nourish the other plants around it. (Ah, the intersection of intricate symbiotic biosystems…. permaculture, how I love thee….)
However, there can come a time when you've just had too much fresh asparagus and the delight you had at the beginning of the season has waned to more of a drudgery. And sometimes you just have too much asparagus – there's merely no way to work your way through it all, especially since it really does taste best on the day it's picked. And then, of course, if you're anything like me, you just like a good pickle and could eat your way through an entire jar all by yourself all in one sitting.
Whatever your reason, these traditionally pickled asparagus spears are a great way to preserve spring's abundance, add a lovely probiotic boost to your diet, and are just downright delicious.
I base my lacto-fermented pickled asparagus recipe off the garlic and dill recipe I use for cucumber pickles (the one I've published in my e-book, Restocking the Pantry), because I absolutely adore anything with garlic and dill and for me – they make the perfect pickle. But of course, this will work with any herb and any spice. As always, use what you love.
The only change I make from the cucumber pickle recipe is that for asparagus I don't tend to use the grape or horseradish leaf, as asparagus doesn't have quite the same penchant for going mushy that cucumbers do. You're more than welcome to use one, however, to help ensure a lovely, crisp crunch, but it's definitely not necessary.
Which makes this recipe even easier. Score.
Crisp Lacto-Fermented Pickled Asparagus
Tasty pickled asparagus so delicious that kids and adults alike can't get enough. This is a staples both in our kids' school lunches and on our Thanksgiving buffet.
Servings:
1
quart-sized canning jar
Ingredients
1

pound-ish

fresh asparagus stalks, well-rinsed and patted dry

4-6

whole garlic cloves

2

large dill tops with flower or seed head

1

large horseradish leaf OR grape leaf OR 1 tablespoon strongly brewed black tea (optional)

1

teaspoon

black peppercorns

1

tablespoon

unrefined sea salt

½

cup

sauerkraut brine, whey, OR an additional 1 tablespoon salt

1 – 1 ½

cups

filtered water

,

to cover
Instructions
First, prepare your asparagus spears. Once they are rinsed and dried, snap the hard, woody ends off. The asparagus will naturally snap right where the fibrous end gives way to tender stalk. Trim them further, if necessary, so the spears are at least one inch shorter than the jar.

Pack the dill, garlic cloves, grape leaf (if using), and as many asparagus spears as will fit into a wide-mouth quart-sized mason jar, preferably head down, leaving about 1 inch of headspace at the top of the jar. Sprinkle the black peppercorns over.

Pour the whey or sauerkraut brine over the spears (if using), then stir the salt into the water until it's dissolved.

Pour the salt solution into the jar, adding more fresh water if necessary to completely cover the asparagus by at least half an inch.

Cover loosely with a towel and secure with a rubber band, or fasten on a fermentation airlock, then set aside in a cool, dark place – say, a pantry cupboard – for 3-14 days.

Check the top of the jar each day through the glass and remove the towel only if you need to attend to the ferment. Top up with water if there is less than half an inch above the pickles at any time. You may start tasting the asparagus after 3 days, but commonly, the spears will sit for at least 10 days before they're sufficiently softened and pleasantly soured.

Move to the refrigerator for long-term storage.