Pumpkin Pie Panna Cotta: The Elegant, 5-Minute, No-Bake Thanksgiving Dessert
This post may contain affiliate links, including those from Amazon.com, which means we earn a small commission off your purchases. And here's the thing: We only mention services and products that we think are truly worth your attention, whether they're free, paid, or otherwise. This site relies on YOUR trust, so if we don't stand behind a product 110%, it's not mentioned. Period.
Need a lovely, classic dessert that takes only five minutes to make and doesn't require the already-crowded oven?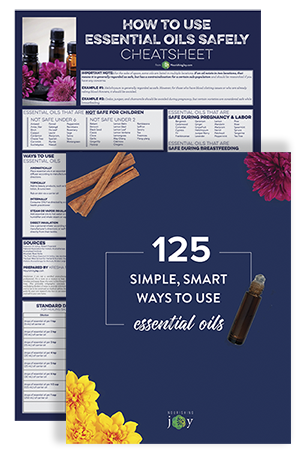 Make using essential oils EASY with our at-a-glance cheatsheets.
Be confident in using essential oils safely AND effectively! Simply click the button to download these two popular cheatsheets and see just how easy using essential oils SAFELY can be.
You know how it goes — you carefully plan your Thanksgiving meal, and yet, somehow, there's always that one item that just won't fit in the oven.
This year, make a totally-real-food pumpkin pie dessert that doesn't require any baking! It takes about five minutes to pull together, can be made a day or two beforehand, and only needs refrigerator space to firm up. (Granted, that can be at a premium too!)
These also travel well, so if you're in charge of bringing dessert or you're traveling a long distance, these work really well. In fact, I'm planning to do exactly that. This year, our extended family is gathering in a rustic cabin in the mountains, so having these already made will make Thanksgiving dessert a breeze.
Today in my monthly article over at the Traditional Cooking School by GNOWFGLINS, I'm sharing my recipe for Pumpkin Pie Panna Cotta, which just may be my new favorite Thanksgiving dessert. 🙂
Click here to get the recipe for Pumpkin Pie Panna Cotta.
Enjoy! And Happy Thanksgiving!