Spiced Maple & Pumpkin Panna Cotta
This post may contain affiliate links, including those from Amazon.com, which means we earn a small commission off your purchases. And here's the thing: We only mention services and products that we think are truly worth your attention, whether they're free, paid, or otherwise. This site relies on YOUR trust, so if we don't stand behind a product 110%, it's not mentioned. Period.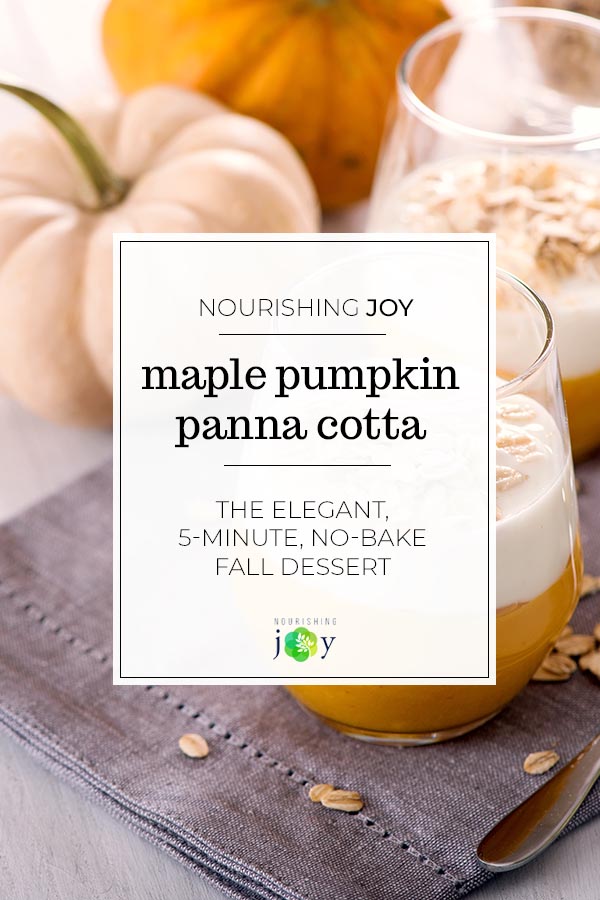 Pumpkin panna cotta is the simplest Thanksgiving dessert you can make. It comes together in about 5 minutes and is elegant to boot.
Need a lovely, classic dessert that takes only five minutes to make and doesn't require the already-crowded oven?
You know how it goes — you carefully plan your Thanksgiving meal, and yet, somehow, there's always that one item that just won't fit in the oven.
This year, make a totally-real-food pumpkin pie dessert that doesn't require any baking! It takes about five minutes to pull together, can be made a day or two beforehand, and only needs refrigerator space to firm up.
Plus, you can serve it in whatever jars, glasses, ramekins, or dishes you have available. Cup-sized Mason jars, Weck jars, and drinking glasses are my perpetual favorites.
Pumpkin panna cotta also has the added advantage of highlighting one of my favorite ingredients – gelatin. (You can read my love letter to gelatin here.) Not only does this provide the secret for allowing the pumpkin custard to firm up without eggs and without baking, but it provides a perfect complimentary protein to all the other dishes in the meal. Real food nourishment at its best. 🙂
(You can see other delicious ways to use gelatin here.)
And perhaps best of all, these also travel well, so if you're in charge of bringing dessert or you're traveling a long distance, pumpkin panna cotta is your ace in the hole. In fact, I'm planning to do exactly that myself. This year, our extended family is gathering in a rustic cabin in the mountains, so having these already made will make Thanksgiving dessert a breeze.
I originally developed a pumpkin pie version of this panna cotta to share over at the Traditional Cooking School – you can see my original recipe for Pumpkin Pie Panna Cotta here.
And while this is a fantastic dessert, it also makes an equally fantastic BREAKFAST – maybe even Thanksgiving morning breakfast? Use a full-fat yogurt instead of the cream and maybe even sprinkle with granola to take it over the top. 🙂
Regardless of how and when you enjoy this pumpkin panna cotta, may it be deeply satisfying and wonderfully nourishing.
Spiced Maple & Pumpkin Panna Cotta
Ingredients
Gelatin Mixture:
½

cup

cold water

1

tablespoon

sustainably-sourced gelatin
Pumpkin Mixture:
1

cup

heavy cream or yogurt

1

cup

pumpkin purée

½

cup

whole milk

¼

cup

maple syrup

1

teaspoon

vanilla extract
Spice Mixture:
½

teaspoon

ground cinnamon

¼

teaspoon

ground nutmeg

⅛

teaspoon

ground ginger

⅛

teaspoon

ground cardamom

scant ⅛

teaspoon

ground cloves
Optional toppings, to serve:
Whipped cream
Chopped pecans
Graham cracker crumbs
Granola
Rolled oats
Instructions
Bloom the gelatin. Place cold water in small saucepan and sprinkle the gelatin over. Let sit while you gather your containers and other ingredients.

Gather your containers. Set out four small containers that can hold at least 3/4 cup of liquid. Canning jars, tea cups, drinking glasses, and ramekins are all excellent options.

Whisk pumpkin and spice mixtures. Place the cream, pumpkin, milk, maple syrup, vanilla extract, and spices into a heavy-bottomed saucepan with a pourable rim and whisk just until smooth. Heat gently over medium-low heat, whisking, just until slightly warm. Remove from heat and whisk in vanilla. Let sit off heat until gelatin mixture is ready.

Dissolve gelatin. Heat the gelatin-water mixture over low heat just until the gelatin is completely dissolved, 2-3 minutes. (Test the mixture by rubbing a small amount between your thumb and forefinger. You will no longer feel any granules when the gelatin is fully dissolved.)

Blend gelatin into pumpkin mixture. Drizzle the gelatin slowly into the pumpkin mixture, whisking constantly. Whisk until smooth.

Pour and chill. Divide the mixture evenly between the containers and set them in the refrigerator to chill. Let them sit for at least two hours, preferably overnight. The panna cottas can be made up to two days in advance.

Serve. Serve the panna cottas as they are, or top with any optional toppings, such as whipped cream, chopped pecans, graham cracker crumbs, or granola.
Enjoy! And Happy Thanksgiving!