This post may contain affiliate links, including those from Amazon.com, which means we earn a small commission off your purchases. And here's the thing: We only mention services and products that we think are truly worth your attention, whether they're free, paid, or otherwise. This site relies on YOUR trust, so if we don't stand behind a product 110%, it's not mentioned. Period.
Well, I finally did it! I finally figured out how to make a flavor of kombucha I really really like.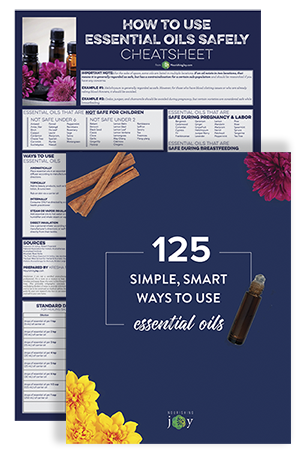 Make using essential oils EASY with our at-a-glance cheatsheets.
Be confident in using essential oils safely AND effectively! Simply click the button to download these two popular cheatsheets and see just how easy using essential oils SAFELY can be.
I often use kombucha in condiments, in salads, and in other beverages to add a probiotic kick, but I've never been crazy about drinking it plain. At various times, I've played around with flavors and come up with a few that I've nominally liked, but this one… ho ho! It's good!
What's extra-fun is that my two-year-old would rather drink this kombucha than apple juice. Score!
For those who are new to kombucha, making a flavored kombucha is a two-step process. First you brew your kombucha using a sugary tea solution and a SCOBY (symbiotic colony of bacteria and yeast) which takes 1-4 weeks, then you pour your kombucha into bottles, add flavorings, and let it sit for an additional 24-48 hours. Even though the brewing process can sometimes look like a mad scientist's research gone wrong, the results are absolutely worth it.
In the case of chai kombucha, there are some recipes that recommend making the tea by using chai teabags in your original brew, which would brew it and flavor it at the same time. However, I would strongly caution against this, thanks to the expert advice found at Cultures for Health and Get Kombucha!, as the added essential oils found in the chai teabags can affect the health of your scoby and interfere with the brewing process, causing an unsafe final product. I always like to use pH test strips to make sure my batches are safe – if your kombucha is less than 4.0, you know you're good to go.
Also, kombucha is packed with a probiotic punch – so much so that it needs to be treated a bit like a medicine. If you've never drunk kombucha before, don't drink more than one cup each day of this yummy blend for the first few days. It's a fantastic detoxifier and weight loss aid and it can cause colonic distress if introduced too quickly.
Click here to see how to get more fermented foods in your diet.
Chai Kombucha
Per quart of kombucha:
1 quart plain kombucha
10 whole cardamom pods
1 cinnamon stick
1-inch fresh ginger, cut into matchsticks
Brew your kombucha for 7-31 days.
To flavor, pour your finished kombucha into mason jars with tight fitting lids or Grolsch-style flip top bottles (old Grolsch bottles work like a charm), reserving enough plain kombucha to start another batch. Add the cardamom pods, cinnamon stick, and fresh ginger, then let sit at room temperature for 24-48 hours before moving to the refrigerator.
If you're going to be making several bottles or you would like an extra bubbly drink, change the order a bit: first pour your finished kombucha into one large container with a tight fitting lid and add your spices. Let sit for 24-48 hours, then pour into small flip-top or other tight-lidded serving containers. Let sit for an additional 24-48 hours at room temperature to become carbonated, then move to the refrigerator.