This post may contain affiliate links, including those from Amazon.com, which means we earn a small commission off your purchases. And here's the thing: We only mention services and products that we think are truly worth your attention, whether they're free, paid, or otherwise. This site relies on YOUR trust, so if we don't stand behind a product 110%, it's not mentioned. Period.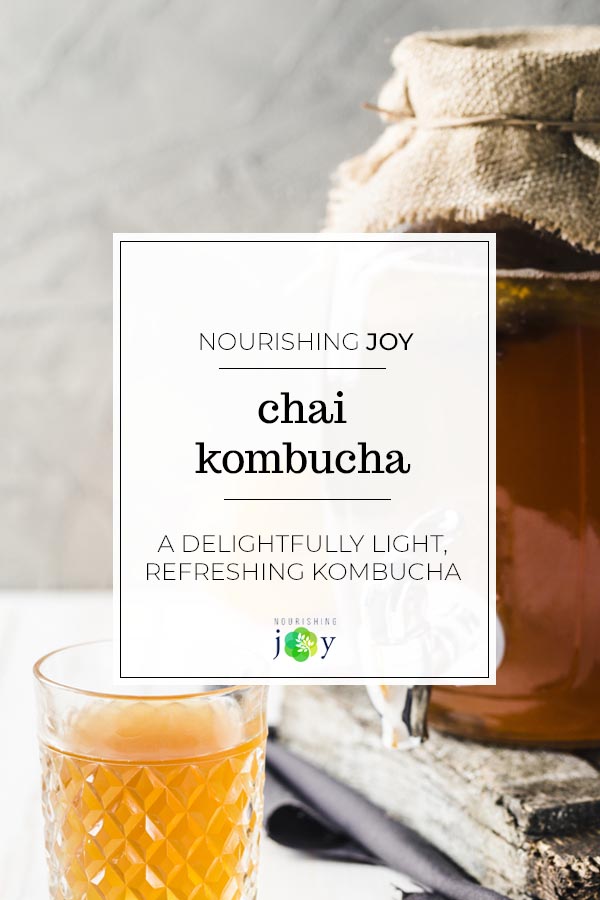 Chai kombucha is both nourishing and refreshing. Even if you think you don't like kombucha, this version will change your mind!
Well, I finally did it! I finally figured out how to make a flavor of kombucha I really really like.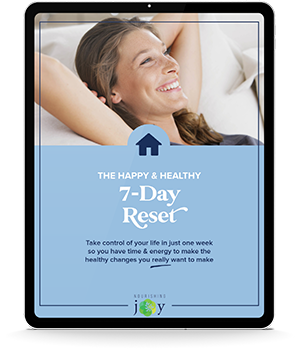 More calm, less chaos.
Use our step-by-step method to take charge of your life so you have time for what *really* matters.
I often use kombucha in condiments, in salads, and in other beverages to add a probiotic kick, but I've been most ambivalent about drinking it plain. At various times, I've played around with flavors and come up with a few that I've nominally liked, but this one… ho ho! It's good!
What's extra-fun is that my two-year-old would rather drink this kombucha than apple juice. Score!
Update: I've finally created another flavor of kombucha I simply can't get enough of! It's Grapefruit Ginger Kombucha and you can see the recipe at Traditional Cooking School. Get the recipe here.
How to Flavor Kombucha: A 2-Step Process
For those who are new to kombucha, making a flavored kombucha is a two-step process.
You first brew your kombucha using a sugary tea solution and a SCOBY (symbiotic colony of bacteria and yeast), which takes 1-4 weeks, then you pour your kombucha into bottles, add flavorings, and let it sit for an additional 24-48 hours.
Even though the brewing process can sometimes look like a mad scientist's research gone wrong, the results are absolutely worth it.
What all that means is that: you're not making chai kombucha from scratch. You're first brewing kombucha, then with that finished kombucha, you're flavoring it to make chai kombucha.
Okay, before we get to the recipe, let's clear up a few other questions that tend to get asked about making chai kombucha.
FAQ: How do I make chai kombucha?
Can I use chai teabags to make kombucha?
For the first fermentation, no. The essential oils that are naturally in chai spices (as well as added by some manufacturers) can affect the health of your SCOBY and interfere with the brewing process, causing an unsafe final product. I always like to use pH test strips to make sure my batches are safe – if your kombucha is less than 4.0, you know you're good to go.
That said, if you're an experienced kombucha brewer and know what to look for, Cultures for Health has some excellent tips for how to experiment with chai teabags during the primary fermentation.
Can I use chai to make chai kombucha?
No. To add the chai flavoring, you want to use simply chai spices to get the delicious chai flavor. Using previously brewed chai not only waters down the kombucha, but it creates an imbalance with the amount of bacteria in the kombucha. This may cause an unsafe kombucha as well as interfere with making your finished chai kombucha fizzy.
Should I use green tea or black tea in the primary fermentation to make chai kombucha?
You may do your primary fermentation with either green tea or black tea. Black tea will provide a more robust flavor for the plain kombucha, while green tea will provide a smoother, lighter flavor. Both finished kombuchas will pair well with the chai spices in the secondary fermentation to make chai kombucha.
Word to the wise: kombucha packs a probiotic punch – so much so that it needs to be treated a bit like a medicine. If you've never drunk kombucha before, don't drink more than one cup each day of this yummy blend for the first few days.
Kombucha is a fantastic detoxifier and weight loss aid and it can cause colonic distress if introduced too quickly. Personally, I get a headache that feels a bit like an alcoholic hangover from the effects of over-detoxification if I drink too much kombucha, particularly if I haven't been drinking it regularly.
Click here to see how to get more fermented foods in your diet.
Chai Kombucha Recipe
Chai kombucha is both nourishing and refreshing. Even if you think you don't like kombucha, this version will change your mind!
Ingredients
Per quart of chai kombucha:
1

quart

plain, unflavored kombucha

,

(see how to make kombucha)

10

whole cardamom pods

1

cinnamon stick

1

inch

fresh ginger

,

cut into matchsticks
Instructions
Combine the kombucha and spices. Pour the plain kombucha into a quart-sized mason jar with a tight fitting lid, leaving at least 1 inch at the top. Add the cardamom pods, cinnamon stick, and fresh ginger.

Ferment the chai kombucha. Let the jar sit at room temperature for 24-48 hours, keeping it away from direct sunlight.

The chai kombucha may be enjoyed at this point, but for a fizzier kombucha, continue with the recipe:

Pour the kombucha into bottles. Strain out the spices, then pour the flavored kombucha into multiple bottles with tight-fitting flip-top lids (such as old Grolsch bottles).

Let the kombucha become fizzy. Let sit at room temperature for an additional 2-7 days until they reach the amount of fizziness you desire.

Chill and enjoy. Move to the refrigerator to chill, then enjoy right away or store in the refrigerator for several months.