How to Teach Your Child to Pack Their Own Healthy Lunch + Healthy Homemade Lunchables
This post may contain affiliate links, including those from Amazon.com, which means we earn a small commission off your purchases. And here's the thing: We only mention services and products that we think are truly worth your attention, whether they're free, paid, or otherwise. This site relies on YOUR trust, so if we don't stand behind a product 110%, it's not mentioned. Period.
Ah, lunchables.
Y'know, when I was a kid, I was weird. (You can ask my friends.)
One thing that always confused me about my classmates was why they would bring lunchables in their lunch. I mean, since when did a few pieces of crackers and cheese add up to a lunch??? I always thought they should have been called snackables.
But now, as a mom, I find lunchables are rather lovely, for my kids AND for myself. Of course, there's a bit more oomph to our homemade lunchables, nutritionally speaking, than to the ones you pay a pretty penny for at the store, but they're simple and lovely nonetheless.
But what's MOST lovely about homemade lunchables, I've discovered, is that kids can pack them themselves.
Yes! Kids CAN pack their own healthy school lunch!
So, here are a few ideas for how to teach your kids to pack their own lunch, as well as a few ideas for what to keep on hand so their homemade lunchables can be "kid friendly, mother approved" each and every day.
(Hint: Print out this printable and hang on the refrigerator or on the inside of a cupboard door so you kiddos can reference it whenever they need it. This printable is one of many found in my e-book, Healthy School Lunches Made Simple.)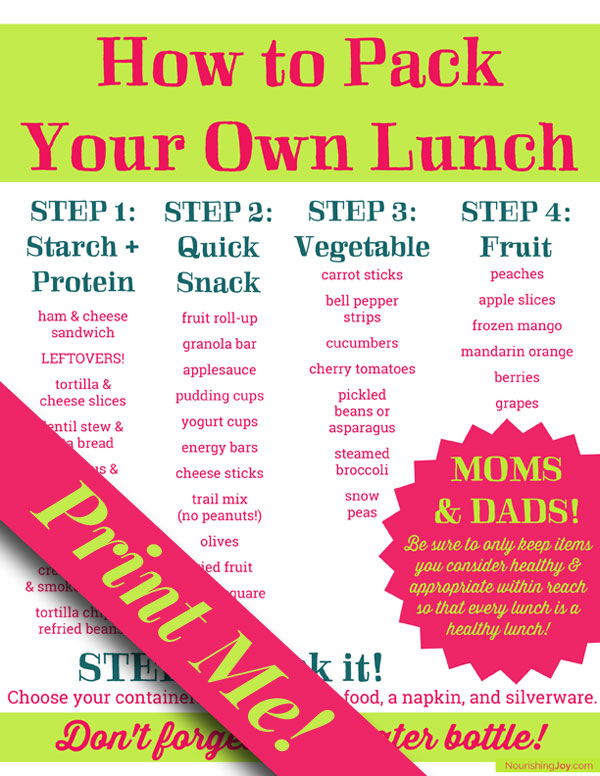 And teaching kids how to pack their own lunches isn't just a handy task so that you have one less thing to keep track of or take care of each day, but knowing how to prepare a meal – even just a simple lunch – is an important life skill that puts our kids in the driver's seat and helps them get excited about eating well and trying new foods.
One of the best ways I know how to get kids cooking is simply to have them in the kitchen with you during meal prep. Kids have a natural propensity to help, and in the kitchen they're often able and willing to do much more than you may think. I certainly know that when I let go of the image of what perfectly sliced cheese looks like and actually let my kiddos get out their cutting boards and knives, they do a fine job.
Another thing that has helped *significantly* is that our family has recently started watching these Kids Cook Real Food online cooking classes. Our kids' confidence, enthusiasm, and ability to be safe have all soared as we've watched and practiced.
So, as you can see from the printable above, putting together a healthy homemade lunchable is pretty simple, as well as super-versatile according to the types of foods you like to have available in your home.
(And that's really the secret – if it's not in the house, it can't be eaten, so be sure to only keep foods around that you're actually okay with your children eating – or in this case, grabbing to put in their lunch.)
Want help making lunches? We've got your back!

Grab a copy of our book, Healthy School Lunches Made Simple, an 8-week lunch menu plan and packing guide for busy families. It's the perfect safety net for weeks that feel overwhelming! Grab your copy here.
How to Make a Healthy Homemade Lunchable
Basically, you want to aim for a nutritional balance in the lunch box, such as packing one starch, two proteins, a vegetable, a fruit, and a quick snack – or whatever balance is best for your children. Add the water bottle and they're ready to go!
However, keep in mind that lunch is only one meal of the day, so if you feel the need to pack more starch or proteins to make the lunch easy, no worries – just keep the balance spread across all the meals of the day according to your family's dietary needs and preferences.
And don't forget – that includes healthy fats too. If lunch doesn't include many healthy fats, just include them at other parts of the day. Your child's optimal brain function and hormone regulation depends on them, after all. 🙂
Also, there's nothing wrong with going heavy on the fruits and vegetables! Most parts of our diet require moderation and balance, but it's pretty difficult to eat too many vegetables (ha!), so include vegetables as regularly and as often as you can. (Fermented ones, like lacto-fermented pickles, olives, and asparagus spears, are all the better.)
HOW to Pack a Homemade Lunchable
Now, before we get to some great ideas about what to actually put IN a homemade lunchable, we should talk about packing, because for me, this has actually made a BIG difference. Bento-style lunch boxes have made a big comeback in the last few years – and with good reason! They're sturdy and they make seeing your options – especially for something like a homemade lunchable – super super easy.
Even when I'm bleary-eyed having just stumbled out of bed, I can open my daughter's Planet Box and put enough brain cells together to figure out what should fill each compartment. Thank goodness!
There are three brands of bento-style boxes that we love (and use) the most: a Planet Box, a LunchBots, and a YumBox. Those are all higher priced boxes, however, because they're designed to stand the test of time. Thus, we also have a set of EasyLunchboxes, which are SIGNIFICANTLY cheaper, but usually only last a season, if that.
(Also, we generally try to avoid plastic, which is another reason those stainless steel varieties excite me, but if purchasing a more expensive stainless steel option is out of the question for you, don't let using plastic get in the way of actually packing a healthy lunch!)
As for dealing with sloppier foods and beverages, there are some great options out there, but I have three favorites: we use stainless steel bottles for water, squeezable pouches for yogurt or smoothies, and a stainless steel food jar for hot chocolate or soup (the little toddler-sized Thermos ones we purchased YEARS ago that we love don't seem to be available anymore, so I've linked to our second favorite).
Basically, while I *highly* recommend investing in good lunch supplies that will last for years for the whole family (I even grab one of our Planet Boxes when I head out the door to attend a conference or or when we're heading out on a hike), definitely use whatever you have readily available and don't let anything stop you from sending the best lunch you can with your child.
"Even if it's one of those days (or seasons) when everything gets sent in plastic baggies, give yourself grace and keep this in perspective: your kids are still getting educated and they're still eating well. On all fronts that REALLY MATTER for that particular day, you've totally got it covered." – from Healthy School Lunches Made Simple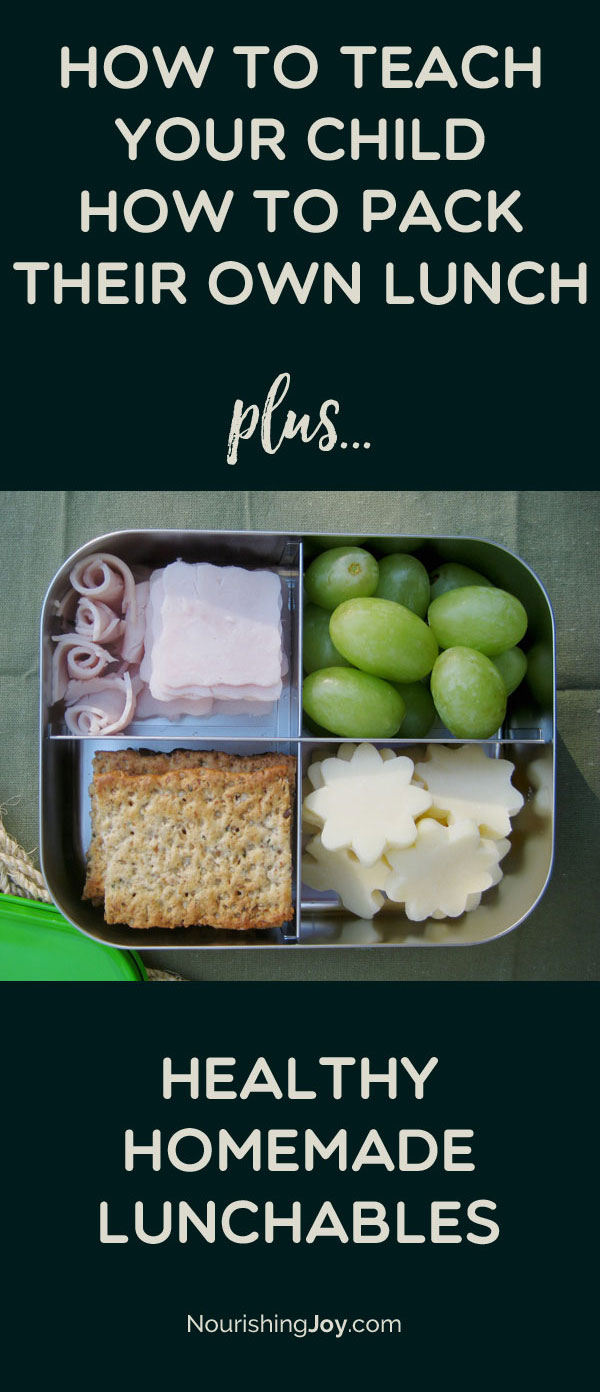 What to Pack in a Homemade Lunchable
So, now to the good stuff – what to put IN your homemade lunchable! Here are just a few ideas.
(Please note: there are recipes for many of these items – like pita bread, whole wheat crackers, and fruit roll-ups – in Healthy School Lunches Made Simple plus a whooooooooole lot more, like cheese crackers and graham crackers and chips, in my book The DIY Pantry.)
Ideas for What to Pack in a Homemade Lunchable
Starches
Proteins
Fruits, Vegetables, and Lacto-Ferments
(Here are 10 easy ways to pack more fermented foods in your child's lunch!)
Dips, if needed
Treats
Now it's your turn…. What do you like to pack in your child's lunch (or your own, for that matter!)?
SaveSave
SaveSave
SaveSave
SaveSave