Homemade Oreos – the right way
This post may contain affiliate links, including those from Amazon.com, which means we earn a small commission off your purchases. And here's the thing: We only mention services and products that we think are truly worth your attention, whether they're free, paid, or otherwise. This site relies on YOUR trust, so if we don't stand behind a product 110%, it's not mentioned. Period.
When I was invited to write my book of homemade pantry staples, The DIY Pantry, one of the first recipes my publisher requested was a homemade version of the black-and-white sandwich cookie that is ubiquitous on any grocery cookie aisle.
The recipe we published was excellent – but I've since made it even better, thanks to a few small ingredient tweaks.
And whenever I've put out the all-call for recipes you'd like to see "real foodified," Oreos have topped the list (along with Pigs in a Blanket, surprisingly.)
Thus, I wanted to share with you all the new-and-improved version. 🙂
The main differences here are using black cocoa instead of "regular" cocoa powder (that's the secret weapon!), removing the egg to get a flatter and crunchier cookie, and making the inside filling a bit firmer so the finished cookies don't squish as much.
Also, you may notice that the cookies in these photos appear quite large (they were cut with a 2-inch round cutter), but since taking these pictures, I (finally!) found a set of smaller round cookie cutters at my local gourmet foods shop and have played around with different sizes, and the final verdict is that if you use a 1-inch cutter, they'll be the size of the store-bought ones and an even better replica! At some point, I'll redo the photos to match that recommendation. 🙂
Okay, a few notes before we get started:
1. The cookie part of this sandwich cookie is very dark, slightly bitter due to the chocolate, and only slightly sweet. (In fact, you can further reduce the sugar by an additional 1/4 cup, if desired.) This is intentional, as the filling is very sweet, and you want a cookie that will offset that sweetness.
2. This dough is much drier than most cookie doughs – almost crumbly – so don't despair if your dough begins to look not quite cookie dough-ish. The perfect dough is just slightly crumbly, soft when pressed, quite smooth and coherent when pressed into a disc, and not sticky at all. You want a cookie that doesn't spread while baking and is crunchy when cooled.
3. Since this dough uses black cocoa powder, which can be found on Amazon or at health/gourmet food stores, it is very dark and you'll need to pay close attention to keep the cookies from burning. When they're done, the tops will be matte and dry instead of glossy and you shouldn't smell any burning. Regular cocoa powder may certainly be substituted, if necessary.
4. Store-bought Oreos have a textured pattern on the cookie and this can be replicated in homemade Oreos by using a cookie stamp or small fondant stamps. Create any pattern you like by stamping them right after the cookies come out of the oven while they're still hot on the baking sheet, as the cookies will harden as they cool.
5. In order to get the best crunch out of these cookies, let them cool for a minute or two on the baking sheet to firm up a bit, then move them to a cooling rack and leave them until fully cooled.
6. And as for the filling, you want a somewhat stiff filling that is still quite malleable, so if you don't want to just keep adding sugar, you're welcome to use arrowroot powder for up to half of the sugar.
Alrighty, then. Let's make homemade Oreos!
Homemade Oreos
Servings:
36
individual cookies // 18 sandwich cookies
Ingredients
For the cookie dough
1-1/4

cup

butter

,

slightly soft

1-1/2

cups

powdered sugar

,

see [how to make your own powdered sugar]

1

cup

black cocoa powder OR regular cocoa powder

,

see [where to buy fair trade black cocoa powder]

1

teaspoon

baking soda

½

teaspoon

sea salt

4

teaspoons

chocolate extract OR 1 teaspoon vanilla extract

1 ½ - 1 ¾

cups

all-purpose flour

,

unbleached and unbromated - see [how to make homemade Oreos using spelt or sprouted flour]
For the filling
½

cup

palm shortening

,

see [where to find sustainable palm shortening]

⅔

cup

powdered sugar
Instructions
For the cookies
Preheat oven to 350°F.

In a mixer, cream the butter and powdered sugar on high speed until light and fluffy. Add the cocoa, baking soda, salt, and chocolate extract and beat again until smooth.

With the mixer on low, add half of the flour and mix until incorporated, then add additional flour by the tablespoon until a not-at-all-sticky dough forms. Don't worry if it's a bit crumbly.

Divide the dough into three discs, then refrigerate for at least 15 minutes and up to 24 hours to firm the dough. When ready to bake, set out two pieces of parchment paper. Work with each disc individually and keep the other discs in the fridge until needed. Roll each disc flat between the sheets of parchment paper until it is between 1/4-inch and 1/8-inch thick (about the thickness of two pennies).

Cut out 2-inch round circles with a cookie cutter and place the cookies about one inch apart on a baking sheet lined with a silicone liner, parchment paper, or your favorite liner. Bake for 7 to 9 minutes until cookies appear dry on top, then let cool 2 to 3 minutes on the baking sheet before transferring to a cooling rack to cool completely.
For the filling
Place palm shortening and powdered sugar in the bowl of an electric mixer, then gradually bring the mixer up to high speed. Beat until fluffy, adding more powdered sugar a tablespoon at a time if necessary to firm the mixture.

Use filling immediately or store in the refrigerator for up to 2 weeks. Bring the mixture fully to room temperature before using. To fill a cookie, turn one cookie upside down, then place 1 tablespoon of filling on that cookie. Top with a second cookie and press lightly to bring filling just to the edges.

Store cookies in an airtight container up to 1 week or in the freezer for up to 6 months.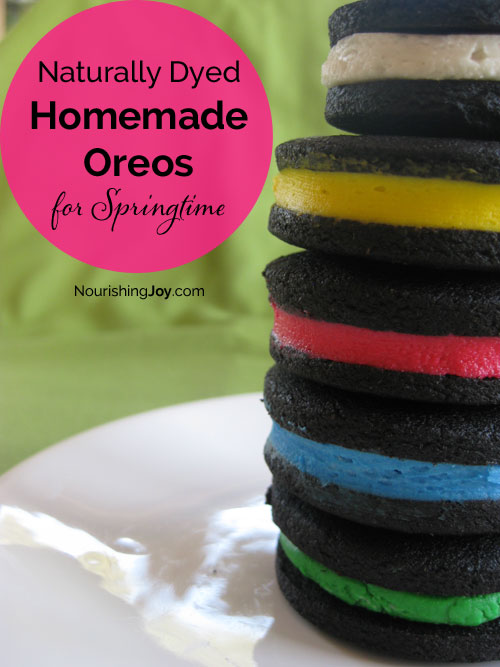 And of course, if you'd like to color your homemade Oreos fun colors for a festive holiday, it's very easy! See our list of homemade food coloring options to color your insides.
You can also add flavorings, such as these Homemade Peppermint Oreos.
Basically, this recipe is extremely customizable. The sky's the limit! 🙂