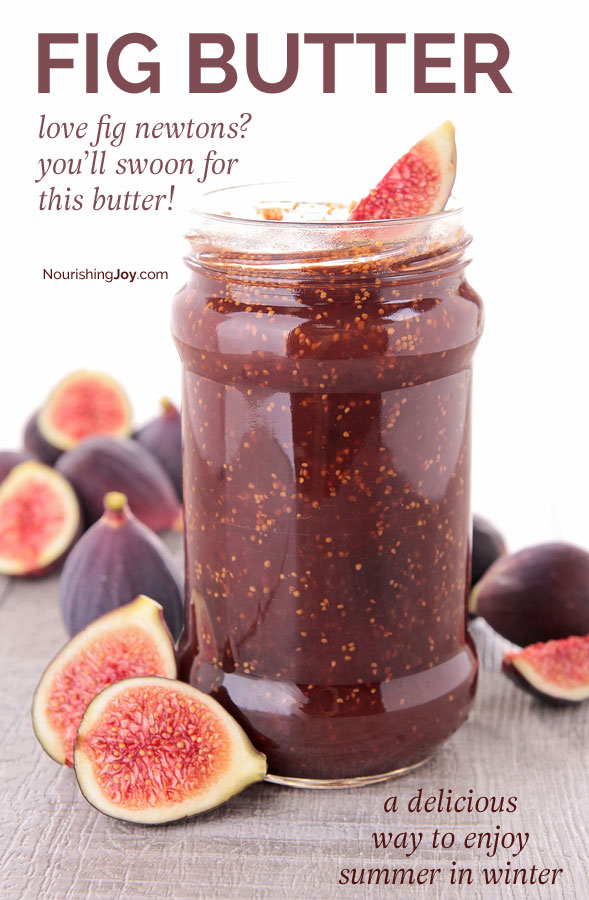 I love the winter.
I love the coziness of curling up by a fire after a long day of working or playing in the cold.
I love seeing candle-lined windows and houses lined with white Christmas lights bring a contemplative cheer to the long, dark nights.
I love Christmas and the celebratory sense of the holidays.
But come about mid-January, when the holidays are over and the snow or rain is no longer the novelty it was at Thanksgiving, that's when I pull dried figs out of their hiding place in the cupboard and I am reminded of summer. Those sun-drenched days that produced more abundant fruit than we knew what to do with and when we lingered long into the evening without worrying about coats and boots and hats.
Fruit Butters: A Quick, Delicious Way to Preserve the Harvest
This fig butter is one of my favorite ways to preserve the summer's abundance. I often slog through August and September when fruit and vegetables are at peak harvest – I often can't keep up with preserving it all.
But I find that this fig butter is a great "cheater" version. All I have to do is dehydrate the figs when they're ripe, then when I need a reminder of summer, just pull out the figs and whip up this fig butter then. It's quick, it's easy, and it's delicious (and it's seasonal eating at its best).
I also love this fig butter because it's a super-easy and super-excellent way to add more probiotic goodness into your diet – or that of your child – if you choose to add the simple fermentation step. Eating fermented and cultured foods regularly is an essential part of vibrant health, so foods like this lacto-fermented fruit butter pack a needed punch.
And here's the secret: Because this fruit butter starts with dehydrated fruit rather than fresh fruit and since dehydrating concentrates the sugars, so we don't need to add any other sweetener unless desired. (Yes!)
Feel free to substitute other dried fruits as well – fig and apple just happens to be a favorite of mine. Try Cinnamon Raisin by substituting raisins for the figs, then spread the finished butter on sourdough toast for a quick and dirty version of cinnamon swirl toast. Or try Peach Butter using dried peaches and lemon zest. The options are endless!
If you don't have access to fresh figs, you are certainly welcome to use store-bought dried figs. Otherwise, click here to learn how to dehydrate fresh figs.
And by the way, I call this "Fig Newton Butter" because I actually created it to be the filler for homemade fig newtons, but most of the time I don't mess with the newton cookie dough, which is a bit finicky – I just make the filling, which is quick. Spread it on toast or use it in a sandwich for your child's lunch and you're golden.
This recipe is courtesy of my e-book,
Restocking the Pantry
. With nearly 75 pages of recipes and tips for making your own condiments, dips, and spreads, it's an easy way to get started to healthier, more frugal eating.
Print
Fig Newton Butter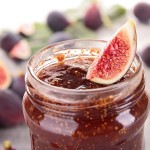 Makes approximately 1 1/2 cups
Ingredients
3/4 cup

dried figs

1/4 cup

dried apples

1 1/2

–

2

cups warm filtered water
zest of

1

small orange

1/2 teaspoon

unrefined sea salt

2 tablespoons

fresh whey

1

–

2

tablespoons raw honey, to taste

1/2 teaspoon

cinnamon
Instructions
Coarsely chop the figs and apples and place in a bowl. Cover with warm filtered water and let sit for 20-25 minutes until softened. Drain well, reserving the soaking water.
Place the softened fruit in a food processor with the orange zest, salt, and the whey. Process until a smooth paste forms, adding a teaspoon or so of the reserved water if necessary.
Spoon the paste into a pint-sized mason jar, pushing down to eliminate any air holes and leaving at least 1 inch of headspace. Cover with at least 1/2-inch of the reserved soaking liquid and cover tightly.
Set aside at room temperature for 1-2 days, then stir in honey and cinnamon, if desired, before storing in the refrigerator for 4-6 weeks.

[social_warfare]