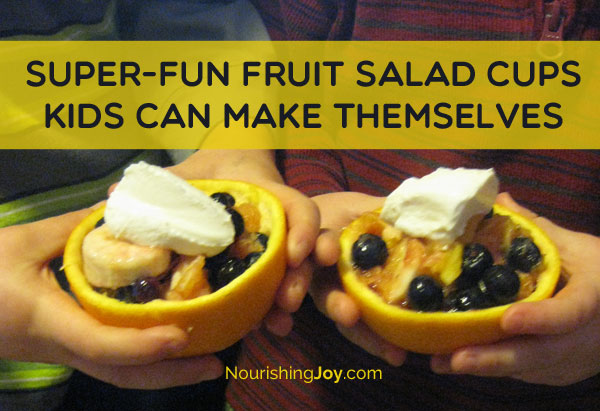 Do you love those little store-bought fruit salad cups as much as I do? Despite being fruit, they're a guilty pleasure. They're more syrup than fruit and most brands include preservatives I'd rather not eat. 🙁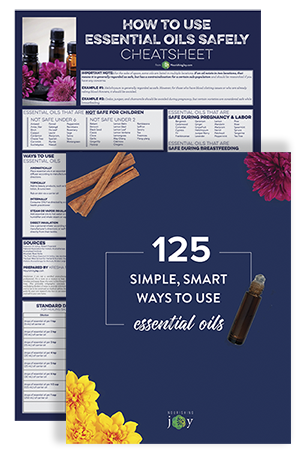 Make using essential oils EASY with our at-a-glance cheatsheets.
Be confident in using essential oils safely AND effectively! Simply click the button to download these two popular cheatsheets and see just how easy using essential oils SAFELY can be.
However, we've got a far superior recipe today for homemade fruit salad cups!
And can I just say YAY for fruit salad cups!?! Fruit salad is great for snack time, dessert, or even breakfast.
Plus, the beauty about fruit salad is that it doesn't have to have a set list of ingredients. You can use other fruits than what are listed here, such as melon or berries, as desired.
Also, word to the wise: What makes these fruit salad cups super-fun is that they're served right in the orange rind of the orange that's cut up for the salad. However, if you don't want to take the time to scrape out the orange rinds OR you want to send these in a school lunch, just skip the orange rind bowl and place in a leak-proof container or serving bowl. It's simpler and much, much quicker. 🙂
And best of all, this is a great recipe for kids to make themselves. It's simple, straightforward, and incredibly versatile.
Why These Fruit Salad Cups are Great for Kids to Make Themselves
We all know that kids need to learn to cook.
Not only does it set them up with a life skill and build their confidence, but it's a safety thing. Actually knowing HOW to pick up a knife and how to hold the food they're cutting PROPERLY is just something they need to know as they're inevitably around knives!
Especially when your four-year-old loves to help and will roll up his sleeves and grab the nearest knife because that's how you make dinner, right? (Used to give me a heart attack every time!)
Plus, if they know how to cook, they can help YOU in the long-run because they can actually pitch in and help with meal prep.
Knowing I can ask my 9-year-old daughter to get water boiling for the potatoes, my 5-year-old son to peel some carrots and make ranch dip, or ask my 4-year-old son to chop up some celery for the evening's stew has been my FAVORITE part about my kids learning to cook!
So that's why these fruit salad cups are one of my favorite recipes to have my kids made when they're hungering for a snack or begging to make something for dinner. It's a simple starting place that makes them feel GREAT about what they can contribute.
Kids Cook Real Food
If you want your kids to learn how to cook – but you struggle with knowing HOW to teach them, where to start, and what's age appropriate – this free 3-part video series for kids is INVALUABLE.
There's also a full class, Kids Cook Real Food, which covers not only knife safety but 30+ basic cooking skills that kids from ages 2 all the up to teens can learn to do well. Super, super worth it!
My husband, my kids, and I have truly truly loved watching the videos (we signed up for the entire course) and you can see in the picture below how my 4-year-old has paid attention for how to hold a knife and how to hold the food he's cutting.
The videos are super-well done and have lots of memory tricks to help kids how to be safe and cook well. "Pac-Man the lid!" and "Pick me! Pick me!" have now become catch phrases in our home!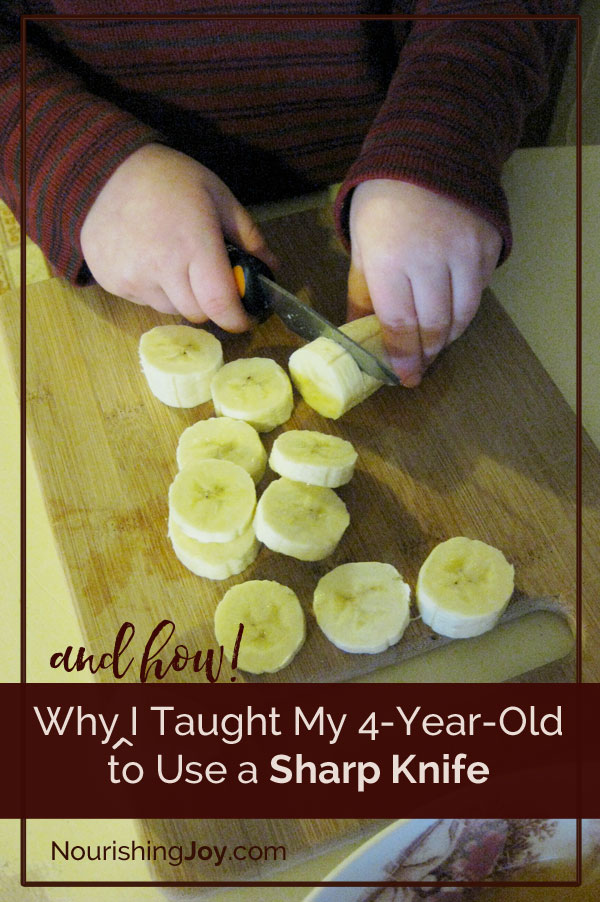 Tip: This recipe is great for school lunches too, and if you'd like more ideas, we've got 8 WEEKS worth of great ideas for healthy school lunches in our book, Healthy School Lunches Made Simple. Click here to grab the book.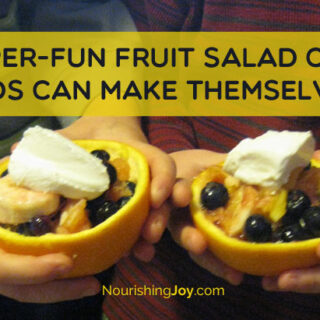 Fruit Salad Cups
Ingredients
3 large oranges
1 banana, sliced
30 grapes, quartered
2 apples, chopped into 1/2-inch pieces
1 cup yogurt, any variety
Instructions
Cut the oranges in half and scrape out the pulp, making sure you don't break the rinds. (A grapefruit knife makes this an easy job.)
Slice off the very tip of the base of each orange rind, if necessary, so it sits flat and forms a cup. Be careful that you don't cut too much, as you don't want to make a hole at the bottom. Set aside.
Prep the other ingredients and add to a large bowl. Set aside.
Mash the reserved orange pulp, cut it with a pair of kitchen scissors, or press it through a fine-mesh sieve if you prefer just the juice, then toss it with the other ingredients.
Spoon the fruit salad into the orange cups, then dollop 1 spoonful of yogurt on top of each fruit salad.
Serve immediately or reserve for up to 2 hours. Know that the banana and apples may brown slightly as they sit.
Notes
What makes these fruit salad cups super-fun is that they're served right
in the orange rind of the orange that's cut up for the salad. However,
if you don't want to take the time to scrape out the orange rinds OR you
want to send these in a school lunch, just skip the orange rind bowl
and place in a leak-proof container or serving bowl. It's simpler and
much, much quicker. 🙂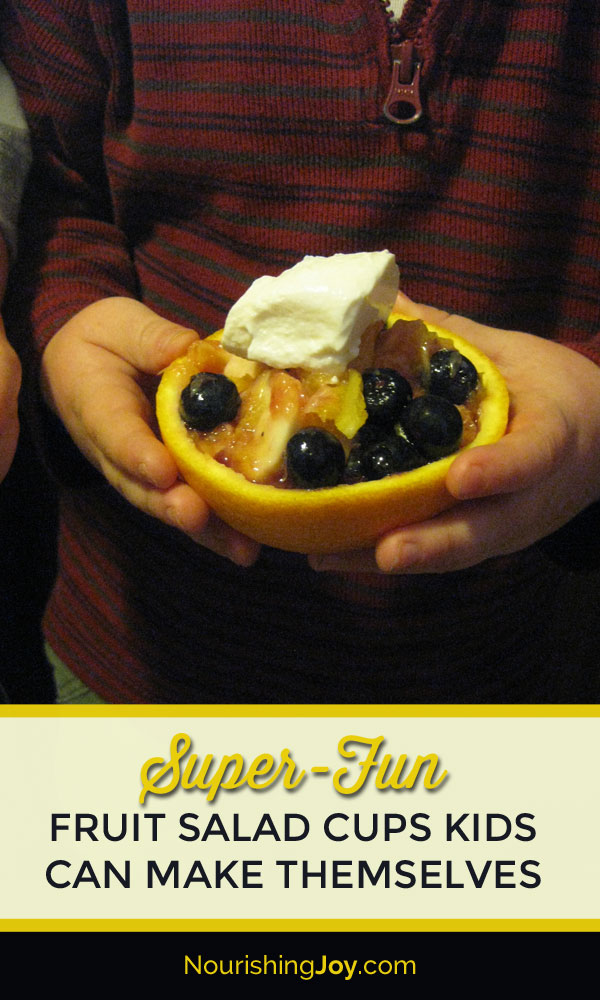 [social_warfare]