Peanut Butter and Jelly Sourdough Pancakes
This post may contain affiliate links, including those from Amazon.com, which means we earn a small commission off your purchases. And here's the thing: We only mention services and products that we think are truly worth your attention, whether they're free, paid, or otherwise. This site relies on YOUR trust, so if we don't stand behind a product 110%, it's not mentioned. Period.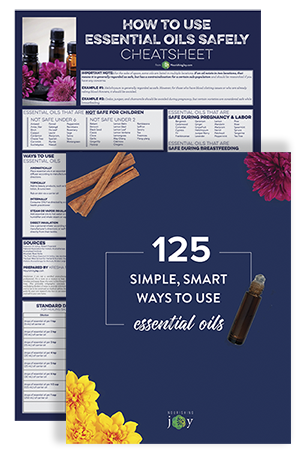 Make using essential oils EASY with our at-a-glance cheatsheets.
Be confident in using essential oils safely AND effectively! Simply click the button to download these two popular cheatsheets and see just how easy using essential oils SAFELY can be.
Mmmm…. sourdough is scrumptious and in pancakes it's absolutely superb.
These pancakes are especially yummy due to the large amount of peanut butter (or other nut butter) – you can't see it in the photo, but these are absolutely packed with yummy peanut-y flavor.
I've published the recipe as my regular monthly contribution today over at GNOWFGLINS: