Super Creamy Peanut Butter
This post may contain affiliate links, including those from Amazon.com, which means we earn a small commission off your purchases. And here's the thing: We only mention services and products that we think are truly worth your attention, whether they're free, paid, or otherwise. This site relies on YOUR trust, so if we don't stand behind a product 110%, it's not mentioned. Period.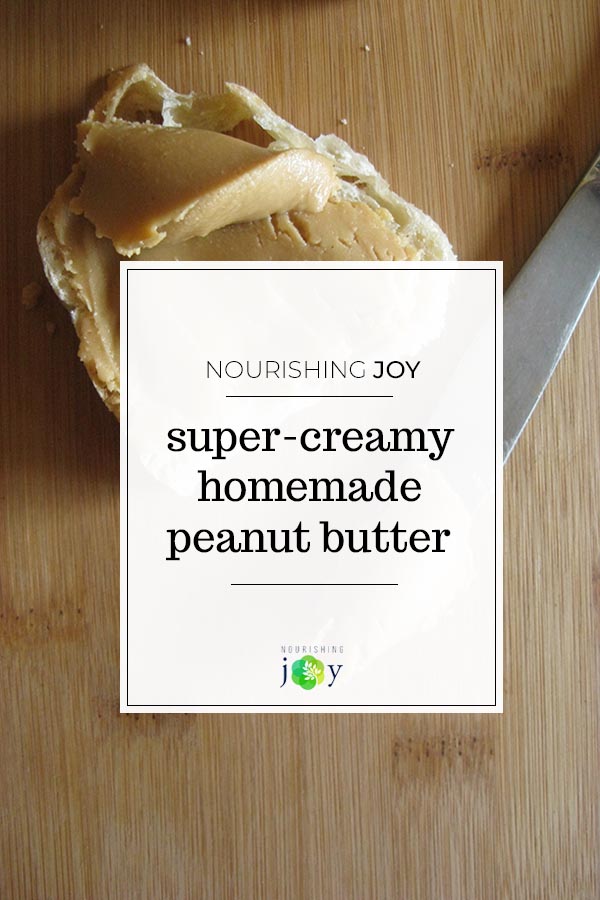 I do not multi-task well.
However, occasionally it works out for the best, such as when I stumbled – literally – upon this recipe.
See, I was grinding peanuts in the food processor to make a batch of peanut butter (the recipe that's in my book, The DIY Pantry, and that I've been making for years).
At the same time, I happened to be working on supper, which that night was a stir-fry.
And of course as is the case in most homes with young children, there were the usual squabbles and "Mommy! Mommy! Come see what I made!"
Needless to say, I was distracted as I was cooking and I ended up dumping the ground peanuts into the wok with the hot palm shortening instead of the onions and carrots.
At first, I thought of changing my dinner plans and making something with a peanut sauce, but then changed my mind, so scraped the whole lot into a bowl to deal with later, cleaned the pan, and went on with supper.
However, when I came back to the peanut mixture several hours later, the edges had congealed into a lovely smooth consistency that trumped any batch of homemade peanut butter I had ever made.
So, of course, I started experimenting and after a few batches, decided the recipe as I've typed it here is the way I like it best. It's slightly sweet, it's totally spreadable, and it's just the right amount of lip-smacking good.
So, for your homemade pantry staple of the day, today I give you Super Creamy Peanut Butter. If you tend to like the store-bought brands, this recipe is for you. You'll never miss the store-bought variety again. Really, truly.
(As I've said before, however, many of the best peanut butters are merely ground peanuts with nothing added. If you happen to like a super creamy texture or the slightly sweetened flavor that most of the major name brands have, this is the way to do it.)
Super Creamy Homemade Peanut Butter
makes approximately 2 1/2 - 3 cups
Ingredients
Instructions
Grind the peanuts in a food processor or mortar until very smooth.

Meanwhile, place the palm shortening, honey, and salt in a large saucepan over medium-low heat. Add the ground peanuts and let the mixture melt together, whisking often until there are no lumps.

When the mixture is smooth, pour into a jar or other storage containers and set aside until thick and cool, about 2 hours.

NOTE: If the mixture is not pourable when it's time to pour it into jars, add more palm shortening a bit at a time until it can be poured rather than scooped. That's key to achieving the super creamy texture. This can vary greatly according to the type of peanuts you use (I've even had it vary from batch to batch using the same kind of peanuts).