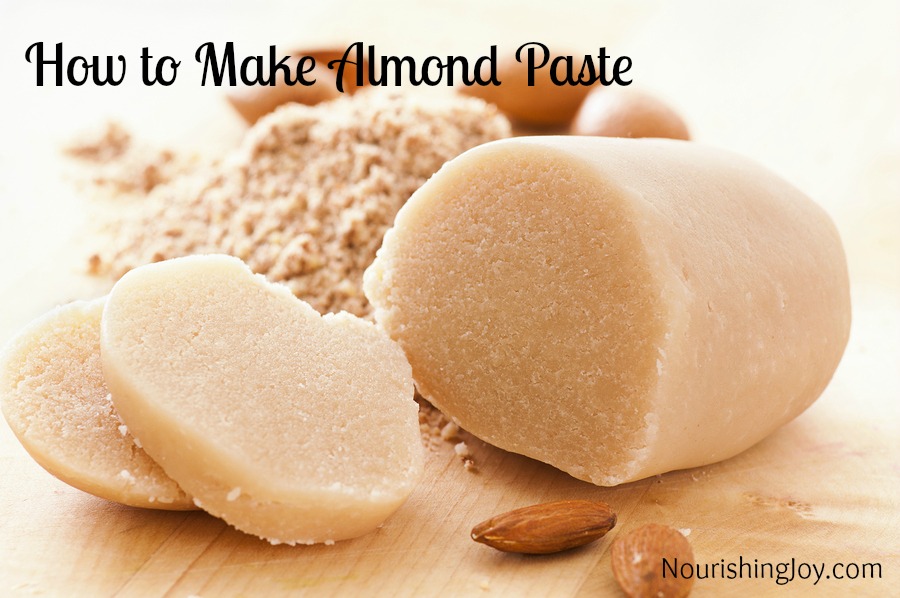 Almond paste is an absolutely ubiquitous, don't-you-dare-not-have-it pantry staple in our house around Christmas time.
Between the Dutch, Swedish, and German heritages that make up our family, almond paste shows up in a whoooooole lot of traditional Christmas recipes.
The problem is – and yes, you've heard this before – it uses refined sugar. A lot of it. So, what to do when you're planning on giving in to the aforementioned love of almond paste and eating copious amounts of it?
You find a method that allows you to use a sugar that still has at least some of its minerals intact.
Yes, you're still eating sugar, and yes, that definitely means some modicum of moderation should be called for, but you will be reducing the absolute havoc that is wreaked upon a body by ingesting highly refined sugar.
But all preaching aside, this method of making almond paste is simple and stunning. In my estimation, it makes a far superior paste to the egg-and-powdered-sugar version that I've made in the past. This tastes like it came straight off the confectioner's worktable in the old-world and it's just the right texture to knead and shape as desired.
And one note about using both sugar and honey – I've tried the recipe using various amounts of each, including JUST sugar or JUST honey, but definitely the best texture and best moisture is found with the ratio used here.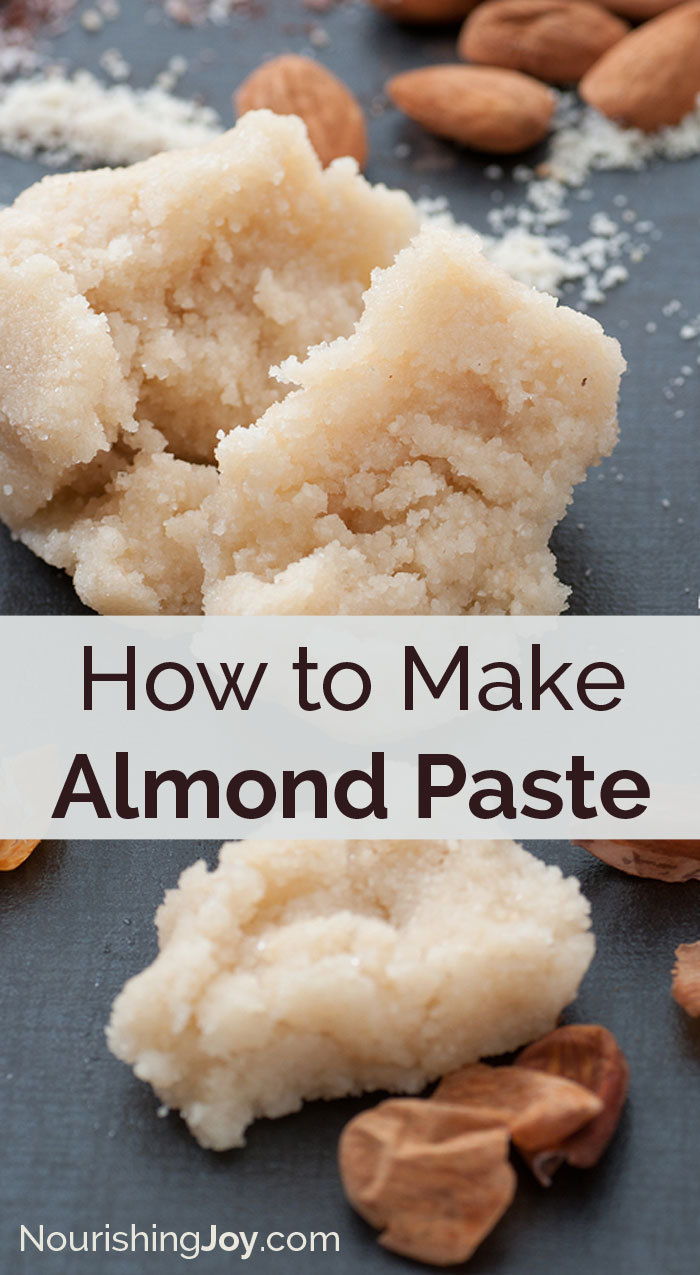 How to Make Almond Paste
I'm giving the amounts in weights merely because I find I have more consistently good results when I use my scale rather than my measuring cup. However, it's certainly easier to use a volume measure, so I've included estimates for those as well.
Update 2018: I wrote this recipe when we lived at sea level, and now that we live in a more mountainous region, my annual batches of almond paste seem to turn out… well, pastier. Better said, they're just slightly stickier, which still works just fine for cookies but isn't as easy to shape and mold. I now recommend starting with SIX tablespoons of water and adding the seventh only if the almond paste isn't cohesive enough.
Makes approximately 4 cups / 2 pounds
500 g (~3 1/4 cups) whole, blanched almonds
250 g (~1 1/8 cup) unrefined cane sugar
75 g (~1/4 cup) honey
100 g (~7 tablespoons) water
1 tablespoon almond extract OR Kirsch (for a light cherry flavor) – optional
If your almonds aren't pre-blanched, blanch them (see directions below).
Place the almonds in a food processor and grind until they are the size of very coarsely ground coffee. Let sit until the sugar mixture is ready.
Place the sugar, honey, and water in a medium saucepan and bring to a full, rolling boil over medium-high heat. While it's still boiling, pour the syrup over the almonds, then process until smooth, which usually takes 5-10 minutes. At some point in the first few minutes of grinding, add the almond extract through the feed tube so that it gets thoroughly worked into the dough.
Remove the almond paste from the processor and wrap it tightly in plastic wrap. Place in the refrigerator until fully chilled, then use as desired.
How to Blanch Almonds
Bring a large saucepan of water to a boil, then add any amount of raw almonds.
Let the almonds simmer for about 60 seconds, then drain them and run them under cold tap water to stop the cooking process and completely cool them.
Pour them out onto towels and pat them dry.
At this point, you should notice the skins beginning to shrivel, so at that point, squeeze and rub each almond gently until the skins begin to peel off.
Use the blanched almonds immediately or store them in an airtight container in the freezer for up to 6 months.