Non-Toxic Homemade Playdough Recipe: Quick and Easy!
This post may contain affiliate links, including those from Amazon.com, which means we earn a small commission off your purchases. And here's the thing: We only mention services and products that we think are truly worth your attention, whether they're free, paid, or otherwise. This site relies on YOUR trust, so if we don't stand behind a product 110%, it's not mentioned. Period.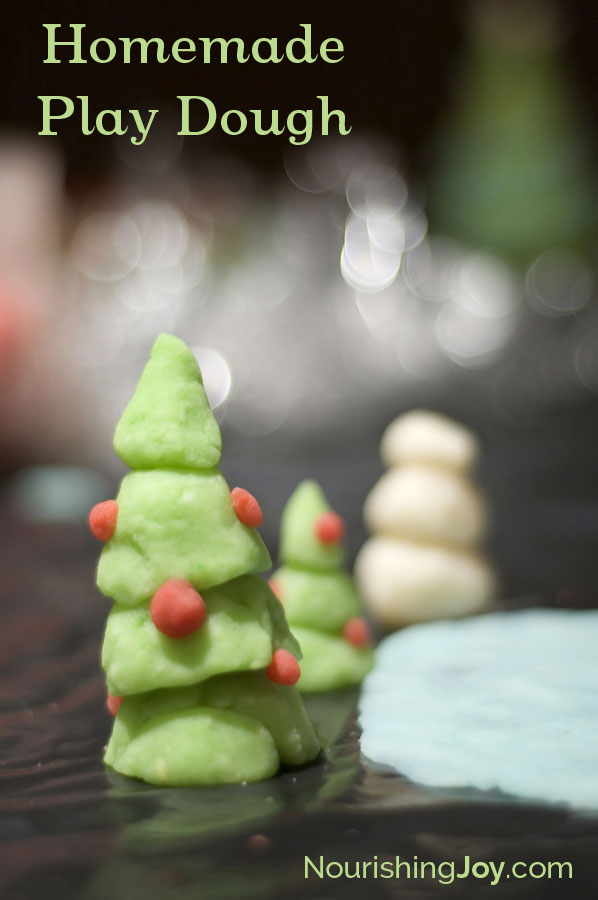 Homemade playdough is quick, easy, and frugal – not to mention non-toxic and highly customizable. Provide your kids with the perfect play dough!
As with most young children, our kiddos love to get their hands into whatever they're doing – be it helping to make dinner biscuits, digging their hands into the dirt in the garden, or making intricate sculptures with play dough. In order to give them plenty of opportunity for focused play they enjoy, we like to have lots of play dough on hand.
Making play dough at home not only lets you have control over what ingredients and chemicals (or lack thereof) your children are exposed to, but it's definitely more frugal. This recipe takes less than five minutes to pull together, so it's definitely a favorite in our house.
And for colorings, we just use whatever natural colorants we have on hand – I've written lots about these in my articles on homemade food coloring and how to make crayons.
(Oh, and if you want a more seasonally-festive version, you can try our Gingerbread Play Dough. It's absolutely delightful during the Christmas season!)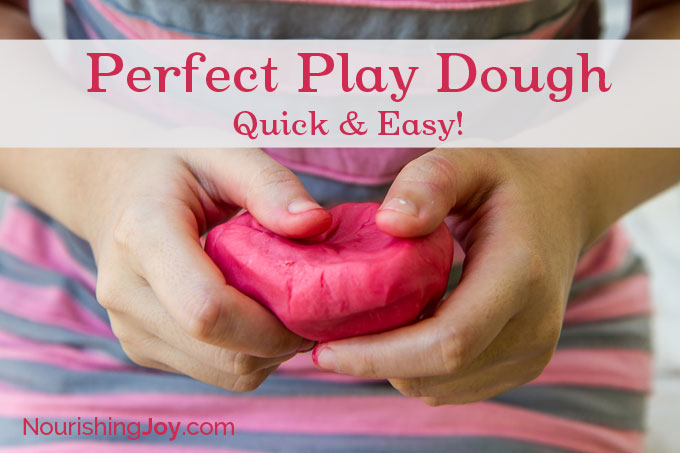 Ingredients for Homemade Playdough
1 cup all-purpose flour (save the nourishing sprouted and whole grains for eating!)
1/2 cup salt (cheap, regular table salt works just fine)
2 tablespoons cream of tartar
1 cup hot water
1 tablespoon olive oil
5-7 drops food coloring – see how to make natural homemade food coloring
Mix the flour, salt, cream of tartar, water, and oil in a medium stockpot. Have food coloring ready and within easy reach.
Heat the concoction over medium heat, stirring constantly. At the moment you see it begin to thicken, drop in food coloring while still stirring, and continue to cook until a dough has formed and it pulls away from the sides of the pot. (Food coloring can also be kneaded in after the dough has formed, but I find that that method stains my hands and countertops more easily.)
Remove from the heat and allow it to cool completely. Please note that if used warm, the food coloring may color your tabletop or your child's hands, but by the time the dough is cool, the dye has been absorbed into the dough and I've never had a problem with color transfer.
To keep the dough soft, store in a sealed container or resealable plastic bag. It's also recommended to make a fresh batch at least once a month in order to keep viruses from spreading.
Why does play dough have cream of tartar?
And by the way, if you've been looking at various play dough recipes online, you'll notice that this one has more cream of tartar than most. This is intentional, as it's the cream of tartar that gives it that "squooshy" sensation that's most similar to the brand name kind.
Occasionally I add a teaspoon of school glue as well to make it even more elastic, but the cream of tartar by itself does just fine, so I don't add it that often, just to keep things simple.