Real Food Slow Cooker Pulled Pork
This post may contain affiliate links, including those from Amazon.com, which means we earn a small commission off your purchases. And here's the thing: We only mention services and products that we think are truly worth your attention, whether they're free, paid, or otherwise. This site relies on YOUR trust, so if we don't stand behind a product 110%, it's not mentioned. Period.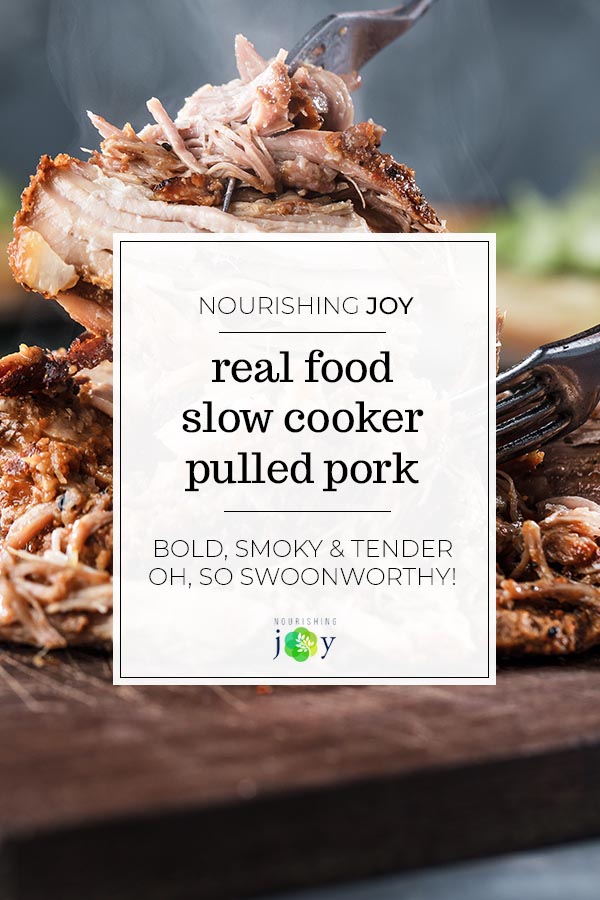 AT LONG LAST! You asked, I have delivered. 🙂
Click here to see our recipe for perfect coleslaw.
My family LOVES pulled pork and pulled pork just might be THE dish for which the slow cooker was invented.
The long, slow cook is ideal to creating meat that is moist, tender, and shreds easily. Now imagine that piled high on a bun (like these soft and easy homemade hamburger buns or these 1-hour dinner rolls)!
Yes, indeed, pulled pork is the ideal of comfort food in my house.
Now, when it comes to real food, however, pulled pork might seem like a conundrum. Doesn't it require barbecue sauce in order to cook properly, which is typically packed with preservatives and corn syrup and lots of other undesirables?
Besides, there's an on-going debate about whether or not pulled pork even requires barbecue sauce, so this recipe delivers regardless of which method you prefer.
If you believe pulled pork ain't worth the bun it's served on without that bold-smoky-saucy taste, then simply make your own barbecue sauce with our easy recipe. Get the recipe for Bold & Smoky Barbecue Sauce here.
If, however, you prefer your pulled pork unadulterated by sauce, then this recipe will serve up a wallop of flavor without any saucy distraction.
This slow cooker pulled pork uses a spice rub to become fragrant and flavorful and exactly the essence of what slow cooker pulled pork ought to be, whether you add barbecue sauce or not.
Also, if you want moistened meat but don't want to make a barbecue sauce, just thicken the liquid from the slow cooker and add that to the shredded pork as desired. (See directions below.)
Enjoy!
(Side note: I've written two books stuffed full of homemade condiment recipes, so if you want serve your family wholesome, nourishing foods, you've got options!

Restocking the Pantry is a digital book and features nearly 120 condiment recipes.

The DIY Pantry is a paperback available in bookstores everywhere that features 160+ recipes for a whole variety of pantry staples, including baking mixes, cereals, freezer convenience foods, and condiments.)
Real Food Slow Cooker Pulled Pork
Ingredients
1

onion

,

quartered

3 - 3 ½

pounds

pork shoulder or pork loin

,

NOT tenderloin

2

tablespoons

sea salt

4

cloves

of garlic

,

minced

4

tablespoons

smoked paprika

1

tablespoon

black pepper

½

teaspoon

cayenne pepper

1

teaspoon

dried thyme leaves

⅓

cup

apple cider or red wine vinegar

½

teaspoon

additive-free liquid smoke

1

teaspoon

molasses

¾

cup

raw honey

1

tablespoon

arrowroot powder

,

optional

1

tablespoon

cold water

,

optional
Instructions
Scatter the quartered onion over the bottom of whatever size slow cooker your cut of meat fits best in. Place the pork on the onions, keeping the fat layer on the bottom.

In a medium bowl, mash the salt and garlic together. Add the smoked paprika, black pepper, cayenne, and thyme and whisk together to mix well.

Pour in the vinegar, liquid smoke, and molasses and stir until fully mixed. Add the honey and stir until completely mixed.

Pour the paprika-honey mixture over the pork, scraping the bowl to get out every last bit of smoky-sweet goodness, then cook on low for 8-9 hours or on high for 6-7 hours until the pork is tender and pulls away easily with a fork.

Remove from the slow cooker and shred using two forks.

To thicken the pan drippings (if desired), strain all the liquid from the slow cooker into a saucepan, being sure to remove all the solids, then bring to a simmer. Dissolve the arrowroot powder in the cold water and whisk it into the sauce. Simmer just for a minute or so to thicken.

Toss the shreds with

barbecue sauce

or the thickened pan drippings (if desired) and pile on top of your favorite soft buns or ciabatta bread.