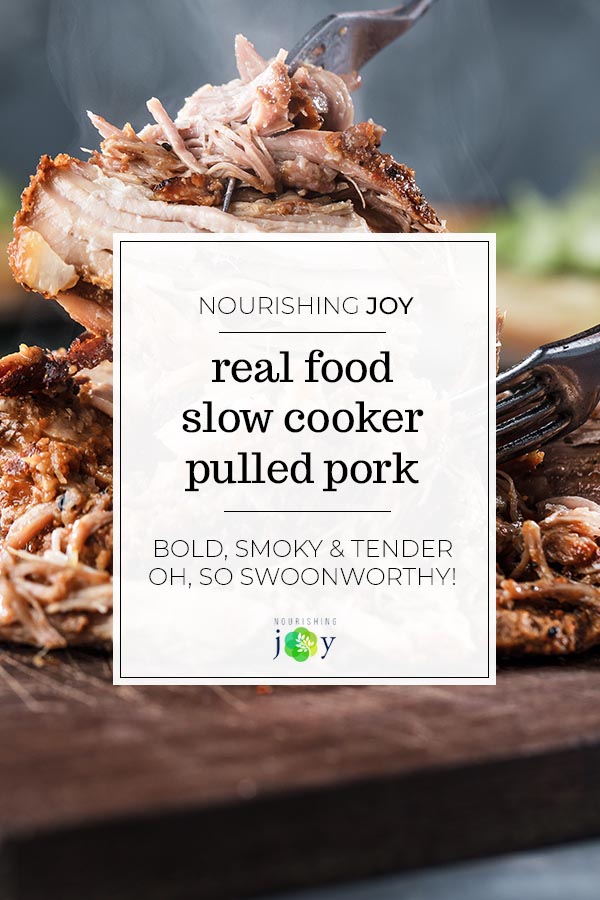 AT LONG LAST! You asked, I have delivered. 🙂
Click here to see our recipe for perfect coleslaw.
My family LOVES pulled pork and pulled pork just might be THE dish for which the slow cooker was invented.
The long, slow cook is ideal to creating meat that is moist, tender, and shreds easily. Now imagine that piled high on a bun (like these soft and easy homemade hamburger buns or these 1-hour dinner rolls)!
Yes, indeed, pulled pork is the ideal of comfort food in my house.
Now, when it comes to real food, however, pulled pork might seem like a conundrum. Doesn't it require barbecue sauce in order to cook properly, which is typically packed with preservatives and corn syrup and lots of other undesirables?
Besides, there's an on-going debate about whether or not pulled pork even requires barbecue sauce, so this recipe delivers regardless of which method you prefer.
If you believe pulled pork ain't worth the bun it's served on without that bold-smoky-saucy taste, then simply make your own barbecue sauce with our easy recipe. Get the recipe for Bold & Smoky Barbecue Sauce here.
If, however, you prefer your pulled pork unadulterated by sauce, then this recipe will serve up a wallop of flavor without any saucy distraction.
This slow cooker pulled pork uses a spice rub to become fragrant and flavorful and exactly the essence of what slow cooker pulled pork ought to be, whether you add barbecue sauce or not.
Also, if you want moistened meat but don't want to make a barbecue sauce, just thicken the liquid from the slow cooker and add that to the shredded pork as desired. (See directions below.)
Enjoy!
(Side note: I've written two books stuffed full of homemade condiment recipes, so if you want serve your family wholesome, nourishing foods, you've got options!

Restocking the Pantry is a digital book and features nearly 120 condiment recipes.

The DIY Pantry is a paperback available in bookstores everywhere that features 160+ recipes for a whole variety of pantry staples, including baking mixes, cereals, freezer convenience foods, and condiments.)
Print
[social_warfare]