31 Delicious Things to Cook in January
This post may contain affiliate links, including those from Amazon.com, which means we earn a small commission off your purchases. And here's the thing: We only mention services and products that we think are truly worth your attention, whether they're free, paid, or otherwise. This site relies on YOUR trust, so if we don't stand behind a product 110%, it's not mentioned. Period.
As you know if you're a regular reader of this site, I'm passionate about seasonal cooking and tend to swoon as each new food come into season.
Asparagus in April? Oh, yes! Peaches in August? Oh, my!
Check out our seasonal food boards on Pinterest! These are my three favorites:
CSA: Eating Inside the Box
Delectable Summer Fruits
Preserving, Canning, and Celebrating Seasonal Bounty
So, what about January? What's so amazing about January, when most of the northern climes are cold, damp, and possibly snowy?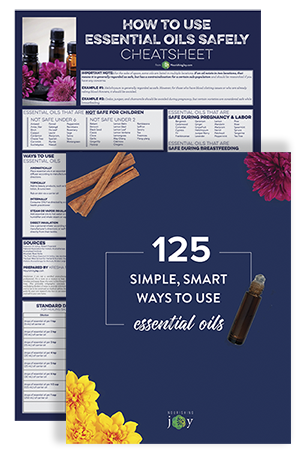 Make using essential oils EASY with our at-a-glance cheatsheets.
Be confident in using essential oils safely AND effectively! Simply click the button to download these two popular cheatsheets and see just how easy using essential oils SAFELY can be.
Well, for me, "seasonal" refers not only to what foods are growing at that moment or to foods that were preserved earlier in the year, but what foods nourish and speak to the soul through the seasons of life.
Right now, cozy comfort foods are as seasonal to me as the citrus that's currently growing in California, so you may notice I'm incorporating lots of stews, slow cooker meals, and braises.
It's also a month to focus on preserved foods (like that probiotic fig butter you made last summer), winter storage crops (e.g. beets, beans, and potatoes), and finding a farm that has a greenhouse so you can eat salad and leafy greens to your heart's content.
So, first let's make a quick list of what's in season this month around the northern hemisphere, and then without further ado, here are 31 AMAZING things to cook in January. Happy cooking!
What's in Season? – January
These obviously vary according to your latitude and altitude. Use whatever's available in your area!
Beets
Brussels sprouts
Cabbage
Carrots
Cauliflower
Chicory
Clams, Oysters, Mussels & Scallops
Clementines
King & Dungeness Crab
Grapefruit
Kale
Kiwi
Leeks
Lemons
Ling Cod, Trout & Rockfish
Mushrooms
Onions
Oranges
Parsnips
Pears
Persimmons
Pomegranates
Shallots
Spinach
Sweet Potatoes
Tangerines
Turnips
Winter Squash
31 Delicious Things to Cook in January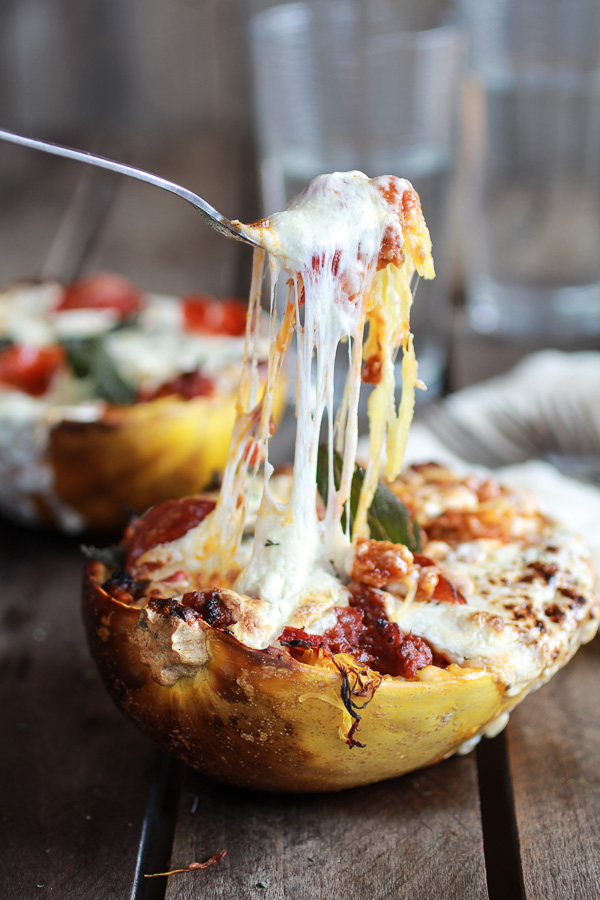 Source: Half Baked Harvest
Roasted Garlic Spaghetti Squash Lasagna Boats
What an absolutely divine use for winter squash!
Pin it for later | Get the recipe
Slow Cooker Black Eyed Peas
This southern New Year's tradition is made even more scrumptious in a slow cooker… mmmm…. I would definitely add in chopped collards towards the end of cooking, though!
Pin it for later | Get the recipe
Detox Smoothie (for New Year's or year round)
Whether you need to recover from a night out, staying up too late, eating too much processed food at a holiday party, or just want to detox to feel like the best version of yourself, this smoothie has totally got you covered.
Pin it for later | Get the recipe

Winter Minestrone Soup
Hearty with a doses of leafy greens, healthy fats, and much-needed Vitamin D at this time of year, this soup satisfies through and through.
Share the recipe on Facebook | Get the recipe
Loaded Baked Potato Soup with Crispy Bacon
My, oh my, this is simple, hearty, and seriously satisfying!
Pin it for later | Get the recipe
Creamy Chicken, Mushroom, and Wild Rice Soup
I love the nutty depth wild rice gives to soups, and pairing it with mushrooms and chicken is a match made in heaven.
Pin it for later | Get the recipe
Carrot Fudge (Indian Gajar Halwa Mithai)
I have made this multiple times as a pudding and I swoon every time (after getting over the fact that it's a dessert made of carrots…) SO good!
Pin it for later | Get the recipe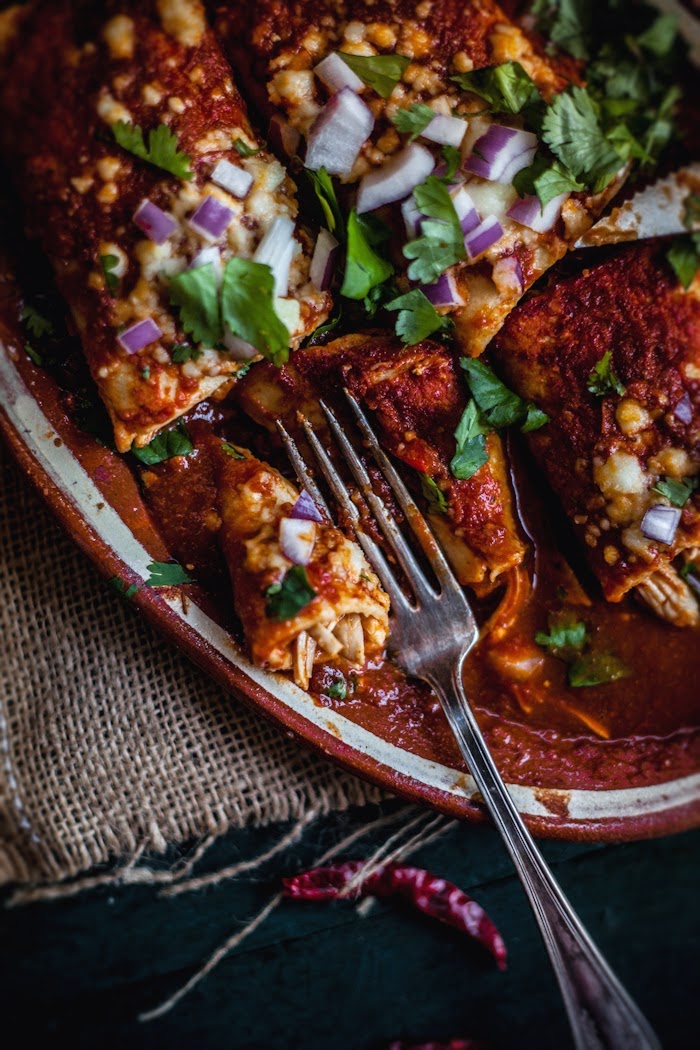 Source: Adventures in Cooking
Chicken Enchiladas with Three Peppers and a Homemade Enchilada Sauce
Frozen or dehydrated peppers are an absolutely welcome burst of sunshine in the middle of winter – and thus, this recipe is a comfy, cozy seasonal meal this time of year.
Pin it for later | Get the recipe
Daube Provençale (French Beef Stew with Red Wine)
This hearty stew sounds simple, unique, and scrumptious! I think I'm going to try it in the slow cooker…
Pin it for later | Get the recipe
Perfect Pan Seared Scallops with a Simple Pan Sauce
Celebrating scallop season is a highlight of winter where I live (it's in the summer in other places, so see what's local for you). This scallop recipe is quick and simple, making it perfect for a weeknight. I serve it with bacon, dark greens, and French lentils, which can be made ahead.
Pin it for later | Get the recipe
Pork Stir Fry with Green Onions
This super-simple stir-fry makes a superb simple supper!
Pin it for later | Get the recipe
A recipe for a nasty cold: Egg Drop Soup with Duck
My family has loved this recipe for years and it's easy to make with chicken or turkey too.
Pin it for later | Get the recipe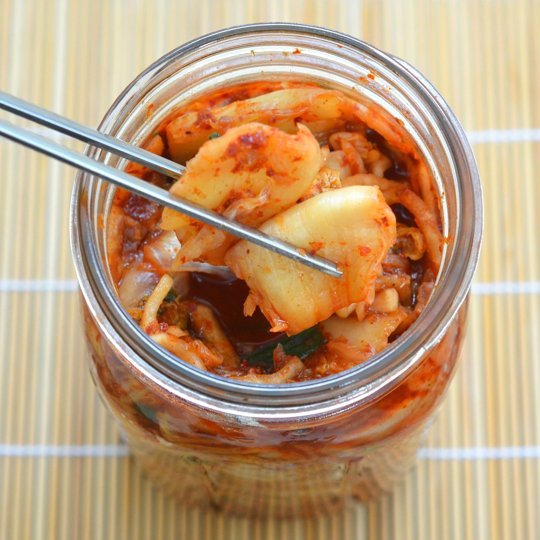 Source: The Kitchn
Kimchi
This might just be my favorite ferment for the cold, winter months because of its warming, blood-quickening heat. The flavor is soul-warming too, and this recipe looks like the best I've seen. (My previous favorite was the one I've published in my various books, so that's sayin' something. 🙂 )
Pin it for later | Get the recipe
Bacon, Brussels Sprouts, and Apple Quiche
Brussels Sprouts are a great way to get more greens in your diet and this quiche is so versatile!
Pin it for later | Get the recipe
Three Pâtés to Satisfy Every Palate
At this time of year when we have reduced hours of sunshine, these pates help boost your Vitamin D intake, provide super-healthy fats to help make sure all those vitamins get to the cells where they're needed, and just help you feel like the best version of yourself.
Pin it for later | Get the recipe
Homemade Chai Concentrate
Heady spices, soul-satisfying warmth, and an easy make-ahead recipe make this chai a welcome treat to make over and over this month.
Pin it for later | Get the recipe
Caramel Hot Chocolate
Yum, oh, yum, oh, yum! For those cold weekends this month when you just want to curl up inside….
Pin it for later | Get the recipe
How to Make Fresh Pasta
Not only is homemade pasta soul-satisfying, but it's a great activity on a snowy, cold weekend when you have to stay in anyway…
Pin it for later | Get the recipe
Middle Eastern Lamb Ragout
I love Middle Eastern spices – on lamb particularly. I'll be making this hearty, warming meal in our slow cooker sometime this month, for sure.
Get the recipe
Lamb and Quinoa Meatballs
These meatballs are great for a winter-time meal, and freeze well for future meals, too!
Pin it for later | Get the recipe
Mushroom and Spinach Lasagna
This lasagna is a great feel-good dish in dark, cold days, as mushrooms are the only plant source of several vitamins and minerals typically found in animal meat, including much needed Vitamin D, and it's packed with greens.
Pin it for later | Get the recipe
Mama's Ultimate Chuckwagon Chili
This chili is a favorite in our house, partially because it contains hidden ingredients that help improve mood and promote productive sleep. That's why it's called "Mama's Ultimate…."
Pin it for later | Get the recipe
Chicken Stew with 40 Cloves of Garlic
In this season of reduced immunological response due to dry, cold air, this flavorful stew is a great way to boost immunity (and don't worry, you won't smell like garlic!)
Pin it for later | Get the recipe
Crab Cakes with Lime and Ginger
These are an absolutely mouth-wateringly way to start the year. Seasonal crab, lime, and warming ginger all at once? Oh, yes! (I would substitute sourdough breadcrumbs for the processed panko, though…)
Pin it for later | Get the recipe
Borscht
This soup is a great way to remember summer right when you're needing a blast of sunshine. It will make you smile.
Pin it for later | Get the recipe
Real Food Slow Cooker Pulled Pork
Whether you serve this in bowls over rice or in buns as sandwiches, this pulled pork is an easy meal on busy or lazy days.
Pin it for later | Get the recipe
Slow Cooker Pork Vindaloo (or Goat, Beef, Lamb, or Chicken)
Another easy slow-cooker, prep-ahead meal for busy weeknights! If you've got frozen peppers you preserved last summer, they can easily be added to this dish.
Pin it for later | Get the recipe
Grain-Free Salmon Patties with Lemon Sour Cream
This recipe uses canned salmon, so it's great for this time of year when salmon isn't in season. Typically I'm not a fan of canned salmon AT ALL, but Wardee convinced me with this recipe (and a brand recommendation) that totally had me sold. It uses seasonal citrus too!
Pin it for later | Get the recipe
Savory Sweet Potatoes With Bacon & Swiss
Since sweet potatoes store so well through the winter, I love having sweet potatoes for brunch. And with bacon? Yes, please!
Pin it for later | Get the recipe
Chestnut & Fennel Soup
Chestnuts are just at the end of their season and storage apples and fennel will both be winding down soon, if they haven't already in your climes. And if you grow thyme in your kitchen garden, you can make this soup entirely fresh and in season. It's delightful and unlike anything you've had before.
Pin it for later | Get the recipe
What have I missed? What foods do you particularly love to eat in January?