Mushroom and Spinach Lasagna
This post may contain affiliate links, including those from Amazon.com, which means we earn a small commission off your purchases. And here's the thing: We only mention services and products that we think are truly worth your attention, whether they're free, paid, or otherwise. This site relies on YOUR trust, so if we don't stand behind a product 110%, it's not mentioned. Period.
I am a carnivore, and a happy one at that. Yet this all-occasion lasagna satisfies without meat. It has just the right amount of cheese and butter to give the hearty satisfaction of healthy fats while also being stuffed full of vegetables to provide lots of vitamins and fiber. Many of the vitamins are fat-soluble, as well, so this dish is truly a synergistic gastronomical delight.
Mushrooms – and crimini mushrooms in particular – are a fascinating source of nutrients. Recent studies have found significant amounts of CLA (conjugated linolenic acid) and varied amounts of Vitamin B12 in criminis, both of which are typically only found in meat and dairy products and both of which are critical nutrients for human function.
Criminis provide unique support to the immune system, reducing arthritic inflammation and causes of cardiovascular disease. Also, depending on how they were grown, they may be a source of Vitamin D, which most of us in northern climes crave in the dark days of winter and making this lasagna an excellent cold-weather dish. (Source: The George Mateljan Foundation)
Edited to add: The type of Vitamin D is an interesting source of contention, as according to Sylvia P. Onusic, PhD, CNS, LDN, this is Vitamin D2, not Vitamin D3, and she expounds on the difference as they exist in mushrooms on her article at The Healthy Home Economist.
Sylvia P. Onusic, PhD, CNS, LDN
Sylvia P. Onusic, PhD, CNS, LDN
It's the teaming up of ingredients in this dish that really pack the nutritional punch, though. Several of the ingredients are strong anti-cancer foods, including tomatoes, mushrooms, spinach and zucchini. Those same ingredients also top the list for high levels of anti-oxidizing nutrients – especially selenium, zinc, and manganese. Vitamins A, C, E, and K are prominent, along with the B-complex vitamins. The dish is also a significant source of folate, due largely to the mushrooms, spinach, and zucchini.
I've played with this recipe for years, but what appears here has been our favorite version and seems to be sticking around. Please play with the recipe to your taste and according to season – that's one of the great joys of cooking Italian: following your instinct and culinary curiosity is more important most of the time than following the recipe.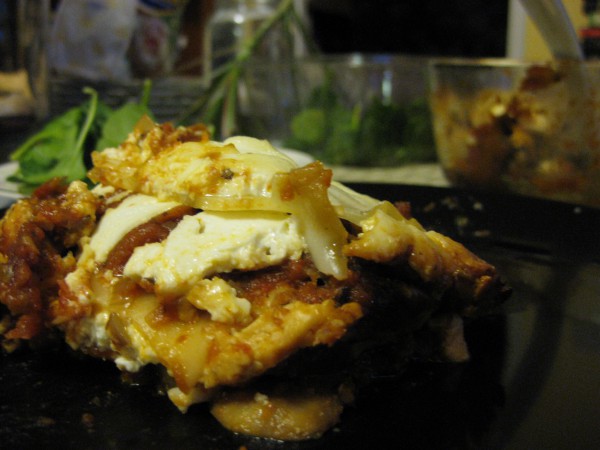 Ingredients
Tomato-Mushroom Mixture
3 Tbls. butter
1 onion, minced
3 cloves of garlic, crushed
1 carrot, finely shredded
2 zucchini, coined
10-15 large crimini mushrooms, sliced
3 cups tomato sauce
1/2 cup tomato paste
2 large pinches of sea salt
2-3 tsp. dried Italian herbs – heavy on the basil, a little oregano, a small pinch of marjoram or savory
pepper to taste
Spinach-Cheese Mixture
10 oz. cooked spinach, drained well and chopped coarsely (approximately 1 lb fresh spinach)
2 cups cottage cheese or homemade ricotta (unless you purchase ricotta from an artisanal cheesemaker, do not use store bought ricotta, as the flavor and texture differ significantly)
8 oz. cream cheese, softened
1 Tbls. lemon juice
dash of nutmeg
Noodles and Cheeses
9-12 cooked extra-wide lasagna noodles OR 6-9 sheets of fresh pasta (depending on width of noodles and width of your pan)
12 oz. mozzarella cheese
6 oz. shaved parmesan cheese
Preparation & Assembly
Oven: 325°F for 30-45 minutes

Make the Tomato-Mushroom Mixture: Saute the onion in the butter in a large saute pan over medium heat until translucent but not browned. Add garlic and saute until fragrant, about 30 seconds. Add carrot, zucchini, mushroom, and salt and saute until mushrooms have released their juices, about 5-6 more minutes. Add tomatoes and herbs and simmer gently for 20-30 minutes until the mixture has thickened slightly and flavors have begun to mingle.
Make the Spinach-Cheese Mixture: Saute or steam spinach lightly for 1-2 minutes, just until leaves have wilted completely and the juices have been released. Set in a strainer and drain as thoroughly as possible, pushing on the leaves as necessary. Meanwhile, place cottage cheese, cream cheese, lemon juice, and nutmeg in a large bowl and stir to blend them completely. Add drained spinach and stir again.
Prepare the pasta: If using boxed pasta sheets, cook according to package instructions, generally by adding the sheets to salted boiling water for 8-10 minutes. Drain and set aside on tea towels to keep them from sticking together or being overly wet. If using fresh pasta sheets, add the sheets to salted boiling water for 30 seconds (no more and no less!) then drain and reserve on tea towels.
Assemble the Lasagna: Choose any oblong, rectangular pan – one 9″x13″ pan or 3 large bread loaf pans, for example. Ladle enough tomato mixture onto the bottom of the pan to cover the it. Place one layer of pasta, then spoon one-third of the spinach-cheese mixture on top, followed by one-third of the tomato-mushroom mixture. Top with two handfuls of mozzarella cheese. Repeat layers twice more, finishing with the mozzarella. Cover with aluminum foil and bake until bubbly, approximately 25-30 minutes. (Allow for an extra 15 minutes if heating the lasagna from the freezer.) Remove foil and sprinkle with all of the parmesan cheese. Return to the oven until cheese is golden-brown and bubbling.
Remove from the oven and let stand 5-10 minutes before serving.