This post may contain affiliate links, including those from Amazon.com, which means we earn a small commission off your purchases. And here's the thing: We only mention services and products that we think are truly worth your attention, whether they're free, paid, or otherwise. This site relies on YOUR trust, so if we don't stand behind a product 110%, it's not mentioned. Period.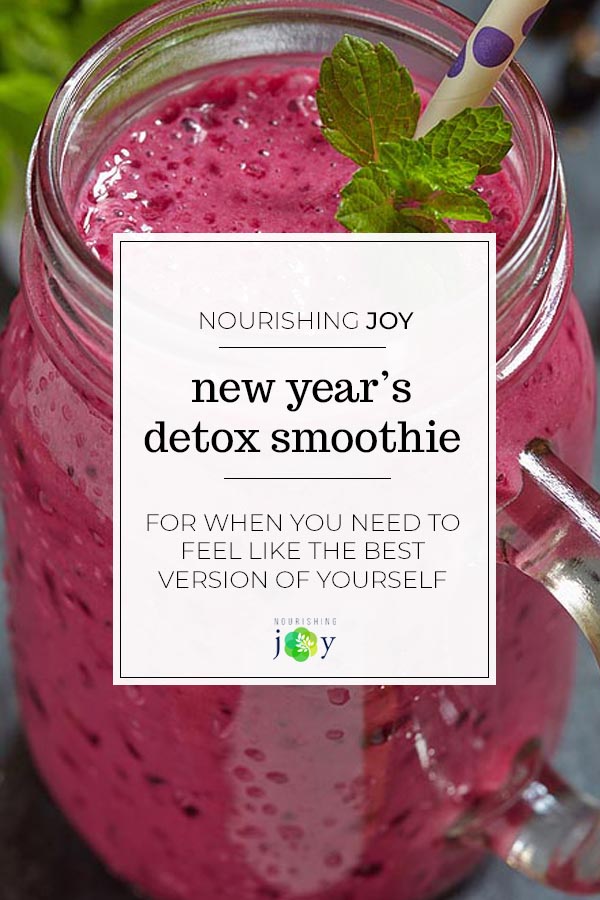 Originally published December 30, 2014
Whether you need to recover from a night out, staying up too late, eating too much processed food at a holiday party, or just want to detox to feel like the best version of yourself, this detox smoothie has totally got you covered. It's a pumped-up version of the smoothie I drink each morning and I explain why I include each ingredient below.
But first, did you know every single one of us – even those living away from civilization – has at least 200 different types of toxins stored in our body? (That's seriously crazy pants! Does that boggle anyone else's mind?) Whether it's lead in diesel fumes, smog, manufacturing residues, cleaning chemicals, pesticides, preservatives, carbon oxides, and a host of other environmental unsavories, toxins are in our bodies and some of them are stored in our fat. That's one way our body contains them to minimize the damage to our cells and organs!
And thus, if you're struggling to lose weight, one possible element in the equation is that your body may not want to let go of the fat because that also means it will be freeing toxins to be free-agents in your systems. By detoxing first, you can safely rid your body of some of the toxins stored in your fat, and thus allow your body to burn fat more freely.
Fascinating, eh? 🙂
And if you're using this detox smoothie for a morning-after panacea, I also recommend sipping fresh beet juice and celery juice to help the liver work at optimum function. Just don't include them in the smoothie, as they kinda overpower the other flavors. 😉
Know Your Detox Smoothie Ingredients
Dark leafy greens
Dark leafy greens are great sources of amino acids (protein), caretenoids (such as beta carotene), calcium, vitamin K, iron, magnesium, zinc, folate, and a host of other minerals and phytonutrients. They are potent antioxidants, as well, which help your cells heal from damage done by alcohol, environmental toxins, and free radicals.
They also provide fiber to help cleanse your colon, help you feel satiated for a longer period of time, and balance your blood sugar.
Dark berries, pineapple, or mango
Dark berries are high in phytonutrients that function both as antioxidants and as anti-inflammatory compounds in the body. These phytonutrients are what given them their deep, vibrant hues. Blueberries, strawberries, cranberries, and elderberries are all popular choices. The phytonutrients in these kinds of berries also help clear brain fog, improve cognitive function, and balance blood sugar.
Alternatively, you can use pineapple or mango. Pineapple is very high in Vitamin C and manganese, which helps boost energy levels. Both pineapple and mango are sweeter, so make an especially delicious smoothie.
Fresh mint
Mint is a digestive aid and is a good source of manganese, copper, and vitamin C. Being rich in chlorophyll, it's also an antioxidant. Most of all, though, it's very refreshing and adds sweetness without any sugars.
Avocado or coconut oil
Avocados and coconut oil are included in this recipe for their high fat content, which is absolutely essential when detoxing. These are not stored fats, these are fats that help regenerate cells and assist in the absorption of fat-soluble vitamins – namely all the lovely vitamins packed in the other ingredients.
Bananas
Bananas are high in potassium, vitamins A, B, E, K, and C, folate, and fiber. In this case, however, we're including them largely because they help restore electrolyte balance (which is especially helpful after alcohol consumption) and they sweeten the smoothie with very little fructose. Fructose increases, though, as the banana ripens, so for detox purposes, don't include a banana that's overripe.
Flax seeds
Flax seeds are the densest source of lignans, which are powerful phytochemicals that assist in detoxing. They're also very high in fiber and super effective at binding up wastes and ushering them out of the body.
Flaxseeds are also rich in omega-3 fatty acids, a type of fat essential for brain function and mental clarity.
Matcha or green tea
Matcha is a very potent antioxidant and super-detoxer. It's a concentrated source of chlorophyll, which acts as a blood cleanser, and increases thermogenesis, the body's rate at which it burns stored fat. And perhaps best of all, it contains the very special amino acid L-theanine, which helps relieve stress and counterbalance the effects of caffeine and hormones like adrenaline that linger after a night of partying.
Green tea contains all these benefits as well, but in lower concentrations.
Ginger
Ginger is used in this recipe because of its "warming" effect as a vasodilator. It helps open blood vessels, which allows for the greatest blood flow through the body. This allows for a greater volume of oxygen to organs and tissues and clears away the greatest amount of toxins and waste.
Romaine or cucumber
These are included because they very effectively hydrate the body, which helps flush toxins, and due to their surprisingly high source of Vitamin C, which boosts the efficacy of the immune system.
Raw milk, coconut milk, or coconut water
You can read why our family chooses to drink raw milk (and why I recommend it). Coconut milk is a delicious, nourishing option if raw milk isn't available where you are or if you prefer not to drink raw milk. And coconut water is deeply hydrating (essential after a night of drinking) while also being chock full of nutrients your body needs when it's under stress. All three are great options in this healthy detox smoothie!
A Note About Blenders
If you want to get serious about smoothie drinking, I can't recommend a high-speed blender enough. I made smoothies for a long time in a regular blender and they were fine, but I nearly burned out my standard blender numerous times and the texture of the smoothie when using fibrous greens and additions like flax or chia seeds is FAR smoother, silkier, and more easily digestible with a high-speed one. (Obviously, since high speed blenders have been designed specifically with that in mind!)
They're also great for whole-food juicing. For example, my hands-down favorite detox juice is 1 green apple, 1 cucumber, 2 stems of fresh mint, 2 stalks of celery, 1 nub of ginger, 2 leaves of romaine, 3 leaves of kale, and half a lemon. It's lovely when juiced through a juicer, but when I combine all those ingredients in a high-speed blender, I end up with a juice that still includes all its fiber. For me, this is important and it's nearly impossible in a standard blender, so a high-speed blender is true gift. A luxury, yes, but if it's used regularly, it really DOES make a difference in what you can do in the kitchen and in your overall health.
Basically, I detox more often, I include more leafy greens in my family's diet, and we just generally enjoy our smoothies more.
So, if you're wanting to be serious about your health this year and want a high speed blender to be a part of that equation, you can grab a Blendtec from me here (yes, that's an affiliate link!) –> https://nourishingjoy.com/blendtec
With that, I wish you deep blessings in the new year, including truly vibrant health of mind, body, and soul. May the JOY in your home be nourished!
Detox Smoothie
Servings:
2
pint-sized smoothies
Ingredients
2-3

stems

fresh mint,

more as desired

2-3

cups

dark berries, pineapple, or mango
a large handful dark leafy greens,

OR 2-3 stems of leafy kale, 5-6 stems lacinato kale, 1 very large handfuls of spinach, etc – this doesn't have to be an exact measurement by any stretch of the imagination

2

cups

whole milk, coconut milk, or coconut water,

more if the smoothie becomes too thick

½

banana,

underripe or perfectly ripe

1

avocado or 2 tablespoons coconut oil

1

heaping tablespoon

ground flax seeds

1

teaspoon

matcha or ½ cup brewed green tea or goldenrod tea

½-

inch

stem of fresh ginger,

peeled and grated

1

handful

romaine or ½ a cucumber,

peeled (optional)
Instructions
Combine the ingredients in a blender. Place all ingredients in a blender, making sure the milk and leafy greens are on the bottom.

Blend the smoothie. Blend on high speed until smooth, 30-60 seconds.