This post may contain affiliate links, including those from Amazon.com, which means we earn a small commission off your purchases. And here's the thing: We only mention services and products that we think are truly worth your attention, whether they're free, paid, or otherwise. This site relies on YOUR trust, so if we don't stand behind a product 110%, it's not mentioned. Period.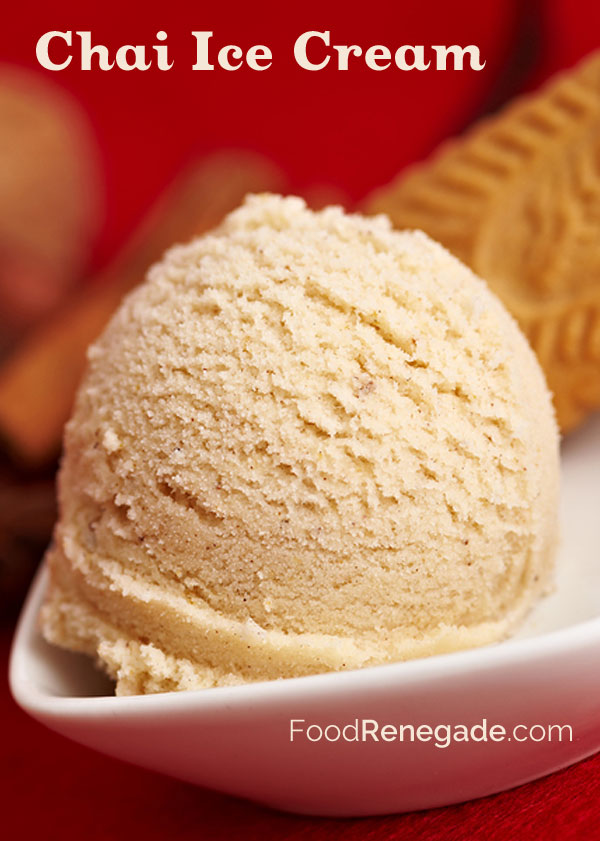 Autumn came with a vengeance where I live this weekend – while I write this I'm wrapped up in wool blankets and sipping honey caramel apple cider – so perhaps it's odd that I'm at Food Renegade today sharing an ice cream recipe.
However, this recipe, with rich, warm Chai spices and the nourishment of raw egg yolks from pastured hens, raw cream, and raw milk, IS most definitely a treat for every time of year – winter and summer alike. Decadence from simple, down home ingredients – now that's worth celebrating!
And need I convince you of the gorgeous flavors in Chai? I make homemade Chai tea concentrate regularly, even making Chai kombucha – so adding the spices to ice cream was a no-brainer for this chai lovin' mama!
Love ice cream as much as I do? See our recipes for strawberry ice cream, green tea ice cream, and cranberry mango sorbet too!