Real Food Favorites for St. Patrick's Day
This post may contain affiliate links, including those from Amazon.com, which means we earn a small commission off your purchases. And here's the thing: We only mention services and products that we think are truly worth your attention, whether they're free, paid, or otherwise. This site relies on YOUR trust, so if we don't stand behind a product 110%, it's not mentioned. Period.
St. Patrick's Day is just around the corner and evidently a few of you are wanting to make a feast this year, as I've received a number of e-mails this past week asking about "healthy" ideas for St. Patrick's Day.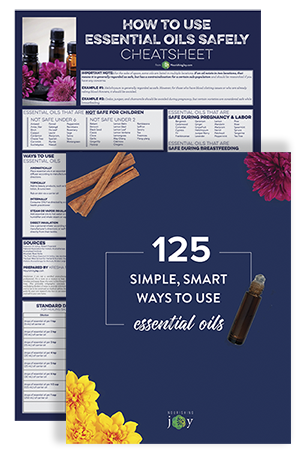 Make using essential oils EASY with our at-a-glance cheatsheets.
Be confident in using essential oils safely AND effectively! Simply click the button to download these two popular cheatsheets and see just how easy using essential oils SAFELY can be.
Thus, I thought it might be helpful to some to have a nice, consolidated list of all our St. Patrick's Day-related foods in one handy place.
I put a list of some of these recipes at the top of our corned beef recipe a year or two ago, but pulling together a list here makes it a bit more "find-able." Besides, I'll more easily be able to add recipes to this list over the coming months and years as they're published.
Please be sure to add in your thoughts in the comments about what recipes you'd like to see here in the future, as well!
So, without further ado – here's our on-going list of real food favorites for St. Patrick's Day.
Eat Real Food This St. Patrick's Day
How to Color Your Beer Green
For those of you who want to color your beer green naturally, here's our handy resource for homemade food coloring. But my personal preference? Skip the lagers on this particular day and drink an oatmeal stout instead. Especially if you're needing to boost your breastmilk. 🙂
Green Peppermint Oreos
I had to mention this one first just because they're just so darn yummy. I submitted this recipe as my monthly contribution over at the Traditional Cooking School by GNOWFGLINS and based on how fast the recipe flew around social media, students there have agreed – this recipe is totally worth trying this St. Patrick's Day!
Click here for Green Peppermint Oreos
Traditional Homemade Corned Beef
Corned beef is the quintessential part of any St. Patrick's Day meal. This cultured version is about the healthiest (and the yummiest) you can make.
Click here for Traditional Homemade Corned Beef
Corned Beef Tongue with Horseradish Cream Sauce
Corning is a GREAT way to prepare tougher muscle meats like beef tongue – and it's also a great way to make a somewhat unknown cut of meat super-yummy. Also, the horseradish cream sauce is out of this world. Even if you skip the beef tongue, don't skip the sauce. YUM!
Click here for Corned Beef Tongue with Horseradish Cream Sauce
How to Make a Reuben Sandwich
In my opinion, Reuben sandwiches are the best part of this quasi-holiday. Sourdough Rye, corned beef, pickles, sauerkraut, and lots of other briny goodness – what's not to love?
Click here to see how to make a Reuben sandwich
Mess-Free Reuben Picnic Buns
A Reuben is out-of-this-world delicious, but it's a super-gloppy mess in all its gloppy glory. Thus, for the sake of picnics, school lunches, hikes, and road trips, I created this adaptation that envelops the best parts of the sandwich into a (nearly) mess-free bun.
Click here to see how to make Reuben sandwich buns
Sourdough Rye Bread
Here's the classic recipe for rye bread, which is – of course – the basis for the Reuben sandwiches and all sorts of other scrumptiousness.
Click here to see how to make sourdough rye bread
Matcha Shortbread
If you need a quick, sweet, green treat this St. Patrick's Day, matcha shortbread is the way to go.
Click here to see how to make matcha shortbread
Matcha Green Tea Ice Cream
Green tea ice cream is another sweet green treat if you're looking for all the green you can get!
Click here to see how to make green tea ice cream
What St. Patrick's Day recipes would you most like to see here in the future? What recipes have I missed?