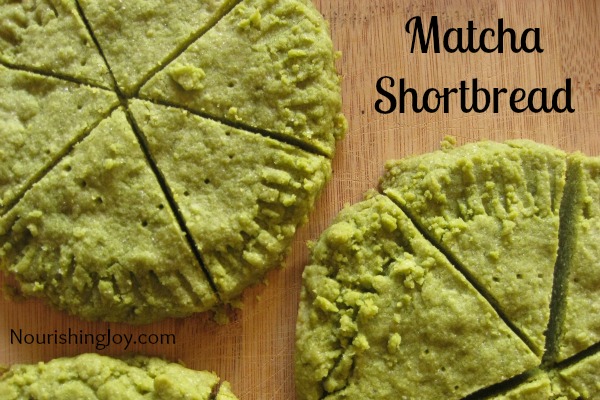 Shortbread is more known for its ties to Scotland than to Ireland, but these delicious, green-hued shortbread cookies are sure to please nonetheless for a sweet treat on St. Paddy's Day.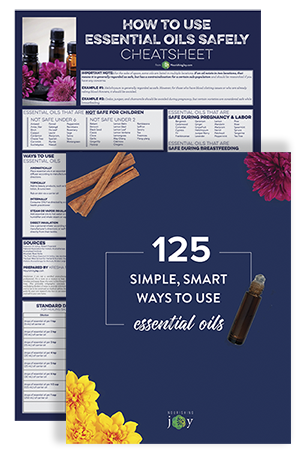 Make using essential oils EASY with our at-a-glance cheatsheets.
Be confident in using essential oils safely AND effectively! Simply click the button to download these two popular cheatsheets and see just how easy using essential oils SAFELY can be.
Matcha is green tea in its "purest" form – it's basically just specially-grown tea leaves ground to a fine powder, so you consume the actual leaf rather than just water infused with the leaves. It's pungent, sweet, and delicious and gives you a definite pump of antioxidants. If you've ever had green tea ice cream – that's matcha and that's the flavor of these buttery shortbreads.
Matcha can be quite expensive, but every once in a while you can get lucky and find it on sale or in a quantity just large enough for this recipe. Check your local health food store or natural food center to see what's available in your area or find it online.
Traditional Scottish shortbread contains only butter, flour, sugar, and perhaps a bit of salt (if you have similar tastes to Queen Victoria). The addition of other powders – such as matcha or arrowroot – soften the final texture a bit, which I find decidedly addictive.
And a last note – for the best green color, use all-purpose flour, but that fact puts these cookies strictly in the "make once a year treat" category. Sprouted flour still makes a yummy sweet, but the green is not nearly so pronounced.
Here's to occasional decadence!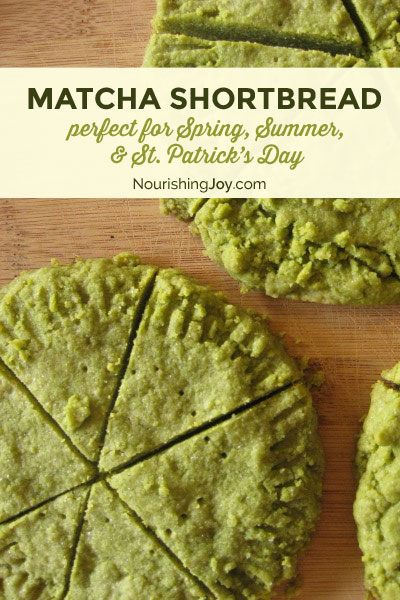 Print
Matcha Shortbread (Green Tea Shortbread)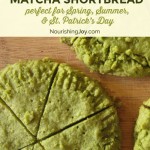 makes approximately 18 shortbread cookies
2 cups

all-purpose flour (unbleached and unbromated) OR 2 1/4 cups spelt flour

8 ounces

cold butter, cut into pieces

1/2 cup

evaporated cane sugar

1/2 teaspoon

sea salt

2 tablespoons

matcha (you can get away with

1 tablespoon

, if necessary)
Instructions
Sift or whisk the flour, sugar, salt, and matcha together in a large bowl. Add the butter pieces and work them into the dry ingredients with your fingers, working as quickly as possible to minimize how much they soften from the warmth of your hands.
When the dough is completely homogenous (which will still be very crumbly), divide dough into thirds.
Pat each third into a circle on a parchment-lined baking sheet. The circles should be about 6 inches in diameter and about 1/2-inch thick. As small pieces crumble off, just pat them back on. Alternatively, you could pat them into shortbread pans, if you have any handy. Prick the circles all over with a fork to ensure proper baking and score the top lightly to denote where you'll be cutting the cookies later. Flute the edges with the fork tines, if desired.
Place the baking pan in the refrigerator for at least 1 hour to harden the butter and allow the flour to soften some.
Preheat the oven to 300° and bake for 30-40 minutes, just until barely golden. Let cool for 10 minutes on the baking sheet, then carefully cut into pieces and let cool completely before serving.
[social_warfare]