Traditional Coleslaw Recipe: The Perfect Classic Recipe
This post may contain affiliate links, including those from Amazon.com, which means we earn a small commission off your purchases. And here's the thing: We only mention services and products that we think are truly worth your attention, whether they're free, paid, or otherwise. This site relies on YOUR trust, so if we don't stand behind a product 110%, it's not mentioned. Period.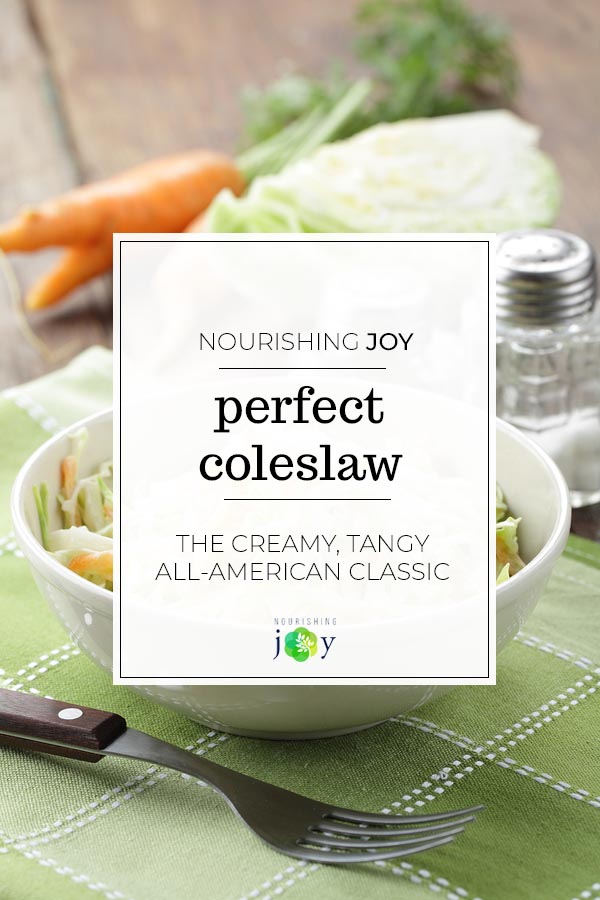 This traditional coleslaw recipe is the all-American classic and should be thoroughly enjoyed at least once every summer!
A couple of years ago I posted our family's favorite slow cooker pulled pork recipe, and it went wild. Who knew people love pulled pork so much?!?
Earlier this spring someone asked in the comments of that post if I had a good coleslaw recipe to go with it. The answer is a resounding YES! This traditional recipe is perfect for barbecue season, Canada Day/4th of July festivities, and all your summer salad cravings.
A Truly Traditional Coleslaw Recipe: What Makes It Traditional?
I can't take a whole lot of credit for this recipe, as this recipe – or at least ones very much like it – have been part of the American culinary landscape for more than 200 years. 1770 was the earliest date I was able to trace.
Interestingly enough, even though coleslaw is most often connotated with Southern food these days, it was originally made and popularized by Dutch immigrants in New Amsterdam in the mid-to-late-1700's. Actually, that's not surprising, considering much Dutch food involves cabbage! 🙂
(Side note: There are roots of a raw-cabbage-and-vinegar salad as far back as ancient Greece and Rome, which Pythagoras and others attributed to their longevity, but since mayonnaise and other egg-and-oil emulsions didn't really appear until the mid 18th-century, this version is decidedly more modern.)
And in more recent times, this style of coleslaw is what has been popularized by fast food restaurants such as KFC. (In our Real Food Makeover series, we've got a copycat KFC coleslaw recipe in the works, so if that's your craving, you'll be in luck – just not quite yet.) But I assure you – this fresh, perfectly-dressed version is 100 times more tasty than that soggy, trans-fat-laden, take-out variety.
So, with a nod to pulled pork and a long, languid summer ahead of us, here is a recipe for simple, perfect, traditional coleslaw.
Enjoy!
P.S. If you're looking for other delicious coleslaw variations, this article at NPR.org has a few GREAT suggestions!
Perfect Traditional Coleslaw Recipe
Feel free to shred other ingredients you love, such as apples, peppers, daikon, broccoli stems, or other types of cabbage.
Ingredients
For the slaw
1

medium green cabbage

,

about 2 pounds

2

large carrots

,

peeled

2

green onions

½

teaspoon

sea salt
For the dressing
1

cup

mayonnaise

,

homemade or real mayonnaise only - no Miracle Whip or other highly processed substitutes

½

teaspoon

sea salt or seasoning salt

,

see [how to make homemade seasoning salt]

¼

teaspoon

coarsely ground black pepper

3

tablespoons

evaporated cane sugar or honey

¼

cup

apple cider vinegar or plain kombucha

1

tablespoon

poppy seeds

,

optional

1

teaspoon

celery seeds

,

optional
Instructions
First, make the slaw by shredding all the vegetables, either using a food processor or a large grater. Toss the vegetables in a large bowl with the salt and set aside.

Make the dressing by whisking the mayonnaise, salt, pepper, sugar, and apple cider vinegar until absolutely smooth. Add the seeds (if using) and whisk again.

Pour half of the dressing over the shredded vegetables and toss to coat evenly, then add the remaining dressing as desired.

Serve immediately or chill for up to 12 hours.