This post may contain affiliate links, including those from Amazon.com, which means we earn a small commission off your purchases. And here's the thing: We only mention services and products that we think are truly worth your attention, whether they're free, paid, or otherwise. This site relies on YOUR trust, so if we don't stand behind a product 110%, it's not mentioned. Period.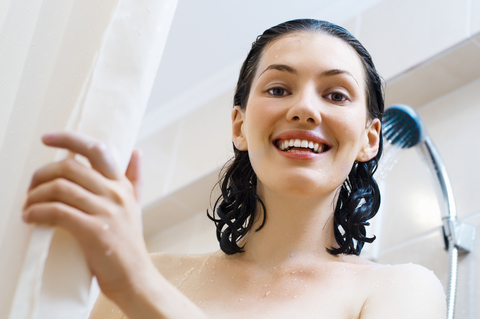 Not only is making your own homemade shampoo a great way to save money, but it's healthy for your family and you've got control over the ingredients, so you can choose how the shampoo makes your hair feel.
I have toyed with many homemade shampoo recipes through the last few years as I have gotten into soapmaking and making other natural family care products, but this is the one that has become our family favorite and the staple in our bath.
One recipe lasts our family of four 3-4 weeks and rings in at about $1.64 per batch. I still prefer to use a separate conditioner afterward, but my husband and my kids find that it conditions sufficiently all by itself.
Oh, and this recipe works as hand soap, body wash, and baby shampoo too!
Conditioner Update – 15 January 2013: I have received lots of requests for a homemade conditioner, and unfortunately none of my experiments have resulted in anything desirable yet. (Heh.) However, my friend, Heather, the Mommypotamus, has preceeded me and published six conditioner recipes in her fan-TAB-u-lous e-book, DIY Organic Beauty Recipes, along with natural hair color, hair spray, and some delicious sounding shampoo recipes (Sweet Orange and Honey Shampoo, anyone?), so hopefully you'll find at least one recipe that will work for you and your family.
Homemade Shampoo
1/2 cup pure liquid castile soap (e.g. Dr. Bronners, Trader Joe's, etc)
1/4 cup water
1/2 – 1 tsp. olive oil
10-40 drops of essential oil or therapeutic oil (optional)
Place all ingredients in a jar or squeeze bottle and shake vigorously to combine. (I find a peri bottle left over from postpartum care or purchased from a medical supply pharmacy works like a charm, as it holds exactly the full recipe with room to shake and has the measuring increments printed right on the bottle.)
For oils, if you're using the oil merely for the purpose of adding a lovely scent, such as lavender, sweet orange, cedar, or almond, start with 10 drops and then add according to preference. However, if you have dandruff or are struggling with other scalp and skin issues, like ringworm or fungus, use a therapeutic oil such as tea tree oil, oil of oregano, or neem oil, and use at least 30 drops.
And of course, change things up according to your family's preferences – that's the beauty of making things at home!
UPDATE December 19, 2012 – In the comments, at least one person has asked for a thicker recipe. After a few new experiments and after switching a few ingredients around, I've come up with one that I hope will satisfy the craving. It doesn't lather upquite as nicely, but it's still decent. As always, feel free to adjust for your family's needs!
Homemade Shampoo – Thicker Recipe
1/2 cup water
1/2 tsp. olive oil
10-40 drops of essential oil or therapeutic oil (optional)
1 tsp. xanthan gum
1/2 cup pure liquid castile soap (e.g. Dr. Bronners, Trader Joe's, etc)
Place the water and oils in a blender and turn it on (any speed will do). With the motor running, add in the xanthan gum and mix until thickened, about 5 seconds.
Turn off the motor and add the castile soap. Replace the cover and quickly pulse 3-4 times to thoroughly emulsify. Don't overdo it or you will have copious amounts of bubbles on your hands! (Speaking strictly from experience, of course…)
Pour into a pump bottle and use as desired.