This post may contain affiliate links, including those from Amazon.com, which means we earn a small commission off your purchases. And here's the thing: We only mention services and products that we think are truly worth your attention, whether they're free, paid, or otherwise. This site relies on YOUR trust, so if we don't stand behind a product 110%, it's not mentioned. Period.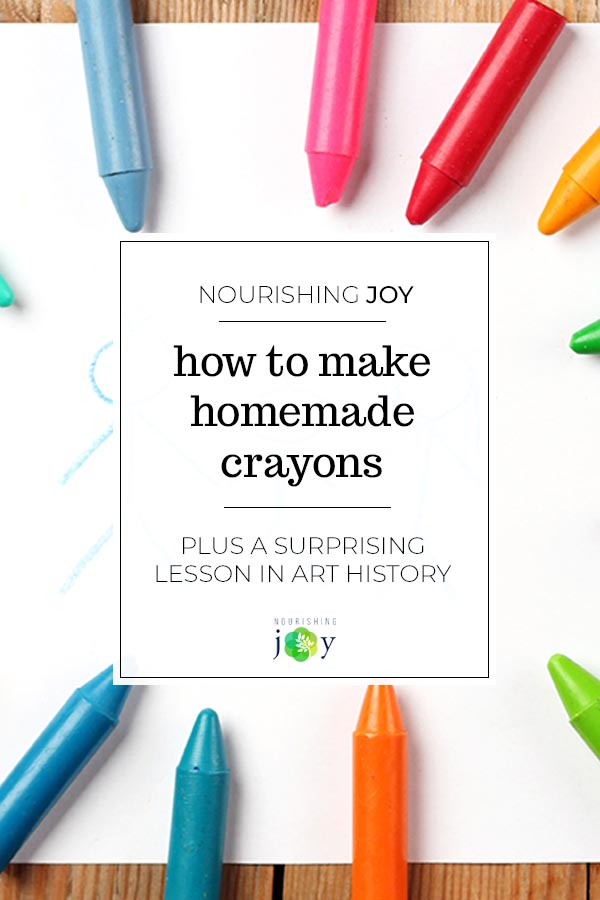 I thought making crayons was going to be a simple project.
But after the 15th batch in an effort to get the recipe just right, I was fully willing to admit that it was neither as easy nor as frugal as I had hoped.
On the upside, however, it IS a fantastically fun project and you end up with a high-quality, non-toxic final product that you can be proud of (and that any small child chew on without worry!). You can even add in essential oils without worry to help sensory children focus or for therapeutic value (see our notes at the end).

Making Crayons: Wax + Colorant + Mold = Fun
Part of the reason I really wanted to make our own crayons – beyond the satisfaction of knowing how to do it, of course – was to provide a crayon for my children that I knew exactly what was in it.
Crayons in our house tend to get chewed on by the babies, so I wanted to make sure any coloring implement in our house was not only non-toxic, but not even paraffin, which is a refined by-product of the sludge after petroleum is made into gasoline and motor oil.
So, in making crayons, I got picky. The final product had to meet several criteria:
*completely non-toxic
*would write and draw smoothly on paper
*wouldn't dye my children's hands
*wouldn't soften when held
*would wash easily off tables/walls/any surface where crayon is verboten but still seems to appear
Problem #1: Figuring Out That Beeswax Crayons Pick Up Lint When Dropped
When I set out on this project venture, I found lots of internet references to great success making crayons with a recipe of half beeswax and half grated soap.
But when I tried the beeswax-and-soap recipe (and several subsequent variations), I was consistently unhappy with the results.
The crayons stayed tacky, they melted and softened during use due to body heat, they picked up lint and hair on the floor when dropped, and when my one-year-old decided to draw one defiant line on the wall, it was nigh-unto-impossible to scrub off. (Although, as usual, baking soda did the job.)
But by this point, I was bound and determined to figure this out – so I went into research mode.
I combed chemist websites, read up on the history of Crayola, and made charts outlining the properties of various waxes. And most interestingly, I discovered that part of why our beloved Melissa & Doug crayons feel so different than traditional crayons is because they're made of a sophisticated plastic rather than wax!
That got my wheels turning.
Was there a natural material I could easily source that would act like plastic? It took me only a few minutes to realize that carnauba wax (aka palm wax) was the perfect foil.
Carnauba's texture wasn't the only benefit either, I soon discovered. It's completely edible (in fact, it's often used on candy coatings and dental flosss), it's easy to harvest sustainably, requires very minimal processing, it was easy to find, and was relatively inexpensive. And best of all, when I tested its washability on an inconspicuous corner of the wall, it wouldn't even write on the wall!
(Now, to be honest, the downside to using such a hard wax is that thin crayons will break easily and the crayons can only be used for coloring – no iron-melt art projects or other fun stuff, but these weren't deterrents for me.)
A lesson in art history…
Once I had satisfactorily settled on a wax, then it was time to figure out our dyes.
Heh. Figuring out how to tint the crayons the crazy colors we wanted turned out to be a lesson in art history….
My first instinct was to color the crayons like I do anything else – with dyes derived from food.
But the beet juice that turns play dough and buttercream a gorgeous pink turned the wax into a murky, brown sludge…. blah. And the parsley juice that usually produces a brilliant green turned into a military green/brown that was far from vivid. Somehow the hot waxes created some serious oxidation. Also, it required a lot of liquid to provide sufficient color, which didn't blend well with the wax. (And that's putting it mildly.)
So natural colors were out.
So then I went out and invested in a set of the standard gel food colors that all the crayon recipes I saw called for. That worked well enough with beeswax, but the carnauba wax hardened immediately upon touching the gel, so it wouldn't mix in.
I fixed this easily enough by adding the food gel to the wax while it was melting. Using that method, it mixed in beautifully, but then the process took F-O-R-E-V-E-R because you can only mix one color at a time before you have to clean the pan so you can melt and mix another color. (UPDATE: One of the commenters below has a FANTASTIC tip for how to make this process much simpler!)
Also, I didn't have pans small enough to melt only enough wax for 1 or 2 crayons, so we ended up with dozens of crayons of each color.
As you can imagine, I abandoned that technique REAL darn quick.
That's when I remembered that I had seen a very cool article on Pinterest about how to grind your own paint, based on the technique of a 13th century Italian artist who created his paints by mixing natural mineral pigments with egg yolk. (And of course, we had to try it too – there's a concise little tutorial here.)
Interestingly enough, this technique is also seen in 17th century Dutch paintings, so the technique definitely lasted for quite some time.
The thing is, Crayola thought of this too. They originally named their "Indian Red" color after the brown pigment found near India commonly used in fine artist oil paint.
In the "how to grind your own paint" article – which included fabulous photos – the students ground up colored chalk instead of mineral deposits, and so for crayons, I thought – why not use chalk?
Despite how excited I was about this technique, the final result was merely passable. The crayons colored wonderfully, but I couldn't get the color strong enough. The original pieces of chalk were the colors I wanted – not the muted tones that ended up when "diluted" with wax.
So then – providentially – I stumbled upon Botanical Paint at my local health food store! I had never seen these dry paint powders before, so I was excited to try them out at crayon colorants. Sadly, while they colored beautifully and performed better than the chalk, they still produced somewhat muted tones. (UPDATE: I've since discovered on their website that they have more concentrated colors available as well.)
How is a six-year-old girl supposed to color the scenes from her vivid imagination with very un-vivid crayons?
So, my last ditch attempt was to try the technique of the 17th century masters and use earth pigments.
These are minerals and iron oxides sourced directly from the earth. I wasn't adventurous enough (or willing to spend any more $$$ for my myriad experiments), so I used pigments I already had on my ingredient shelf, namely the ones I use in homemade calamine lotion.
These worked BEAUTIFULLY! They gave deep color, they didn't interrupt the smooth writing action of the crayon on paper, and they were (relatively) inexpensive to purchase.
UPDATE: Since doing all these experiments, it occurred to me that these micas and ultramarines are used commonly these days as cosmetic colorants. (Duh.) So, perhaps making crayons would be a great use for that outdated palette of eye-shadow lurking in the back of your closet…
(Want to find natural pigments? Check out these two sites:
Find earth pigments for painters here. – This site is fascinating and their product line is extensive.
Find cosmetic mineral pigments here.)
UPDATE January 2014: I just found these videos on YouTube, which weren't available when I wrote the article originally. Enjoy!



Whew!
So, with all of that – let's make crayons!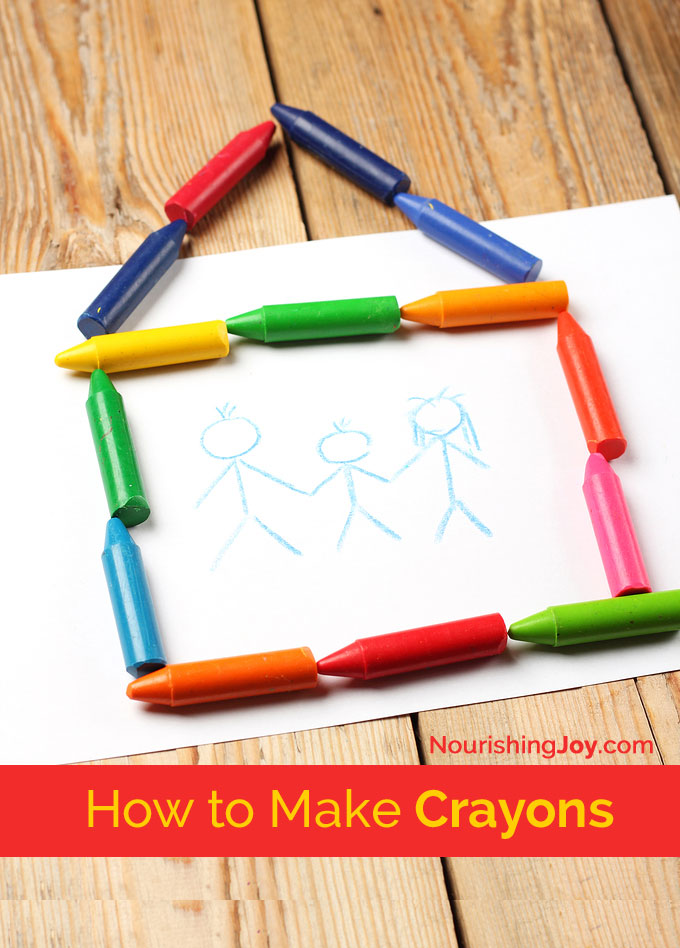 How to Make Crayons
Ingredients:
For very hard, smooth crayons, use carnauba wax exclusively.

For a slightly more traditional, waxy crayon, use 90% carnauba and 10% beeswax.
Supplies:
Choose a mold that will make a crayon at least 1/2″ in diameter – any less and the crayon may break easily. I tried pouring the wax into standard size drinking straws and they worked fairly well to shape the wax, but the resulting crayons snapped whenever I applied pressure to draw. Making a crayon out of the 90% carnauba + 10% beeswax blend helps.

Directions:
Have everything prepped entirely: place all pigments in the cups, have stir sticks easily at hand, and have molds laid out. Grate your beeswax if necessary.
Place wax in the saucepan and melt over low heat. If you are using beeswax, melt the carnauba wax completely before adding the beeswax.
When the wax is completely melted, reduce the heat to as low as your burner will allow. Pour a few tablespoons of wax into ONE of the cups, place the pan back on the heat, then stir the pigment into the wax. WORK VERY QUICKLY.
Pour the colored wax into the mold creating as many crayons as the wax allows. Be forewarned that carnauba wax hardens in a flash – you'll be pouring and all of a sudden the wax will be solid, so do work efficiently.
When one color is finished, pour a bit of hot wax into the next cup, stir in the color, and pour.
Continue until all the wax or all the colors have been finished.
Also, a note – even though carnauba hardens very quickly, it can also be flaked off the cups very easily once dry and it remelts beautifully. Since the wax will already be colored, you may not want to remelt, but remelting various colors together sometimes creates fun new colors.
Let the crayons harden at room temperature for at least 2 hours.
Unmold and ENJOY!
Remember: These will create a much harder crayon than the traditional Crayola. They do work fabulously for coloring and drawing, though! If you really want a waxier feeling crayon, add in a bit of beeswax, as suggested above.
A few variations….
To make your crayons even more fun, consider adding essential oils. (Drop a few drops in when you stir the wax and colorant together.)
Scented crayons?!? you might ask, but yes, I assure you, it isn't as crazy as it sounds.
I originally added essential oils for the aromatherapy of it – lavender for a calming effect for hyperactive children and sweet orange and vanilla to elevate moods, for example.
But my husband pointed out it would be an excellent sensory experience to use essential oils that mirror the color. Spruce or cedar for green, for example, and orange for orange. Lavender could be used for purple, lemon for yellow, and rose absolute in either the pink or red. Sandalwood or clove for brown and wintergreen for white (that's the color it stirs up for me, at least!) For children who learn in a very sensory manner, this could be tremendously helpful in helping them focus and express their creative thoughts.
Did these crayons work for you? Do you have any other ideas for molds or colorants?