9 Ways to Eat More Leafy Greens in Winter
This post may contain affiliate links, including those from Amazon.com, which means we earn a small commission off your purchases. And here's the thing: We only mention services and products that we think are truly worth your attention, whether they're free, paid, or otherwise. This site relies on YOUR trust, so if we don't stand behind a product 110%, it's not mentioned. Period.
It's January, the very antithesis of August, it seems.
In August, there's so much produce I can't keep up preserving it all or serving it fresh.
Yet, here we are January, craving food that was alive within the last few hours and trying to soak up Vitamin D whenever we can in the limited daylight hours.
That's why I thought I'd put together this little list of simple ways to eat more greens in these dark, cold, foggy winter days, while still eating seasonally and without relying on lettuces and greens shipped from thousands of miles away.
It's the food we're longing for! 🙂
Sprouts
Sprouts are an INCREDIBLE way to pack an extra punch in your diet when you're needing greens.
They're high in Vitamin A, Vitamin C, folate, amino acids, fiber, enzymes, and even B Vitamins and essential minerals – varying in amounts by the type of sprout, of course – and they have the highest density of nutrients the plant will ever have.
If you remember from our properly prepared grains article, once seeds germinate, they grow great gonzos, which is due to the fact that everything they need to nourish themselves for those first few days of growth is in the seed itself. Those nutrients and enzymes are stored up and saved until they're "unlocked" by the warm, wet conditions, then they feed the newly sprouted plant and nourish it until the plant has rooted and can absorb nutrients from the soil and the sun.
But in the case of sprouting seeds, we're eating those new plant sprouts right as all those nutrients are still packed in the plant!
You can certainly purchase sprouts at your local grocery store (typically alfalfa sprouts, although high-end health food stores might carry a few other varieties), but they're super-easy to grow at home. They require no soil, no sun, and are ready in 2-4 days.
There are excellent sprouting guides all over YouTube, health websites, and self-sufficiency websites, but my two favorites are at Simple Bites and Mumm's Sprouting Seeds.
And while this is super-easy, you can't just go get the planting seeds from the grocery store, unfortunately. Many of those seeds are sprayed or treated in ways to help them germinate in soil, but they aren't intended for ingestion. Thus, make sure you purchase seeds labeled as sprouting seeds. My favorite source is Mountain Rose Herbs or my local seed company.
Microgreens
Microgreens are small, tender, baby greens that are scrumptious as a salad, on burgers, or any way you enjoy eating greens. They're all the rage in gourmet restaurants, but they're super easy to grow at home.
Microgreens are similar to sprouts in their nutritional profile, but they require soil and sun, so a windowsill garden works beautifully and you can use any seed you would typically use in your garden (rather than sourcing out specific sprouting seeds).
Microgreens are your favorite greens – kales, lettuces, chards, even sunflower greens – harvested just a few days after they sprout, so they're small and tender and absolutely lovely. And since you harvest the leaves and the roots remain in the soil, they can regrow several times!
You can see tutorials at Traditional Cooking School by GNOWFGLINS and West Coast Seeds.
As for equipment, you can use any tray, but I prefer a very basic plastic 10″x20″ tray with or without a seedling dome (which is preferable if your windowsill has a draft or is otherwise somewhat cool).
Find a local farm with a greenhouse
Depending on your climate, some farms are able to grow a winter crop of greens due to having a greenhouse (or five). The farm where my husband works does some of their best business in the winter because they grow kale and lettuces in a greenhouse and they sell out at the winter farmer's market every week because demand is so high.
Find a farm in your area either by looking up your local farmers market association (which generally keeps a list of their vendors and other local resources), via Eat Wild, via craigslist, or by Googling organic farms in your area.
Make your own powdered greens
When you've got lots of hearty greens around, dehydrate them and grind them to a powder, then add them to anything and everything as you desire all winter long.
Here are two lovely recipes for making your own powdered greens:
Grow spirulina
Now I'll be totally frank here and admit that I've never tried this, but it's recently piqued my interest, since a colleague mentioned that at her family's smoothie cart the Blueberry-Spirulina smoothie is one of their top sellers.
Algae can be a very nutrient-dense way to eat your greens, especially when there aren't other greens available – and whether you source it at a store (expensive, for sure) or grow it yourself (time consuming, I assume), it's a GREAT way to combat illness, strengthen your immune system, and get the vitamins and minerals you need this time of year…
Also, it sounds like an easy way to grow the greens you need indoors without needing soil, a planter box, or space by a window. It uses an aquarium, so perhaps an easy way to have seasonal fresh greens year-round. Again, sounds intriguing and this easy-grow kit sounds promising…..
Wheatgrass or Barley Grass Juice
This one's only practical if you have a high-end juicer (like a Champion) or a high-speed blender (like a Blendtec) that has the capability to chew through the tough cellulose fibers of wheatgrass, but if you do, this is a great way to get concentrated amounts of greens.
Wheatgrass is very similar in its nutritional profile to other dark leafy greens, boasting high levels of vitamin A, vitamin C, vitamin K, vitamin B6, and a number of trace minerals.
(Total side note: I used barley grass to help boost my breastmilk production when it was lagging, with moderate success. If nothing else, it gave me a shot of energy when I desperately needed it in those tired post-partum days. 🙂 )
Growing your own wheatgrass is just like growing your own microgreens and you can use any non-GMO, organic wheat or barley seed!
Use fresh herbs
Fresh herbs are a very concentrated source of both flavor and nutrition and they're easy to grow indoors in a window or planter box, so use them liberally to maximize all those lovely vitamins and minerals. (See this lovely tutorial on how to grow fresh herbs indoors.)
In fact, ounce for ounce, fresh herbs like oregano, rosemary, tarragon, dill, thyme, parsley, and basil are among the most nutritious greens you can find. For example, if compared by weight to lettuce, parsley provides three times as much vitamin A, four times as much calcium, five times as much iron, 17 times as much vitamin K, and 44 times as much vitamin C!
And, like other greens, they're also anti-oxidant, anti-bacterial, anti-inflammatory, and they're very rich in a wide range of disease-fighting phytochemicals.
So, here are a few ways to add fresh herbs to your diet in the winter:
Sprinkle fresh minced parsley liberally over each plate before you serve – plus, it makes any meal look like it came from a gourmet restaurant 🙂
Top any soup with fresh chives
Make a vinaigrette packed with fresh herbs then use it for dipping bread or drizzle it over a salad
Make chimmichurri to use for dipping meat – simply chop lots of fresh herbs (1/4-1/2 cup), cover with olive oil, and add a grated garlic clove or two if desired
Make pesto (or a variation!) and serve over any meat, bread, pasta, or even tossed on roasted vegetables. And don't feel limited to the classic basil/parmesan/pine nut combo – try mint/almond, tarragon/pecan, cilantro/walnut, or parsley without any nuts!
Add them to smoothies – peppermint and basil are especially popular (try small amounts first to see what you like!)
Pour almost-boiling water over them to make a herbal tea
Make a salad just of herbs (or tossed with other greens you have)
Eat sauerkraut and winter greens
Cabbage is in season right now in many areas and it's a surprisingly good way to get both Vitamin C and Vitamin K in your diet. Fermenting it also increases some of the B vitamins available, as well as the Vitamin C.
Thus, sauerkraut and other cabbage-based ferments, such as the delicious Latin American sauerkraut, curtido, that's available in our free cookbook for subscribers, are a great way to make use of the cabbage that's available now and make sure you've got some for the weeks and months to come.
If you'd prefer to eat it without fermenting it, a quick sauté in butter with a bit of garlic is scrumptious.
We also love raw red cabbage, which offers the most potent nutrient punch in the cruciferous family. We serve it as a simple salad by slicing it paper thin, then tossing it with sea salt, sesame oil, and sesame seeds (an excellent source of calcium, by the way). Absolutely one of our family's favorite salads, no joke.
Other hearty greens that may survive into the winter, such as collard greens and Brussels sprouts, are also delicious sautéed, steamed, or braised.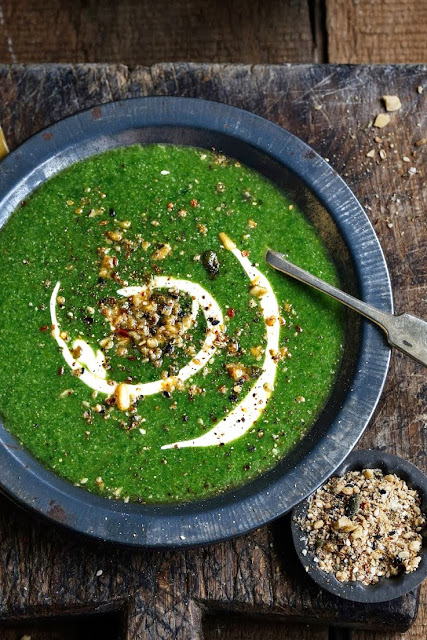 Photo Credit: From the Kitchen
Freeze greens in summer – then enjoy them in winter!
When your kitchen is over-run with greens as part of the late-summer harvest, a great way to preserve greens is merely to freeze them. You can blanch them first, if you desire, but both for simplicity and flexibility, I like to freeze them raw. Obviously, hearty greens such as kale and collards are the first choice for this – tender greens like lettuces wilt to nothing when frozen.
Then, throughout the winter, grab handfuls to add to smoothies or blend into soups.
Here's a smoothie I make regularly with frozen greens: Detox Smoothie
Here's a soup that's a great boost of greens: New Years Resolution Spinach, Broccoflower and Coriander Soup with Yoghurt Feta Swirl and Dukkah
This tip may not be terribly helpful right now, but next spring, find space to grow greens – and remember to plant extra for next winter!
What great hint did I miss? What's your favorite way to eat more greens in the winter?