31 Cheap, Last Minute Real Food Dinner Ideas
This post may contain affiliate links, including those from Amazon.com, which means we earn a small commission off your purchases. And here's the thing: We only mention services and products that we think are truly worth your attention, whether they're free, paid, or otherwise. This site relies on YOUR trust, so if we don't stand behind a product 110%, it's not mentioned. Period.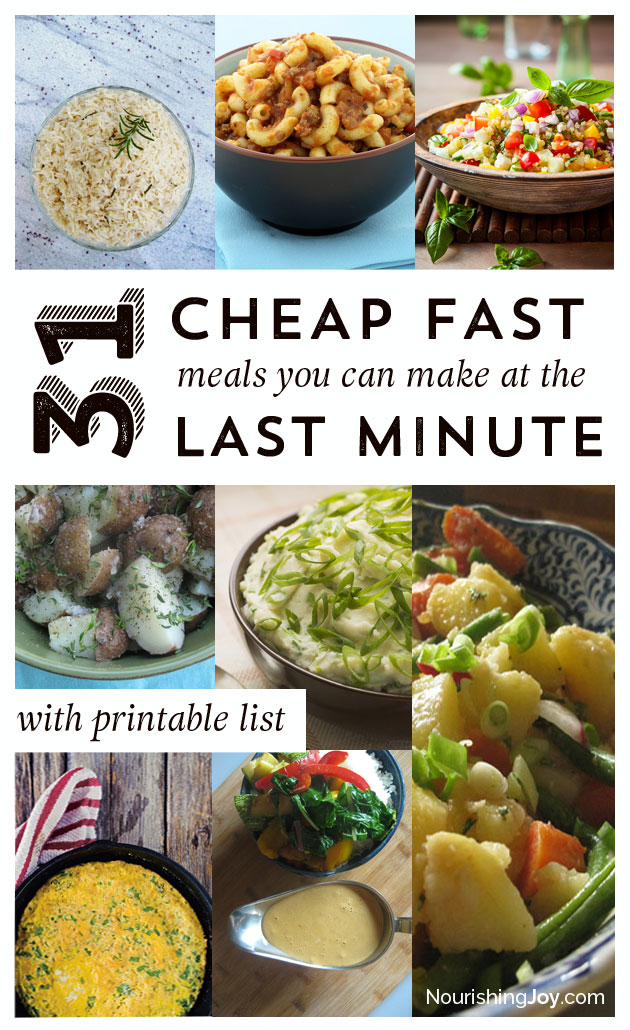 It's a sinking feeling to arrive home after a long day and realize you haven't planned dinner, so you don't know what you're going to feed your tired, grumpy family. Worse, you really really don't want to spend money on take-out, which adds up SO fast, so what are your healthy, real food options?
Well, I've been there more times than I care to admit, so I now keep this list clipped to my refrigerator so on the nights when I feel like there's "nothing" to eat, I can snap my mind to attention and whip up a meal with very little effort (and hopefully, very few dishes).
Be sure to grab the download so you can put this on your refrigerator too! (Download it right here.)
But first, here are just a few shortcuts I like to take in the kitchen to make meals like this super-simple:
Grate a whole lot of cheese once a week and store in the freezer OR purchase pre-shredded cheese.
Keep frozen vegetables on hand at all times. That way a vegetable for dinner is never more than 2 minutes from ready (just boil water and cook for 1-2 minutes – simple!). Our family favorites are broccoli, green beans, and Asian stirfry mix. The added bonus is they are relatively cheap, even for the organic varieties.
Print off a pantry staples grocery list (there are multiple options in our Meal Planning Toolkit) so you can easily stay stocked on the quick-to-grab foods you know you family loves, such as your favorite pasta sauce or canned beans.
Grow an herb garden. This sounds pretentious, but it's not. Having fresh herbs on hand isn't gourmet, it makes nearly any meal possible and elevates flavor in simple ways. Plus, fresh herbs pack a nutritional punch and can be grown right on the countertop if you don't have space outside. Take a little bit of time to plant some and you'll have herbs for months.
31 Cheap, Easy, Last-Minute Meals
1. Baked potatoes. Just boil or bake potatoes for 20-30 minutes (until tender), then serve with butter, salt, and pepper, along with anything else you have on hand: sour cream, fresh herbs, diced ham, shredded cheese, etc.
2. Popcorn salad. Toss greens with vinaigrette, then pop a batch of popcorn to serve on top. For protein, add drained garbanzo beans (or any other bean), or chopped up leftovers, such as last night's chicken breast or last Sunday's ham.
3. Bacon & green beans. Chop uncooked bacon into pieces, then cook in a deep pot over medium heat until crispy and the fat is rendered (takes 7-10 minutes). Remove bacon but leave 1-2 tablespoons bacon grease in the pan, then add green beans and sauté until soft, 2-3 minutes. If you like, serve with rice, as making a batch of rice takes about the same amount of time.
4. Champ. An Irish classic! Place several potatoes in a large pot of water and bring to a boil over high heat. Boil until they are tender when pierced with a fork, 20-25 minutes. Meanwhile, chop 12 green onions and place in a saucepan along with 1 1/2 cups cold milk. Heat over medium heat until steaming, then remove from the heat and let infuse. When the potatoes are cooked, remove the skins and place the potatoes in a large bowl. Begin to mash them, then while still hot, add the milk and onions while you mash, just a bit at a time. Beat in several tablespoons of butter to taste. Season with salt and pepper, as desired.
5. Boerenkool stampot with sausage. Boil potatoes and sausage together. Remove sausages when they begin to burst. Meanwhile, chop one large bunch of kale and add it to the water 2-3 minutes before you drain the potatoes. Drain well and mash the potatoes and kale together, along with a bit of cream, butter, salt, and pepper. Serve with sausage.
6. Orzo with parsley. Cook a batch of orzo and after draining, toss with butter and salt, then top with a generous portion of chopped fresh parsley.
7. Mexican scrambled eggs (huevos a la mexicana). Sauté some chopped onions and a minced jalapeño just until the onions begin to brown, 2-3 minutes. Add 1 can of diced tomatoes and 2 large pinches of dried oregano and simmer to meld flavors and evaporate some of the liquid, 4-5 minutes. Crack 12 eggs directly into the bubbling tomato sauce and sprinkle with salt. Gently fold the mixture every so often with a spatula so that the eggs scramble in large curds. Cook until the eggs are fully cooked. Serve with refried beans and tortillas, if desired.
8. Nachos. Preheat the oven to 400°F and layer tortilla chips, cheese, and anything else you have on hand (olives, bell peppers, black beans, corn, etc), then bake until the cheese is bubbly – 7-12 minutes. If you don't have tortilla chips on hand, leftover potato rounds work well too.
9. Taco dump soup. This one relies on canned items, but beans and tomatoes are two foods that are still "real food" even when they're canned, so it's convenience at its best. (Yay!) Brown 1 pound ground beef in a large bot until cooked, then add 1 chopped onion (if you have time) and stir in 1/4 cup taco seasoning. Add two cans diced tomatoes, 2 cups frozen corn, and 2 cans any beans (such as kidney, pinto, or black beans). Heat until steaming, then serve with anything you have on hand and don't have to prep: sour cream, avocado, shredded cheese, tortilla chips, olives, etc.
10. Peanut butter noodles. Cook a batch of spaghetti, Asian rice noodles, or other long noodles. Meanwhile, whisk peanut butter with a little bit of sugar and vinegar, then thin with a tablespoon or two of water. After the spaghetti is drained, toss with the peanut butter sauce, then top with peanuts, green onions, and any pre-cooked protein, such as leftover chicken or shrimp. If you want a specific sauce, see Creamy Peanut Stir-Fry Sauce.
11. Caprese baked chicken. Set however many chicken breasts are appropriate for your family on a baking sheet or casserole dish. Top each with a generous portion of shredded basil leaves (or pesto), tomato slices, and copious amounts of mozzarella cheese. If you don't have fresh basil or pesto on hand, sprinkle a generous amount of dried basil over the cheese. Bake at 400°F until chicken is cooked through and cheese is melty, 35-40 minutes. Serve with steamed broccoli.
12. Autumnal pork chops. Place pork chops or slices of pork loin in a casserole dish. Chop 2-3 apples and scatter them across the pork chops, along with a large handful of pecans, a few tablespoons of butter, 2-3 tablespoons sucanat or brown sugar, and a dash of cinnamon. Bake at 425°F until a meat thermometer reads 140°F and the butter and sugar have caramelized slightly, 20-25 minutes. Let sit for 5-10 minutes before serving.
13. Hummus. In a food processor, grind 2 cups of cooked garbanzo beans with 3 cloves of garlic, a bit of salt, a squeeze of lemon juice and a couple of tablespoons of water until finely chopped. For a bit of variety, add in a handful of kalamata olives or pickled bell peppers with the beans and garlic in the first step, if desired. Once everything is finely chopped, leave the motor running and drizzle in olive oil until the mixture is thick and spreadable. Adjust seasonings to taste. Serve with crusty bread, crackers, or raw vegetables.
14. Burritos. Heat up refried beans (or mash and heat any canned bean) and wrap in tortillas. Serve raw vegetables with dip on the side. If desired, melt cheese with the beans as you're heating them up, and add any add-ins that happen to be available: rice, salsa, diced (cooked) potatoes, etc.
15. Celery-cashew stirfry. Chop the bottom of an entire bunch of celery and remove the leaves, then chop all the stalks into 1-inch pieces. Heat peanut oil in a large pot over medium-high heat until it shimmers, then add the celery and stirfry until it's tender, 3-4 minutes, stirring frequently. Add a few handfuls of cashews and sauté until they soften slightly, 1-2 minutes more. Toss with soy sauce or All-Purpose Chinese Stirfry Sauce and serve alone, with noodles, or over rice.
16. Frozen vegetables (any) and rice. Steam or sauté any vegetables and cook a pot of rice. Serve with butter or soy sauce.
17. Fresh herb frittata. Preheat oven to 425°F. Crack 12 eggs into a large mixing bowl, pour in a few tablespoons of cream, and beat them together until loosely combined. Whisk in as many minced herbs as you can find – chives, parsley, and dill being favorites. Melt 2-3 tablespoons of butter in a 10-inch ovenproof skillet over medium-low heat until it bubbles. Pour in the eggs and let cook, undisturbed, for 7-8 minutes, or until the bottom is cooked through but the top is still liquid. Transfer the skillet to the oven and bake for 5 minutes, until the eggs have set. Invert the frittata onto a plate or leave it in the pan, cut into wedges, and serve.
18. Pizza dippers. Warm pasta sauce or pizza sauce, and slice either bread or pre-cooked chicken into strips. Dip the strips in the warm sauce and accompany with anything else pizza-like you have on hand: white cheese, salami, pepperoni sticks, bell pepper strips, etc.
19. Quick stove-top tuna casserole. Cook a batch of egg noodles or tubular pasta, and meanwhile, make a cheese sauce by whisking butter and flour into a roux, then slowly adding milk and finish with several handfuls of grated cheese, preferably including at least a little bit of pepper jack cheese (pre-grated cheese makes this a breeze). Drain 2-3 tins of tuna and stir into the sauce, then stir in cooked, drained noodles. If you don't have tuna, pre-cooked chicken can also work well.
20. Oven-grilled cheese sandwiches. Preheat oven to 425°F and lay out several slices of bread. If you have time, slather one side of each slice with butter and lay butter-side down. Slice several slices of cheese and lay them on half of the bread. If desired, add deli ham slices, pesto, bacon, or any other additions you love. Close the sandwiches and lay them on a rimmed baking sheet, then bake until bread is browned and the cheese is melted, 6-7 minutes. Flip once during the cooking time.
21. Pasta aglio e olio. This is about the simplest Italian dish that exists in the Italian repertoire. It literally means "Garlic and Olive Oil Pasta." Boil a pot of spaghetti or linguine, and while it's draining, heat 1/3 cup of olive oil in the pot you cooked in until it shimmers, then add 6-8 cloves of grated or sliced garlic (plus a pinch of red pepper flakes if desired). Sauté until it's fragrant, then add the spaghetti back to the pot and toss to coat. Fresh parsley is lovely but totally optional.
22. Clam pasta. Clam pasta is no more difficult that making pasta aglio e olio and adding clams and butter – but it's a fast dish that feels elegant, so sometimes the extra 2-3 minutes is worth it (and canned clams can be fairly inexpensive). After the garlic is fragrant in the aglio e olio recipe above, just add in 1-2 drained cans of baby clams (or fresh, if they're on hand) along with 2-3 tablespoons of butter. When the sauce is hot once again, stir it and toss in the pasta.
23. Peanut butter & berry roll-ups. These are great for super-warm weather or for "desperate" nights. 🙂 Using tortillas, crepes, or even just slices of bread, spread a thick schmear of peanut butter down the center, then top with copious amounts of fresh fruit – berries are the simplest, but sliced bananas, raisins, chopped pineapple, and other tropical fruit work well too. Serve like a taco. Pair with yogurt or sour cream to up the protein.
24. Chicken chimmichurri. Chop up a whole bunch of chicken into cubes, then sauté until cooked through. Meanwhile, make a cheater chimmichurri sauce by placing a full bunch of parsley (or any other green herb) in a food processor with 2-3 cloves of garlic and a sprinkle of salt. Pulse to chop, then with the motor running, drizzle in olive oil until a thick, smooth sauce forms. Eat by using skewers or toothpicks and serve with crusty bread, olives, or whole grain crackers.
25. Sheet pan supper. Preheat oven to 400°F. Chop up any roastable vegetables (beets, bell peppers, carrots, mushrooms, green beans, etc) and slice onions into rings. Chop up sausage if you have it. Roast until tender, 20-25 minutes, stirring once.
26. Snacky dinner. Set out a spread: cubed cheese, salami or other cured meats, olives, bread or crackers, and sliced vegetables, then have a blast eating with your fingers.
27. Leftover salad. Use leftover pasta, cous cous, quinoa, or other grain (or quickly cook a batch and set it to cool), then toss it with any appropriate leftovers: roast beef with horseradish sauce, roasted vegetables, grilled chicken, etc. Use Italian dressing to toss, unless of course the leftovers already have a sauce of their own.
28. Macaroni with meat sauce. Cook a large pot of macaroni and set to drain. Meanwhile, make a cheater bolognese sauce by browning ground beef until it's fully cooked. Add chopped onion and a generous amount of Italian seasoning (if you have any), sauté, and add marinara sauce or diced tomatoes. When the meat sauce is hot, add the cooked pasta and toss well. Season with salt and pepper.
29. Beef & rice pilaf (beef optional). Cube 1-2 steaks and brown the pieces in a Dutch oven over medium-high heat. When they're perfectly done to your liking, remove them and add 3-4 tablespoons butter to the pan. When it bubbles, add 1 chopped shallot or small onion and sauté until translucent, 2-3 minutes. Add some rice + twice as much water (e.g. for every 1 cup of rice, use 2 cups of water), plus 1-2 sprigs of fresh rosemary (if you have it). Bring to a boil, then reduce heat to medium-low, cover, and cook until rice is soft, 20-25 minutes. Fluff with a fork, stir in peas if desired, then toss with the beef. Season with salt and pepper and squeeze lemon over (optional).
30. Super-simple potato salad with olive oil and thyme. Boil several firm-fleshed potatoes in a large pot of water just until tender, 20-30 minutes. Let cool to room temperature, then dice into large chunks and place in a serving bowl. Splash a generous amount of olive oil over the potatoes and toss to cover. Pick the leaves off of 5-6 stems of fresh thyme (or other fresh herbs) and sprinkle over the potatoes along with a bit of sea salt. Toss once again and top with fresh ground black pepper. To expand the meal, dice some ham or toss in a bit of tuna. Primavera Potato Salad is another option.
31. Quesadillas with spinach, kale, or chard. Slice whatever greens you have into thin ribbons, grate some cheese, then heat a dry skillet over medium heat until hot. Place one large flour tortilla on the skillet and spread a handful of cheese over the surface. When the cheese is melted and bubbly, about 1 minute, remove the tortilla from the skillet, sprinkle over a handful of ribbons, then fold the tortilla in half, creating a half-moon shape. Cut into wedges and serve with your favorite Mexican toppings. Repeat with as many tortillas as necessary. To expand the meal, serve with refried beans.
Want the printable list for your own refrigerator? Click the button below and we'll e-mail it to you so you've always got a back-up stored in your e-mail so that after food splatters and messy fingerprints inevitably take their toll, you can easily print a fresh, new copy without having to remember where you downloaded it in the first place. 🙂
Happy Eating!