Basic All-Purpose Chinese Stir-Fry Sauce
This post may contain affiliate links, including those from Amazon.com, which means we earn a small commission off your purchases. And here's the thing: We only mention services and products that we think are truly worth your attention, whether they're free, paid, or otherwise. This site relies on YOUR trust, so if we don't stand behind a product 110%, it's not mentioned. Period.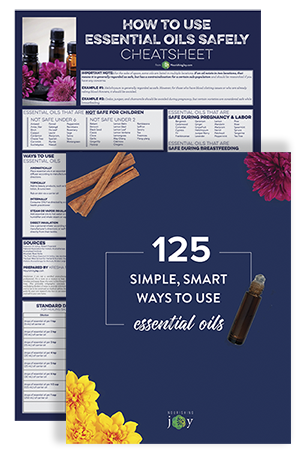 Make using essential oils EASY with our at-a-glance cheatsheets.
Be confident in using essential oils safely AND effectively! Simply click the button to download these two popular cheatsheets and see just how easy using essential oils SAFELY can be.
Chinese food in America (okay… anywhere outside China!) is some of the most notorious for being laden with MSG, preservatives, and all the junk we rail about when we're trying to eat real food. Which is ironic, since classic Chinese cuisine uses some of the freshest ingredients available.
It's the sauces that are the problem. THAT's where all the hidden unmentionables reside.
But making homemade sauces take a bit of time. Not that they're time-consuming, it's just that when you really want to get supper on the table, stopping to make the sauce is the longest part of the process – and often the reason I'll choose something else for dinner.
So about a year ago, it finally dawned on me – each stir-fry doesn't need it's own sauce! Why not pre-make a whole bunch of ONE sauce and have it ready to use in any dish??? (Like any restaurant I've ever worked in – duh!)
So, I took my husband's favorite sauce recipe for chow mein, reworked it a bit to build flavors that would work in a multitude of dishes (based on ingredients I read on the back of various labels), and we've been super-pleased with it! We've been eating WAAAAAY more stir-fries too. What a great way to get kids to shovel in vegetables. 🙂
Another reason I've very excited to share this recipe is that while I'm absolutely passionate about making simple, from-scratch recipes for condiments (I better be, considering I've published multiple books on the subject – check out The DIY Pantry, for one), we'll all admit there are hundreds of homemade ketchup and mustard recipes out there (although I'll still purport that my recipes for homemade ketchup and classic yellow mustard are among the best), and yet there is an absolute dearth of healthy, from-scratch Chinese sauces to be found!
So, it's time to rectify that. Start by making a batch of this basic, all-purpose Chinese stir fry sauce and transform Chinese night in your home!
One note: I recently discovered a similar recipe at Recipe Tin Eats, an absolutely gorgeous site written by Nagi, a lovely Japanese-Australian lady who loves fresh, everyday cooking. Her recipe includes two types of soy sauce and Chinese wine, all of which I'm SURE would make it taste more authentic, but I was excited to see that she offered apple juice as an acceptable substitute for the wine, which made me feel that my use of apple juice wasn't so far "out there," as I've always assumed my recipe was delicious but inauthentic. She assuaged my insecurities. 🙂 But definitely check out her recipe and notes – after all, she knows what she's talking about.
Oh, and there is the matter of oyster sauce and other base sauces. Unless you want to make your own oyster sauce, you'll need to purchase one that likewise is free of MSG and all the garbage. There are very few brands that fit this bill, but there are a few:
If you know of other MSG-free, HFCS-free, preservative-free brands, please please let us know in the comments below!
With that, go forth and make great Chinese sauces – or at least, this one sauce that can cover all your bases. 🙂
Basic, All Purpose Chinese Stir Fry Sauce
Ingredients
½

cup

soy sauce

½

cup

oyster sauce

,

or hoisin

¼

cup

apple juice

¼

cup

GMO-free cornstarch

1

tablespoon

evaporated cane sugar

2

tablespoon

sesame oil

½

teaspoon

ground black pepper

1

clove

garlic

,

grated (optional)

1-

inch

fresh ginger

,

peeled and grated (optional)
Instructions
Place all ingredients in a jar and shake until smooth. Pour sparingly over stir fries and toss to coat, adding more to taste.

Store in the refrigerator for several months.
Notes
This amount of sauce is typically enough to lightly coat 3-4 stir fries.