Best (and Worst) Teacher Gift Ideas According to Teachers
This post may contain affiliate links, including those from Amazon.com, which means we earn a small commission off your purchases. And here's the thing: We only mention services and products that we think are truly worth your attention, whether they're free, paid, or otherwise. This site relies on YOUR trust, so if we don't stand behind a product 110%, it's not mentioned. Period.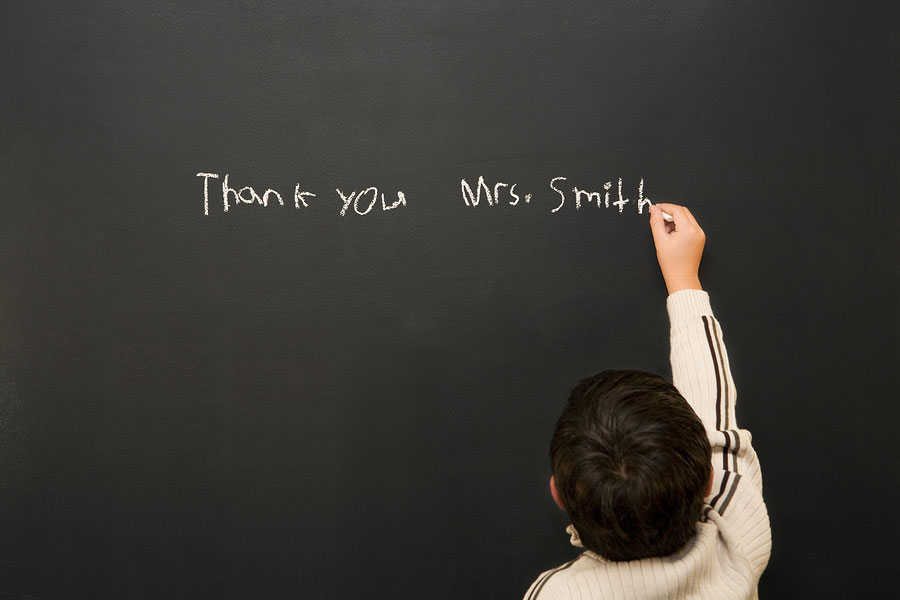 One of the best parts of life is getting to show other people in your life how much you appreciate them.
And teachers? They're some of the most cherished people in our lives because we have delegated and entrusted them with providing one of the most important foundations in our children's lives – the academic portion of their education.
I really appreciated my mother's words to this effect. She taught for nearly 40 years and was highly respected in her field, and when I asked her what some of her favorite gifts through the years had been, she included this reflection, "I mostly appreciated that parents had taken the time to express their appreciation. These gifts encouraged me when days were long…"
Since this is Teacher Appreciation Week and the end of the school year is just around the corner, I thought I'd poll teachers in our Facebook community about what kinds of gifts they most appreciate as teachers (and what kinds they'd rather give a pass on).
That way, as you are thinking of how to show appreciation for your children's teachers this year, you've got a few simple ideas ready at hand.
Now, one note before we get started: This list assumes that you are just wanting to give something to your child's teacher to show your appreciation. This is never meant to be presumptive and over-throw any truly genuine gift idea you already have! By all means use this list as a guide, not as a rule, as the MOST important part of this process is the act of true love and appreciation you and your child have for your teachers!
Also, even though we're talking about "teachers" in very general terms, certainly you know your child's teacher as an individual, so if your KNOW one of the gifts on our "avoid" list is indeed something they would appreciate, then by all means, honor and thank them in the best way you know how.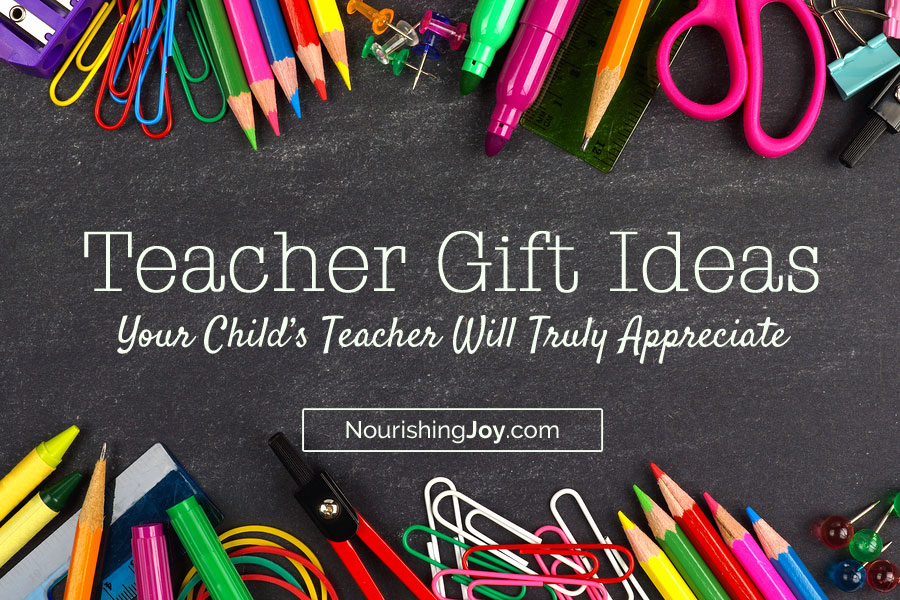 Teacher Gift Ideas: Gifts to Give
Gifts from Students
Handmade gifts.
By far the most popular gift teachers mentioned they appreciate are handmade gifts from their students. This includes:
a handmade card
a spontaneously written note or picture
a handmade craft, like an artsy vase, a handcrafted mug, or a garden stone (here's a garden stone making kit, if you can't find one in your area)
a copy of the child's school photo, either by itself or placed in an child-created piece of art
One teacher who commented on our Facebook thread mentioned, "My best present was a story written by a former 'reluctant' writer presented to me as a little book." Love this!
Cut flowers from your own garden.
Cut flowers are lovely gifts because they bring beauty and joy, but won't ultimately take up room on a teacher's shelves.
Be sure to provide a vase with the flowers (even if it's just a disposable paper cup) and a way to fill it with water once you're in the classroom, as the teacher may not have time to search out a vase to keep it alive through the day. Also, be sure to bring flowers that aren't laden with pollen, as it may exacerbate allergies.
A living plant.
Herb pots are lovely gifts, as they are practical and can be enjoyed all summer long. Other plants that can be put in a garden or otherwise enjoyed are likewise lovely. One Facebook commenter mentioned one of their favorite gifts as a teacher was a rose bush with gardening gloves. Love the pairing. 🙂
Something special the child saved up for and purchased themselves.
Whether it's a pretty water bottle, a blank journal, or a special travel cup for iced coffee, anything a child chooses specifically with the teacher in mind is absolutely golden. ❤️
Gifts from parents
Gifts from the parents are certainly appreciated too. The key to these are to keep them general or multi-purpose, especially if you don't know the teacher very well. For example, a bag of coffee might not be appreciated because the teacher might not be a coffee drinker, or only likes dark roast and you've chosen a very light roast, but a gift card to a coffee shop allows the teacher to choose what they like – coffee or otherwise.
So, good gifts from parents might include:
A gift certificate to a coffee shop.
Whether it's Starbucks or a local independent coffee shop, a gift certificate for coffee is one of the most common (and most appreciated) teacher appreciation gifts.
A gift certificate to a grocery store.
Everyone needs to eat, and an offset to a family's grocery budget can be very much appreciated. Try to choose a store you know the teacher tends to shop at or one near their home.
An Amazon gift certificate.
Whether it's to get something special for themselves, or to help offset their own personal expenditures to buy supplies for their classroom, this is one gift that is nearly ALWAYS appreciated. (Grab one right here – there are lots of options!)
Credits on Teachers Pay Teachers.
TpT is a site FULL of materials for teachers – all created by other teachers! See if your child's teacher uses resources from TpT, and if so, then buy them credits. You'll need to create a free account in order to check out, but you can easily delete it after paying.
Gift certificates to a "pampering" experience.
The pampering experience can be a body care shop, a spa, a chocolatier, or a massage parlor. Be careful, though, to give a gift that doesn't require the teacher to spend much money in order to use it. For example, if the massage parlor you choose offers massages for $60, but your gift certificate is for $20, the teacher is going to have to make up the difference and spend money he or she wouldn't have spent in order to use your gift. Just make sure your gift is useful and actually says "thank you."
This is also a great option for multiple parents to go in on together.
A meal.
This one requires coordination with the teacher ahead of time and a complete awareness of the teacher's family's needs, but when done well, it can be a very welcome gift.
Perhaps coordinate this one during a heavy testing week or another week when you know the teacher will have extra duties, then deliver the meal at the end of the day packed in order to keep it hot or cold (whichever is needed), along with everything needed to enjoy the meal. Or provide a fully frozen freezer meal.
If possible, this is one of the few times when I advocate using disposable dishes, like aluminum baking pans, so that the teacher doesn't have to worry about returning anything to you. If you can't bring yourself to use disposable, purchase a few inexpensive pans from the thrift store with clear instructions to the teacher that you don't expect the pans back and they may feel free to donate them after use so they're not filling their cupboards with pans they don't need.
A letter.
No matter how technologically savvy our society becomes, a handwritten letter is still a gift. Write an honest note telling the teacher why you've appreciated them. Or, in the words of one of the teachers who commented on Facebook, "A written note with an observation about something you've done that really made a difference… that would be awesome." <3
A personalized gift that aligns with the teacher's interests.
Another Facebook comment mentioned giving a personalized ball cap for the teacher's favorite sports team. If you know what your child's teacher loves (the symphony, a sports team, a certain literary genre….), then a personalized gift with that in mind can certainly be appreciated! A variation on this would be to give classroom supplies that are personalized (pens and pencils, for example) so that when they're loaned out (which happens daily), they might actually be returned.
Your time.
If your school allows volunteers, offer to help your child's teacher in any number of ways, some of which are very small but still needed!
Help organize a field trip. Details and logistics can be time-consuming for teachers!
Help during art class, especially with younger classes.
Sign up for recess duty on a regular basis, especially if the teachers are responsible for watching their classes during recess.
Organize the book orders.
Make copies.
Offer to come in about halfway through the year to organize the book shelves, binders, and other parts of the classroom that tend to get cluttered as the year goes on. (Once you offer, be sure to mark your calendar so the teacher doesn't have to chase you down to see if you're still interested in doing the task you offered to do.)
Classroom or project supplies.
New books for read-aloud time, project specific items (like a butterfly hatching cage when the class is studying the butterfly life cycle), or books of classic literature or poetry can be appreciated.
A copy of Healthy School Lunches Made Simple.
Teachers are BUSY (like the rest of us) and they don't want to think about what to pack for their own lunch any more than we do. So give them a digital copy of Healthy School Lunches Made Simple and help make their every day simpler. Purchase a copy of the digital book here.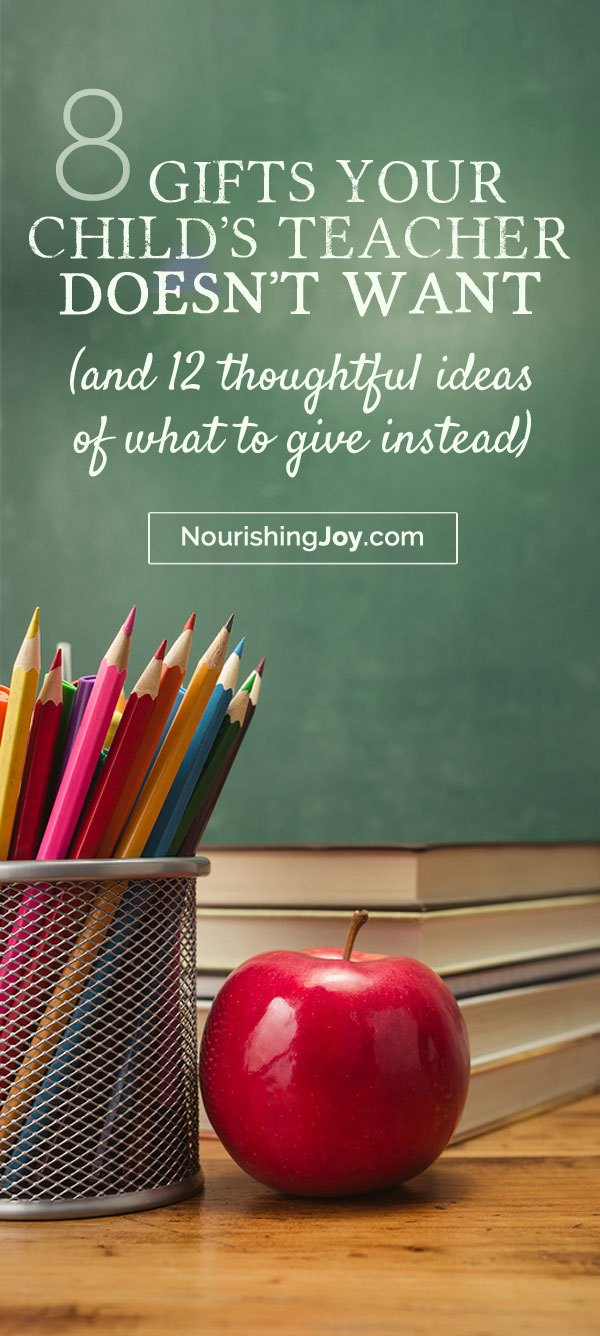 Teacher Gift Ideas: Gifts to Avoid
Scented gifts. Some people are VERY sensitive to scents, including the family members of the teacher, so avoid giving lotions, soaps, candles, or other items that are scented, even if they come from exclusive specialty shops. Consider a gift certificate to the shop instead.
Jewelry. Unless you know for a fact the EXACT type of jewelry your child's teacher wears and needs (they may already be overwhelmed with the amount they have), this is a very iffy gift.
Trinkets and figurines. Unless they're given for a very specific purpose, these will merely collect dust over the years and clutter up shelves.
Live animals (or even stuffed animals, for that matter). As cute as kittens and baby bunnies are, they're not an appropriate gift. Unless, of course, the teacher has specifically stated that they're looking for a new kitten in the breed your cat just gave birth to.
Candy baskets. Most people are already overloaded with sugar, especially the cheap, mass produced kind, and while a few bars of really nice chocolate might be okay (or homemade chocolate bars), a whole basket of mass produced candy is simply overload that no one needs.
Baked goods. If you don't know the teacher's dietary needs or desires (maybe they're trying to lose weight or avoid sugar), this one may miss the mark.
Wall art and other home decor. Unless it's a frame with your child's picture in it, home decor is generally off limits, as you have no way of knowing what the teacher's decorative style is at home.
Mugs (with a few exceptions). Unless there's a very very very specific reason to give a mug, avoid this gift. I know that gift baskets tend to come with mugs and mugs that sport "World's #1 Teacher" are super-cute, but if a teacher gets even just 2-3 mugs each year, those mugs add up fast – and the likelihood is that your mug will end up at the thrift store.
The exception to this is a mug that a child designs, creates, or otherwise chooses SPECIFICALLY for that teacher. My mom still has a few of those kinds of mugs – those kind are cherished.
If you're a teacher, what have been gifts you've loved through the years? And is there anything you would add to our "avoid" list?
Looking for other gift ideas? Check out: