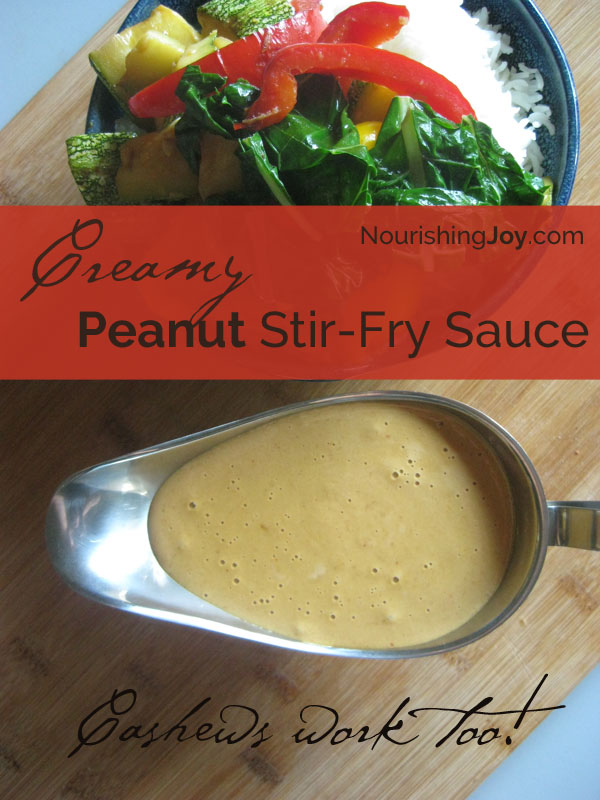 When vegetables are plentiful this time of year, a quick meal I love to prepare is a simple sauté of whatever vegetables we have on hand, a pot of rice, and this simple Pad Thai-inspired peanut sauce to pour over everything.
Of course, I'll be the first to admit that I'm a sucker for nutty flavors, so peanut sauces have long been a favorite, like Pad Thai and chicken satays. But somehow this one works well with other nuts too, such as cashews or even almonds, depending on the flavor you're going for. Mmmm…. almond chicken, anyone?
It takes about 5-7 minutes to prepare, so it definitely fits my definition of a quick, easy meal. It's also a great recipe for having kids help measure, add ingredients, and push buttons. 🙂
What's proliferating in your garden, in your CSA, or at your local farmer's market these days?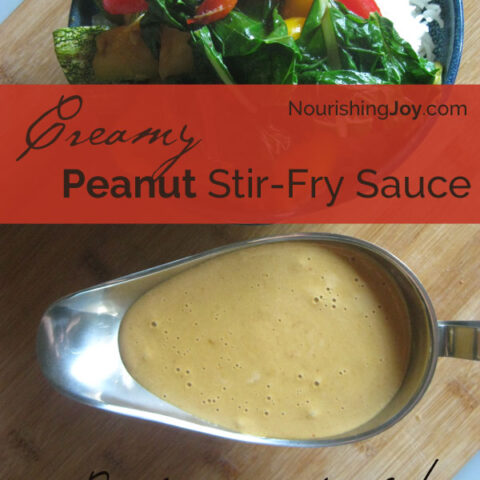 Creamy Peanut Sauce
Yield:
approximately 2 cups
Instructions
Place peanuts or peanut butter in a food processor and grind until very smooth.
Add the remaining ingredients EXCEPT for the water and process again until smooth. Then, with the motor running, drizzle in the water until you reach your desired consistency. I prefer a very pourable sauce that's still thick enough to be spoonable, but add water to your liking.
Serve over rice, stir-fried meats, or sauteed vegetables at room temperature or warm on the stove over medium-low heat, whisking often.
Store in the refrigerator for up to three days.
[social_warfare]