This post may contain affiliate links, including those from Amazon.com, which means we earn a small commission off your purchases. And here's the thing: We only mention services and products that we think are truly worth your attention, whether they're free, paid, or otherwise. This site relies on YOUR trust, so if we don't stand behind a product 110%, it's not mentioned. Period.
Tired of coming up with lunches to pack day after day?
Tired of running ragged all the time?
Longing for a home that is more peaceful and efficient?
Read on!
When I was single, dreaming of marriage and kids, I knew it wouldn't be *easy*, per se, but I sure didn't think it would be hard.
I mean, I had a very full, busy life when I was single, and I knew that it would be a creative struggle to keep all the balls in the air when a husband and kids came along.
But the reality of all that would be required of me – emotionally, psychologically, and physically – was far beyond my wildest imagination of how wifehood and motherhood would stretch me.
Of course, marriage has blessed me and deepened me in ways I can't even measure and I treasure my children more than life itself, but that doesn't mean it hasn't come without its stretch marks and moments where my absolute worst self shines through.
Is that you too? Does being a mom and homemaker ever feel a little too hard – or at least, a little too constant without downtime to just be yourself?
Of course, there's no question that you love your family like crazy and you'd do anything for them, but there's likewise no doubt that it can be an exhausting job.
So, if you hunger for your home to be more peaceful and efficient, for more margin in your life to have time to take care of yourself, for more consistency in serving healthy, homemade meals, and to not feel like you're running ragged so much of the time, then this week's deal, the 2016 edition of The Ultimate Homemaking Bundle – a whole big bundle of $1000+ of homemaking resources – is most definitely for you!
The Ultimate Homemaking Bundle has been hand-crafted to be absolutely useful to help you organize your home and your life, to manage your resources well, to take control of your schedule, and to help you regain the best version of yourself by making time to take care of yourself.
Basically, to make you feel like you're winning more often. 🙂
And to be honest, one of my FAVORITE things about working with Ultimate Bundles is that the Ultimate Bundles team takes these resources and your transformation very seriously. When you purchase a bundle, they don't just look at their bank account and say, "Yay. We sold another one. Check!" In fact, they believe your purchase is just the BEGINNING. They want to get these resources into your hands as the first step in your transformation to a more peaceful, joy-filled, organized life – and they'll prove it to you.
And I couldn't be more thrilled with that. The ENTIRE reason Nourishing Joy exists is to be a resource to provide practical solutions for healthy, joy-filled families, and true transformation is what we're all about.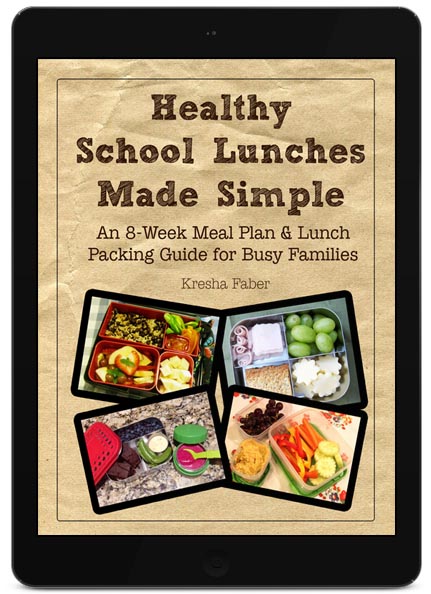 Now, even better, my book, Healthy School Lunches Made Simple, is part of this year's bundle! I only make this book available a couple of times a year, and this week, it's available as part of the bundle. So grab it while you can!
The 2016 Ultimate Homemaking Bundle is available again for just TWO days – Wednesday, June 1 and Thursday, June 2!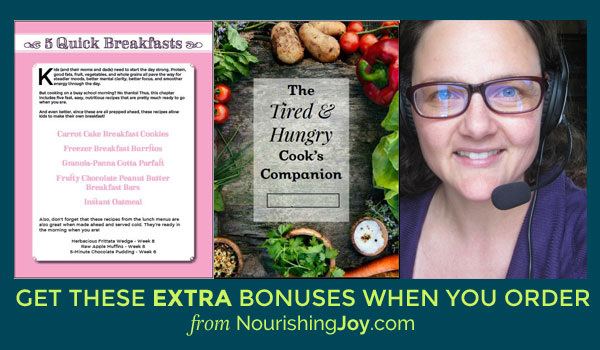 A Few Thank You's for Purchasing Via NourishingJoy.com
AAAND…. if you purchase the Bundle by clicking any of the buttons on this page, you will also receive a few EXTRA bonuses, with lots of love from me to you. <3
Since the Homemaking Bundle is focused on helping you gain even greater efficiency and joy in your home, I've gathered a few extra bonuses to that same end:
An extra chapter for the Healthy School Lunches Made Simple book with 1 week of healthy breakfasts
Two free months to the meal planning service, The Tired & Hungry Cook's Companion
A 15-minute "virtual coffee date" with me – just the two of us – where we can discuss anything you like. Want some help strategizing how to make homemade pantry staples part of your schedule? Want help thinking through the natural remedies you use in your home? Just want to introduce yourself in person? I'd love to talk and I'd love to get to know you! 🙂
To claim your bonuses, just make your purchase, then come back to this page and fill in ONE of these two forms:
If you are a NEW subscriber to The Tired & Hungry Cook's Companion, claim your bonuses HERE.
If you are an EXISTING subscriber to The Tired & Hungry Cook's Companion, claim your bonuses HERE.
The total value is an astonishing $1000+ (plus over $300 in bonuses), but you get it for just $29.97. That's 97% off what it would cost to buy everything individually!
Learn more or get your bundle now!

If you think getting all those homemaking & mothering helps for less than $30 sounds like a steal, then make sure to go HERE
to see exactly what it includes and grab yours before this deal ends! Here's just a peek: