How to Make Homemade Sauerkraut: The Quickest, Simplest, Tastiest Method
This post may contain affiliate links, including those from Amazon.com, which means we earn a small commission off your purchases. And here's the thing: We only mention services and products that we think are truly worth your attention, whether they're free, paid, or otherwise. This site relies on YOUR trust, so if we don't stand behind a product 110%, it's not mentioned. Period.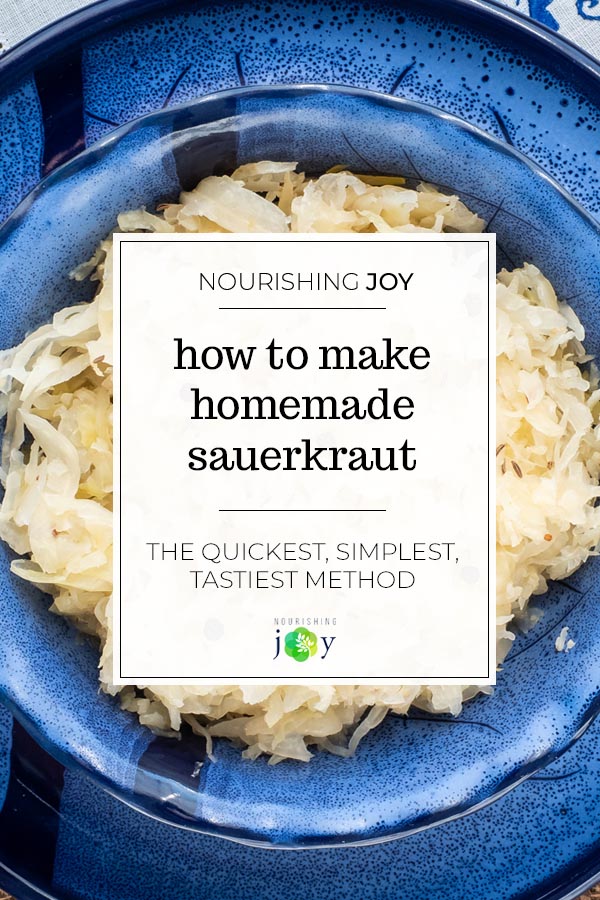 When I first started learning about traditional foods and the benefits of fermented foods, I (of course) read Sally Fallon and Mary Enig, PhD's cherished tome, Nourishing Traditions.
And when I first forayed into making fermented foods at home, like many others before me, I started out by making sauerkraut. (Well, after yogurt, since that was pretty easy too – sauerkraut is even easier.)
The problem was, however, that the step-by-step instructions in Nourishing Traditions included these directions:
"Pound [cabbage] with a wooden pounder or meat hammer for about 10 minutes to release juices."
Seriously?
Who wants to stand at the counter and pound cabbage, just to release its juices??? It sounds benign, but after 10 minutes…. that's a serious arm workout.
I did it the first few times I made homemade sauerkraut because I figured if people through the centuries had pounded their cabbage, then by all means, I could do it too.
But I quickly figured out that there is a much, much, MUCH better way to release the juices from the cabbage – and it doesn't involve bruising the cabbage in the process. 🙂 It also can be called a "traditional" method, as various Eastern European cultures have used this method for hundreds of years.
Thus, this is my old-fashioned, no-pound, classic sauerkraut recipe that is the quickest, simplest way to make homemade sauerkraut. And honestly, it's the tastiest too! Letting the salt do the work produces a beautifully tasty, perfectly tangy sauerkraut with *just* the right texture.
And of course, when I published my OWN book, The DIY Pantry, this is the sauerkraut recipe I included in that book too. ❤️
How to Make Homemade Sauerkraut: The Quickest, Simplest, Tastiest Method
Perfect on hot dogs or on its own, this classic, old-fashioned homemade sauerkraut is about as simple as it gets.
Equipment
Fermentation airlock (optional)

Quart-sized canning jar
Ingredients
1

medium

head of cabbage

,

about two pounds, shredded

2

tablespoons

sea salt
Instructions
Place all the ingredients in a large bowl. With very clean hands, knead and massage the salt into the cabbage until the cabbage shreds begin to go limp, 1-2 minutes.

Pack the mix into a sterilized Mason jar, pushing down on it as you go to release more juice. If the vegetables are not covered in brine once you reach the top, add more salt water to completely submerge them.

Cover tightly with a lid or a fermentation airlock (remember to burp the jar if using regular Mason jar lid).

Set aside at room temperature for 10-14 days, adding a bit of salt water each day if the top of the vegetables become dry. Refrigerate when the flavor is to your liking – the flavor will continue to improve for several months.

Store in the refrigerator for up to 6 months.