How to Make Perfect Lemon Curd
This post may contain affiliate links, including those from Amazon.com, which means we earn a small commission off your purchases. And here's the thing: We only mention services and products that we think are truly worth your attention, whether they're free, paid, or otherwise. This site relies on YOUR trust, so if we don't stand behind a product 110%, it's not mentioned. Period.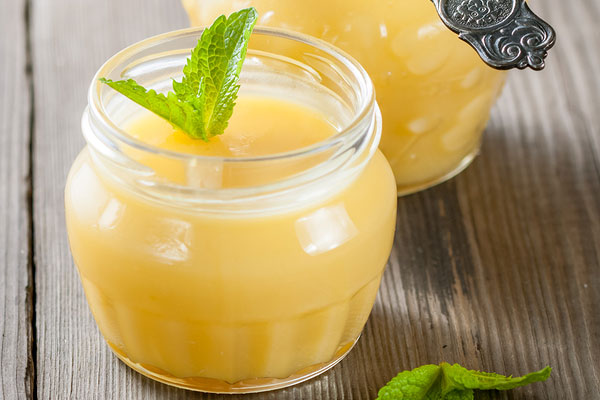 It's spring – and thus it's the season for light, refreshing flavors.
Homemade lemon curd is just one way to bring lemon flavor to light and curd makes any dreary day a bit cheerier. Not to mention elegant! Adding lemon curd to yogurt, dolloping it on top of a piece of cake or toast, or mixing it into a simple panna cotta simply makes the day feel just that much more civilized.
Perfect lemon curd isn't difficult. If you've got a 100% stainless-steel or glass mixing bowl that will easily nest inside a sauce pan without touching the bottom, your job will be extra-easy. I tend to keep a set on hand (this one, in fact) with multiple sizes so I can easily fit a bowl properly inside any saucepan.
And best of all, this can be done with any citrus fruit. Just swap out whatever flavor you'd like.
(In fact, you can use almost any fruit, provided you are able to extract only the juice without any pulp.)
So, onward and upward. Let's make lemon curd!

How to Make Perfect Lemon Curd
Now, with most lemon curd recipes out there, you end up with a few bits of curdled egg in the final mixture that must be strained through a sieve. The result is still a scrumptious lemon curd, but when I make lemon curd, I want a quick, simple process that renders a super-silky curd without extra steps.
The change-up is simple.
Most recipes call for cooking the lemon-egg mixture and then stirring in the butter to create the emulsion. However, if you beat the butter and honey together as a FIRST step and then continue to beat in ALL the ingredients before it even gets heated, the result is a no-straining-required, silky-smooth curd after cooking.
Happy eating and happy spring!
Perfect Lemon Curd
Ingredients
5

tablespoons

butter

,

at room temperature

¼

cup

honey

4

large egg yolks

,

at room temperature

⅛

teaspoon

sea salt

½

cup

freshly squeezed lemon juice

,

strained
Instructions
Cream the butter in the bowl of an electric mixer. Add the honey and beat until fluffy and light.

Add the yolks one at a time, beating well to incorporate after each addition.

Sprinkle in the salt; then reduce the speed to low and gradually add the lemon juice so as not to splash. Mix until homogenous, but don't worry if the mixture looks curdled at this stage.

Meanwhile, fill a saucepan one-third full of water. The saucepan should be large enough to allow a mixing bowl to dip down at least halfway into the saucepan, but unable to touch the top of the water. Bring the water to a boil over high heat, then reduce heat and maintain a simmer over medium heat.

When everything is mixed, place the mixer bowl on top of the saucepan or pour into a mixing bowl that can be placed over the saucepan.

Heat slowly, whisking constantly, until the butter melts and the mixture is thick enough to coat the back of a spoon, about 10 minutes. The mixture will be 170-175°F. To test for doneness, dip a spoon in the mixture. The mixture should cling thickly to the spoon and if you drag your finger through the mixture on the back of the spoon, a clear path should remain where your finger went.

Cover and chill in the refrigerator until firm, at least 1 hour. Keep in mind that the curd will thicken as it cools.

Store in an airtight container in the refrigerator for up to 2 weeks, or in the freezer for up to 2 months.