Scrumptious Chimichurri Sauce
This post may contain affiliate links, including those from Amazon.com, which means we earn a small commission off your purchases. And here's the thing: We only mention services and products that we think are truly worth your attention, whether they're free, paid, or otherwise. This site relies on YOUR trust, so if we don't stand behind a product 110%, it's not mentioned. Period.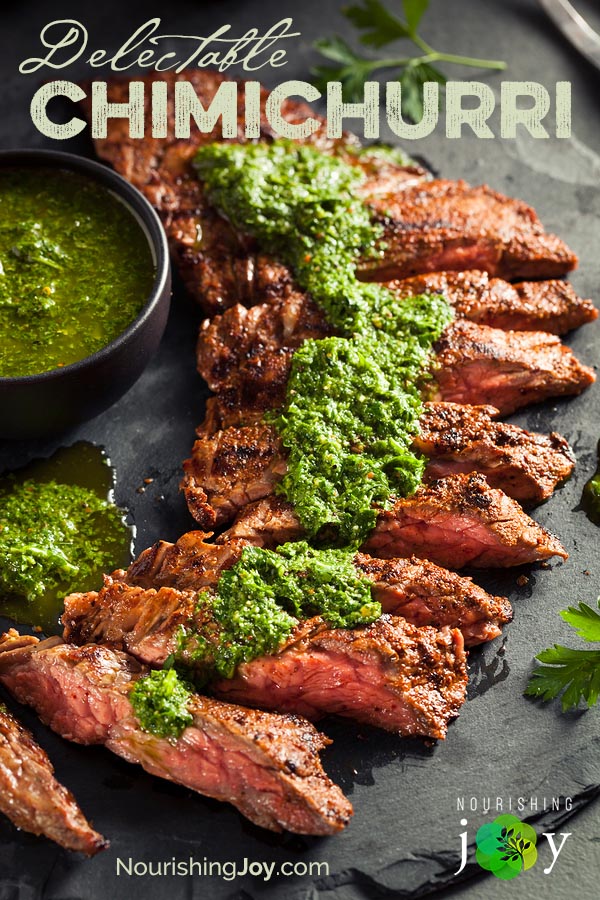 I've been looking for an excuse to post this scrumptious, herby chimichurri recipe for some time.
So when ButcherBox approached me to offer a special deal for my readers (a.k.a. free ribeye steaks), I knew the time had come. 🙂
However, since I myself have not been a customer of ButcherBox until now, I also wanted to try the steaks. After all, I'm not going to recommend a product to you all – no matter HOW good it sounds – if I haven't tried it myself.
(I mean, having grass-fed meat shipped directly to your door at a price similar to what you would pay at the supermarket sounds very enticing, but what if it's tough or stringy, like grass-fed beef sometimes has the reputation of being?)
And – people! – these steaks were amazing! I love beef and I will openly admit that I have cried while eating grilled beef in Guatemala, Brazil, and Argentina because it was so amazingly good – and this rivaled them all.
And this brings me back to the chimichurri….
Chimichurri is an Argentinian parsley-based sauce and it's exactly those fresh herbs that pair so beautifully with the intense flavors of the red meat. It's also a great way to up your intake of vitamins. As I wrote a few years ago in my article on how to eat more greens in winter:
"In fact, ounce for ounce, fresh herbs like oregano, rosemary, tarragon, dill, thyme, parsley, and basil are among the most nutritious greens you can find. For example, if compared by weight to lettuce, parsley provides three times as much vitamin A, four times as much calcium, five times as much iron, 17 times as much vitamin K, and 44 times as much vitamin C!

And, like other greens, they're also anti-oxidant, anti-bacterial, anti-inflammatory, and they're very rich in a wide range of disease-fighting phytochemicals."
For serving, I recommend grilling or pan-searing the steaks to medium, then thinly slicing the steaks crosswise and arranging all the pieces on a serving board or platter. You may either spoon the chimichurri over the steaks before serving or place it on the table so each person can serve themselves.
So, what's the deal with ButcherBox?
First, what IS ButcherBox? ButcherBox is a delivery service that ships grass-fed, sustainably-raised meats directly to your door. You choose the frequency of how often they ship and what type of meats you prefer. You can set it so you automatically receive a box with all your meat for the month or you can order one box to try it out and cancel right away – totally up to you.
Basically, it's your meat for the month, in one simple box.
And the pricing is competitive!
The boxes start at $129 a month – which at first seriously made me gasp because that seems like so MUCH – but then I crunched the numbers and realized that since the box comes with 8-11 lbs of meat, which is enough for approximately 20 individual meals (assuming an average 6oz portion size), the price works out to less than $6.00/meal – and shipping is free to the contiguous 48 states.
That's definitely the same or better than my local prices!
If you're interested, get more detailed information here.
Chimichurri Sauce
Ingredients
1

large bunch parsley

4

large cloves garlic

,

peeled

2

stems fresh oregano

,

leaves only

½

teaspoon

crushed red pepper flakes

½

teaspoon

sea salt

1

tablespoon

red wine vinegar

½

cup

olive oil
Instructions
Place parsley (stems and all), garlic, oregano, red pepper flakes, and salt in a food processor and pulse until the mixture is finely ground. Add red wine vinegar and pulse briefly to mix.

Scrape the mixture into a bowl and pour over olive oil. For best flavor, let sit at least 20 minutes, then serve.
Notes
This chimichurri sauce may be made up to one day ahead.