Treating a GBS+ Pregnancy Naturally
This post may contain affiliate links, including those from Amazon.com, which means we earn a small commission off your purchases. And here's the thing: We only mention services and products that we think are truly worth your attention, whether they're free, paid, or otherwise. This site relies on YOUR trust, so if we don't stand behind a product 110%, it's not mentioned. Period.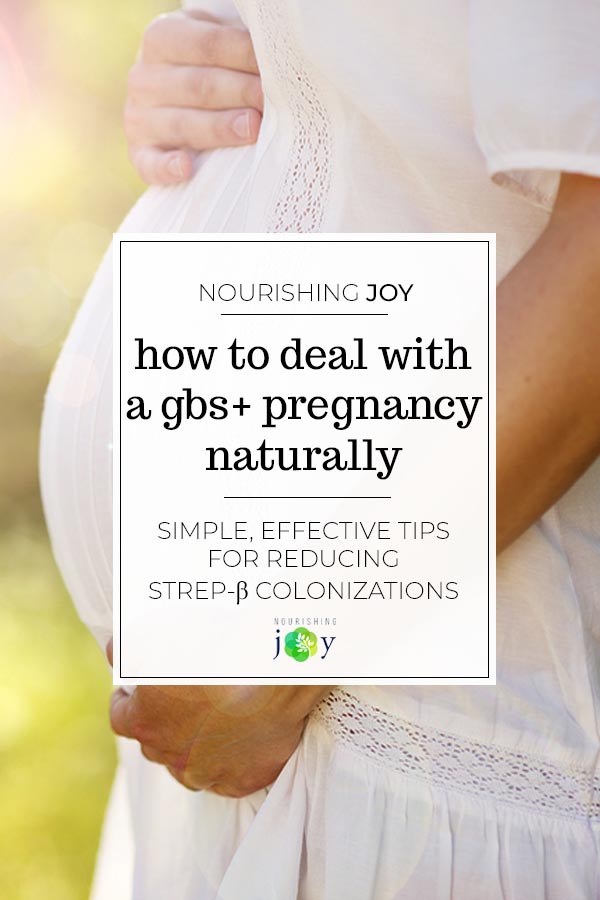 Toward the end of pregnancy, most women are offered the option to test for Group-Beta Streptococcus (GBS), a bacterial colonization that exists in 25-30 percent of all healthy women. Since I've tested positive in all four of my own pregnancies, I've certainly given lots of thought to how it affects my babies during childbirth.
What Is Group-Beta Strep (GBS)?
GBS is a normal colonization of streptococcus bacteria in the reproductive and digestive tracts. Many women who have it don't even know it – and that's fine. The only issue is in childbirth and the exposure of the infant to the bacteria.
The bacteria can cause sepsis (infection of the blood), pneumonia (infection of the lungs), or meningitis (infection of the fluid around the brain). Since the consequences can be severe, even fatal, and can happen within hours of delivery, it's common practice for midwives and doctors to routinely check for the bacterial colonization during pregnancy, but it should be noted that it is very rare for a baby – even when exposed to the bacteria – to become sick (less than 1%). It's one of those things that falls in the "likely won't have to deal with but this is serious business and we want to be prepared, just in case" category.
The conventional way to treat GBS+ mothers is to put them on IV antibiotics during delivery, administered every four hours. Penicillin, amoxycillin, or ampicillin are the usual suspects, so alternative methods may be especially helpful if you have allergies to any of those.
With my first child, I didn't think twice about the conventional methods. It was a very long delivery and I received at least seven doses. By the time my second child was born, we were starting to rethink our entire lifestyle, and we were uncertain we wanted our child exposed to antibiotics at such a tender age – as it turned out, he was born so quickly that there was no chance to even give the antibiotics. (Goodness, we didn't even make it to the hospital!)
When I tested positive for GBS with my third child, I took everything I'd learned from my previous pregnancies, talked with a number of midwives, devoured information from professional publications, and came up with a few ways I trusted to treat my GBS naturally.
Before we go on, I must remind you: I am not a medical professional and what follows is how I treat my own GBS pregnancies (and other modalities I would consider) and is not to be construed as medical advice. All good? Fabulous. 🙂
Why Go Natural?
Despite my longing to live life as naturally as possible, let me say loud and clear that I am incredibly grateful to live in an area of the world where I have easy and ready access to quality medical care, be it conventional or traditional. Never once have I worried that I would die in childbirth, for example, as is the case in many areas around our globe, even in our modern day.
That said, I loathe that much of modern medicine seeks to treat merely symptoms without thought to the whole. In the case of dealing with GBS and newborns, there is evidence that using antibiotics actually increases the chance the newborn will become ill (source unknown – see comments below), and not just from GBS. E-coli and other antibiotic-resistant bacterial strains can also remain after antibiotic administration. (Sources: Journal of Perinatology, Mothering.com, Polski Merkuriusz Lekarski)

This, obviously, was worrisome to me.
And honestly, there's also the issue of just plain comfort and convenience. During the work of childbirth, I don't want to have to hook up to an IV on a schedule, or even worse, be confined to a bed. If I'm in the shower or a birthing tub as a way of managing contractions, I don't want to have to leave the lovely, soothing water just because it's time for the next dose. Not my idea of fun.
Update 01 Oct 2014: Science & Sensibility just published a really interesting follow-up on the Cochrane Library's review of studies done regarding intrapartum antibiotics for mothers with GBS colonization, basically evaluating the last several years of research. Read it here.
High Risk?
Use these methods throughout the last month of pregnancy or as soon as you find out you are GBS positive. If at any point you become high-risk,
you deliver before 37 weeks
you are in labour more than 17 hours after your water breaks
you have a severe urinary tract infection in the last trimester
you develop a fever before or during labor
antibiotics may be absolutely necessary. Obviously, talk with your doctor or midwife ahead of time to develop a plan.
Natural Methods to Treat Group-Beta Streptococcus
Although there are no official studies that prove these methods and they are purely anecdotal, the methods listed here have been used and trusted by traditional medicine practitioners for decades, some for centuries. Some sources even mention that traditional societies have used garlic and diets high in fermented foods to treat these types of issues for thousands of years.
All natural treatments for GBS seek to achieve a common result: to reduce or eliminate the amount of streptococcus bacteria to which the newborn is exposed.
Herein lies the crux: all the preparations you do are to REDUCE OR ELIMINATE the amount of bacteria present in order to minimize your newborn's exposure. Even if you plan to use conventional antibiotics during labor, I would still recommend doing these natural preparations ahead of time, specifically because they help minimize any colonizations that might exist.
Systemic and Immunotherapy Methods
Probiotic Diet
Eating plenty of fermented and cultured foods is an important part of any healthy diet, but especially so when treating a bacterial colonization. Make sure to eat or drink at least 3-4 generous servings of foods high in lactic acid bacteria each day – yogurt, sauerkraut or other fermented vegetables, milk kefir, water kefir, kombucha, and sourdough, for example. You can also sneak probiotics into your condiments and dressings too, so you're packing your diet full of lovely healthy lactobacilli.
Alkaline Diet
This method won't be particularly helpful for treating GBS by itself, but it can help make other methods more successful by supporting them systemically. Our modern diets, even those who eat only whole foods, are largely acidifying to the body. Harmful bacterium and diseases, such as various cancers, grow and thrive in an acidic environment. Thus, if we eat foods that alkalize the body, we create an environment that is not conducive to supporting those organisms. There are many food charts around the internet to show which foods alkalize our systems and which are more acidifying, but here's a simple one at Squidoo.
Probiotic Supplements
You can also pack a punch into your system probiotically by using a very high dosage probiotic supplement, usually available at your local health food store or naturopathic pharmacy. You want something with at least 10 billion live organisms per serving – this last pregnancy I used this one from Metagenics.
Reduce or Eliminate Your Intake of Sugar
Sugar helps bacteria and yeast grow and thrive, so eliminating it from your diet will help quell the growth of the streptococcus bacteria. This is one time when the type of sugar doesn't really matter – sugar is sugar when it comes to how well it helps bacteria grow. Obviously, I recommend sticking with natural sugars as much as possible, but reduce your sweets as much as possible.
Herbal and Probiotic Treatments
Probiotic Suppositories
If you want to target the colonization very locally, you can use your probiotic gel caps as a suppository. Insert one vaginally in the morning and another at bedtime.
This can be an especially recommended method, as you want to rid the birth canal of the GBS, but you want lots of good, healthy bacteria for your baby to be exposed to during labor. (Don't believe me? Read Nourished Baby by Heather Dessinger – it's one of the most quick-reading yet thought-provoking guides to proper nourishment for babies and mothers-to-be I know of.)
Yogurt Douche
I know this one sounds a bit crazy (and you really must make sure you flush all the yogurt out afterward!), but midwives from around the world report that this is successful in dealing with a GBS colonization.
Put 1 cup of yogurt into a douche bag and allow the yogurt to wash over the inner walls for several minutes. If you want to pack an extra punch, pull open one probiotic gel cap and sprinkle the cultures into the yogurt before douching. This should be repeated once or twice a week until delivery.
To read how to douche properly and ensure no yogurt remains that can cause infection, visit Midwifery Today.
Raw Garlic
This is another method that sounds a bit from the annals of quackery, but garlic is a well-known natural antibiotic and bacteria cannot live in the presence of garlic – thus using one large clove as a suppository can be surprisingly effective.
Take one large clove of garlic, puncture it with your fingernails, and insert it vaginally at bedtime. Leave it there overnight and either let it fall out when you urinate in the morning or sew a large loop of thread into it so you can remove it in case it doesn't fall out.
If the thought of using garlic as a suppository is just too… weird… you can ingest the raw garlic instead. You'll need to eat several cloves raw each day, so be creative in getting it into your diet. Add it to salad dressings, sprinkle it raw on top of eggs, or combine it with olive oil as a dip for sourdough bread, for example.
Herbal Oil Suppositories
Various herbal essential oils, such as oil of oregano, tea tree oil, and rosemary oil, are also antibacterial and create a hostile environment for the streptococcus strain.
To use this method, mix 1-2 drops of essential oil in a few tablespoons of olive oil. Dip or roll a tampon in the oil and insert it, being careful not to shove it directly against the cervix. Leave it there for 4-6 hours and repeat daily.
Anti-Septic Wash During Labor
Chlorhexidine Gluconate, also named Hibiclens, Dexidin, Stanhexidine, or other brand names, is a surgical antiseptic wash that flushes the vaginal canal during labor. This cleans the area just for the period of time that the baby is in birth canal, which is certainly advantageous.
Strep bacteria are particularly sensitive to chlorhex compounds and thus it can be used to kill the strep without harming the more hardy, normal vaginal flora. Definitely a plus!
Using the wash is quite easy to do and you can find it at your local compounding pharmacy or online. I even found it at a standard pharmacy once by just asking at the pharmacy window, as they had it behind the counter. Read more at GentleBirth.org.
Have a Water Birth
According to a number of studies, giving birth in warm water is purportedly the safest way to reduce the baby's chance of contracting GBS. If you are willing to consider a water birth, this is an excellent prophylaxis for a GBS infection.
Research & Further Reading
Treating Group B Strep: Are Antibiotics Necessary? – from Mothering.com – an extensively researched report and an excellent resource
How to Overcome Candida – from Nourished Magazine – not specifically about GBS, but has scads of excellent information about using diet to deal with various flora that has grown out-of-hand
Midwifery Today E-news – July 9, 1999 and September 12, 2001
GentleBirth.org – a forum and collection of midwifery related articles – this is an entirely anecdotal site and includes no professional publications, but is helpful for hearing from experienced midwives, many of whom have practiced for decades
Note: Any information obtained here is not to be construed as medical or legal advice. The decision to use antibiotics or any other GBS treatment is yours and yours alone. See our full disclaimer here.