How to Find Holistic Health Care
This post may contain affiliate links, including those from Amazon.com, which means we earn a small commission off your purchases. And here's the thing: We only mention services and products that we think are truly worth your attention, whether they're free, paid, or otherwise. This site relies on YOUR trust, so if we don't stand behind a product 110%, it's not mentioned. Period.
"Health" is a catch-word these days: we're told to "eat healthy," "look healthy," and "feel healthy." But what does that really mean?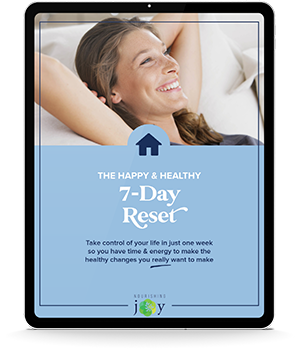 More calm, less chaos.
Use our step-by-step method to take charge of your life so you have time for what *really* matters.
The first thing any medical student learns (apart from the Hippocratic Oath to "First Do No Harm") is the understanding of homeostasis – when all things are in balance in the body, all is well. The person is healthy.
Conventional medicine these days largely attempts to achieve homeostasis through pharmaceuticals and symptomatic treatments rather than holistic ones. When I visited a specialist a few years ago with a specific skin condition and the first pharmaceutical prescribed didn't work, the specialist told me, "Well, let's just cut it off." Don't get me wrong, I have no problem with surgery in due course, but I was very put off by the fact that the doctor didn't even attempt to ask, "What caused this?"
"What Caused This?"
That is, in a nutshell, the question naturopaths and holistic dentists strive to answer. In treating health issues, they tend to look for the root cause of a problem and treat that issue, rather than treating just the symptom. The shortest appointment I've had with a naturopathic doctor was 45 minutes – the very appointment itself is designed to discuss, listen, and triangulate symptoms.
Also, the practitioner looks at the health of the whole body in relationship to the part in question, including in dentistry. A holistic dentist isn't just concerned with your mouth, but with how the mouth interacts with the rest of the body. Weston A. Price, who is held in high regard for his studies on nutrition, was a dentist, not a doctor, and he believed strongly that it was through the diet that strong and healthy teeth could grow and be maintained.
Alternative practitioners also focus on the body's ability to heal itself – I love this because it's marveling at the incredibly complex and intricate immune system with which we are created, and there is a sense of awe and wonder that the body has the ability to heal, even in an entropic world.
Midwives encourage birthing women to take their time and let the body do what it needs to do. This is at odds with conventional birthing practices, as can be seen even just by looking at the current rate of Ceasarean sections in the US.  The current rate is above 30% ((Childbirth Connection)), although many midwives would argue that the percentage of C-sections that need to be performed is less than 3%.
Now, I don't mean to put alternative health care practitioners on a pedestal, as their profession is fraught with pitfalls just as every other profession is, as well as there are many many conventional doctors who work hard to provide their patients with wise, compassionate, innovative care, but by and large, I have found the most satisfying medical experiences to be with ND's and other alternative providers. A few push the sale of supplements a bit too much, but that's about the same as a physician who prescribes the latest drug at each visit.
Find a Provider
When looking for an alternative care provider, be sure to check with your insurance to see how and what they cover. For example, our current plan will reimburse us for 80% of the cost of the visit, but we have to pay in full upfront. Also, double check with the care provider to see if they will bill for you or whether you have to take care of dealing with the insurance provider yourself.
In addition to these sites, be sure to Google your city's name with "holistic dentist," "natural pharmacy," or "midwife," especially for those categories here that only have 1-2 links. I find the following links a good place to start, but I know for a fact there are some good practitioners and businesses who are not listed here, but who can be found with a simple Google search.
Naturopaths & Homeopaths
American Association of Naturopathic Physicians
Canadian Association of Naturopathic Doctors
FindaNaturopath.com
Homeopathy Home links to searchable databases
Hmedicine Resource Guide
TalkInternational.com Health Services Directory
National Center for Homeopathy
Holistic Dentists
Holistic Dental Association
Mercury Free Dentists
TalkInternational.com – The Source for the Mercury Toxicity Issue Community since 1997
Natural Pharmacies
If you are unable to find a natural pharmacy in your area, search for a compounding pharmacy that will be able to mix your prescriptions from raw materials without additives.

PharmacyZone Independent Pharmacy Directory
Finlandia Pharmacy – Online Natural Pharmacy
Midwives
BirthPartners Directory
American College of Nurse-Midwives – US listings only
Citizens for Midwifery – state-by-state guide to midwifery
Mothers Naturally – US listings only
Midwifery Today
Canadian Association of Midwives
Holistic Psychologists
American Holistic Health Association
Christian Counseling Resource Directory – US listings only
International Listings
I am woefully ignorant when it comes to medical care outside of North America. Can any of you lovely readers suggest resources for holistic health care on other continents?