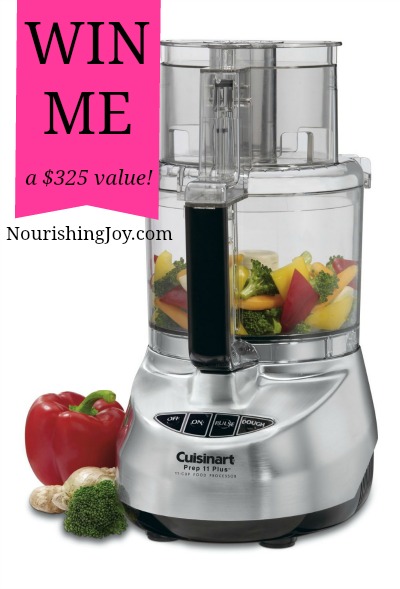 This post contains affiliate links. If you make a purchase via these links, Nourishing Joy will receive a small portion of the purchase amount. As always, thank you!
In thankfulness and celebration for YOU, this Nourishing Joy community, I'm offering this month's giveaway! I am so grateful for each of you – together we're on a journey to avoid processed foods, live non-toxic, and nourish joy as often as we can.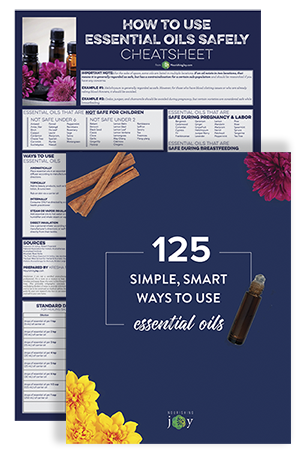 Make using essential oils EASY with our at-a-glance cheatsheets.
Be confident in using essential oils safely AND effectively! Simply click the button to download these two popular cheatsheets and see just how easy using essential oils SAFELY can be.
Thus, I'm giving away an 11-cup Cuisinart Food Processor, the tool I use most in my own traditional food kitchen! You voted on Facebook for this prize and I'm more than happy to oblige, since this is one of my most-used and most-beloved kitchen tools.
I have used this exact machine for more than seven years and LOVE it. I tested all 400+ recipes for my three cookbooks on this machine, have made endless batches of pâté, shredded hundreds of pounds of cabbage for sauerkraut, and whipped up our favorite raw chocolate mousse to creamy smoothness without blinking an eye.
How to Enter

Click this link: 11-cup Cuisinart Food Processor
This will take you to Amazon.com (affiliate) so you can see exactly what you'll win. Please do check this, as I don't want there to be any confusion between us. I like you just the way you are, and I don't want there to be any hard feelings.

If you don't already receive our e-mails, sign up for the Nourishing Joy email newsletter using the form below. I hate spam (maybe even more than you do), so be assured that your name and e-mail will reside solely in this database for our newsletters only. We will never sell or reveal your name to anyone outside of Nourishing Joy.
And just a note – you have no idea how often I select a name in these giveaways and then discover that person isn't on the e-mail mailing list. Don't let that be you! You can always unsubscribe after the giveaway is over, but please do sign up – it's a requirement for winning! When I draw your name, I want to actually be able to send you the prize that you've won….
The emails you'll receive will include:
Real Food Recipes
Practical Tips for Natural Health & Beauty
Natural Living Food for Thought
Natural Babycare
Ways to Nourish Joy in YOUR Home
You may unsubscribe at any time. However, YOU MUST be signed up for the newsletter at the time the winner is announced in order to be eligible to win. (Contest closes October 31, 11:59 p.m. PDT)

Just enter your email address below and hit SUBSCRIBE.

Verify your entries with the form below. Clicking each box below is like dropping each ticket in the entries box – even if you do the steps above but don't "drop your tickets in" I won't know you've entered. Just click the green buttons (they turn green when you hover over the numbers) to make sure your entries are recorded.
And if you live outside the United States, you ARE eligible to win, but your prize may vary a little. Be sure to read the terms and conditions at the bottom of the form.
[social_warfare]