Father's Day Gift Ideas: 8 Great Gifts for Dad You Can't Get in Stores
This post may contain affiliate links, including those from Amazon.com, which means we earn a small commission off your purchases. And here's the thing: We only mention services and products that we think are truly worth your attention, whether they're free, paid, or otherwise. This site relies on YOUR trust, so if we don't stand behind a product 110%, it's not mentioned. Period.

Father's Day is just around the corner and I'm here to assure you that there is no need to run to the store to pick up a necktie or a bottle of cologne (unless, of course, that's exactly what he has asked for).
However, there are a few very simple gifts that you can make yourself that will be cherished far more for years to come.
So, here are just a few ideas for telling Dad how much you love, appreciate, and respect him – some from the kids and some from you.
1. A clever photo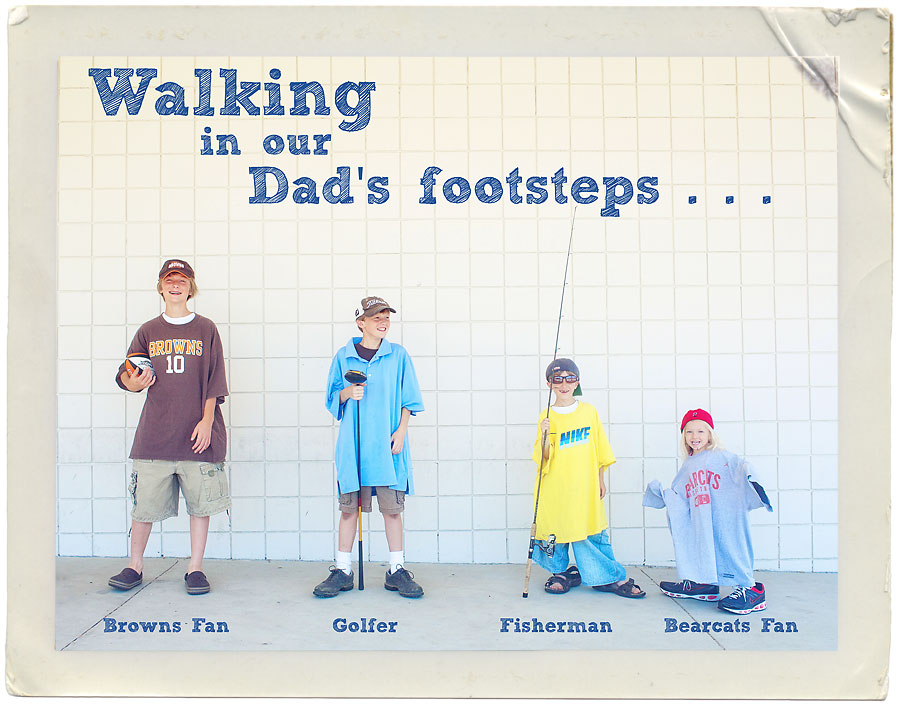 A creative photo. Set up your kids with a common-theme and snap a photo. For example, I've been SO inspired by all the super-creative ideas over at Freckle Photo Blog. The above photo showing all the kids in the family dressed in Dad's clothing to represent his interests is just one of many cute and creative ideas there. You can see more about the "Walking in Our Dad's Footsteps" photo idea HERE, plus check out the cute photo collage idea using all the kids' feet, plus a number of other photo challenges for Father's Day.
2. A photo collage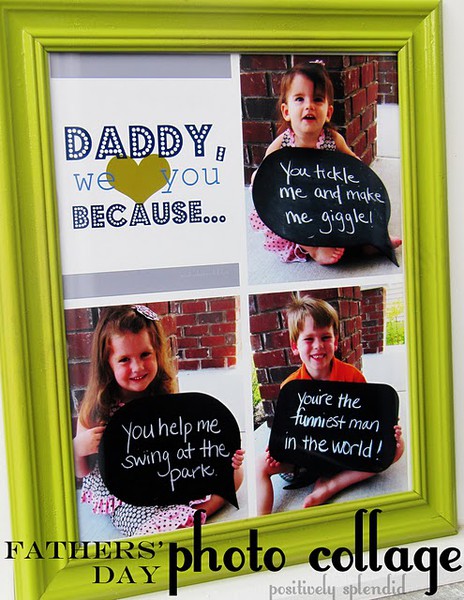 A photo collage. Another photo collage idea is to take pictures of each child holding a sign telling what they love about Daddy. (They don't have to be as picture-perfect as these ones. I'm sure a piece of paper could turn out just as cute!) The especially cute collage above was definitely not designed by me – I'm not nearly that crafty – so click over to Positively Splendid to get the directions.
3. A homemade book about Dad
Father's Day booklet. For the young ones in your family, have them draw, write, and design in this book, telling the Story of Dad from their own perspective. These are designed to be keepsakes and my heart melts every time I see what my kids have designed. <3
Click here to get the booklet and instructions.
4. Foot rubs, back rubs, and deep relaxation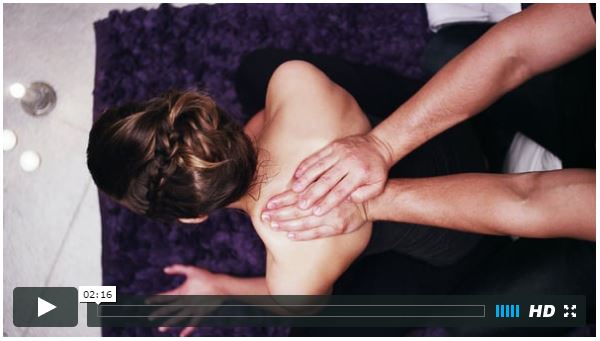 Foot rubs, back rubs, and deep relaxation for both of you. Absolutely we want the children in our families to celebrate Daddy and the other father-figures in their lives, but it's important for us as wives, as well, to honor Dad! After all, as parents we're in this journey TOGETHER and taking a few moments often to communicate how much we love, appreciate, and respect each other is vitally important.
So, on Father's Day, why not give a gift that will keep on giving all year round, and that will help each of you relax and reconnect on a regular basis – the fruits of which will re-energize both your parenting and your marriage!
Melt: Couples Massage Courses is a super-classy, online e-course specifically designed for couples to learn how to massage each other safely and effectively, without the need for massage tables or fancy equipment. The Father's Day videos include all the videos for backrubs, as well as foot rubs! So basically, it's just you and your spouse and a whole lot of relaxation. Pair it with our DIY Massage Oil for a simple, lovely gift.
Also, Denis – the instructor of the Couples Massage Courses – has designed something special for Father's Day (which you can use even if you don't purchase the course!). Click over to read all about it for yourself.
5. A Bacon Rose Bouquet
A bacon bouquet. Nothing says "I love you" quite like cured meats (unless, of course, your man is a vegetarian…..) but this is a super-fun way to show a little love and appreciation. The best tutorial I've seen for bacon roses is at Our Best Bites, but the one thing I would add is that when you roll up the bacon, keep the fatty end all nice and tight (which is on the bottom of the rose), but sort of fan out the meaty top end if you possibly can.
Otherwise, the outside gets nice and crispy, but the insides of the blossom remain soft. So, while still delicious, if you or your husband tend to like crispy bacon, you'll want to keep those top ends from touching while still keeping the bud shape. This is where toothpicks come in super-handy. 🙂
6. DIY Outdoor Games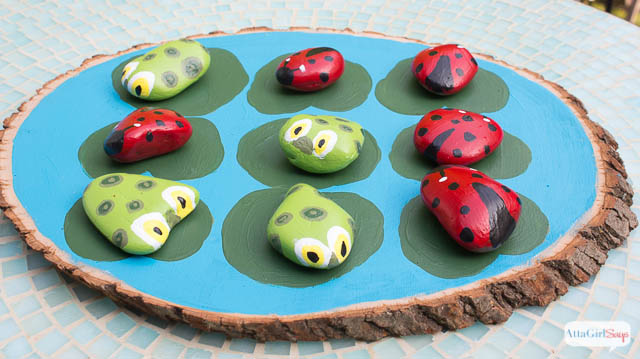 An outdoor game. My husband *loves* playing games with the kids, so homemade outdoor garden games are definitely a gift he would appreciate. This super-cute DIY Ladybug/Tadpole Tic-Tac-Toe is a great example, although in our case we would gather rocks and wood from around our property. Visit Attagirl for all the directions.
7. Father's Day gloves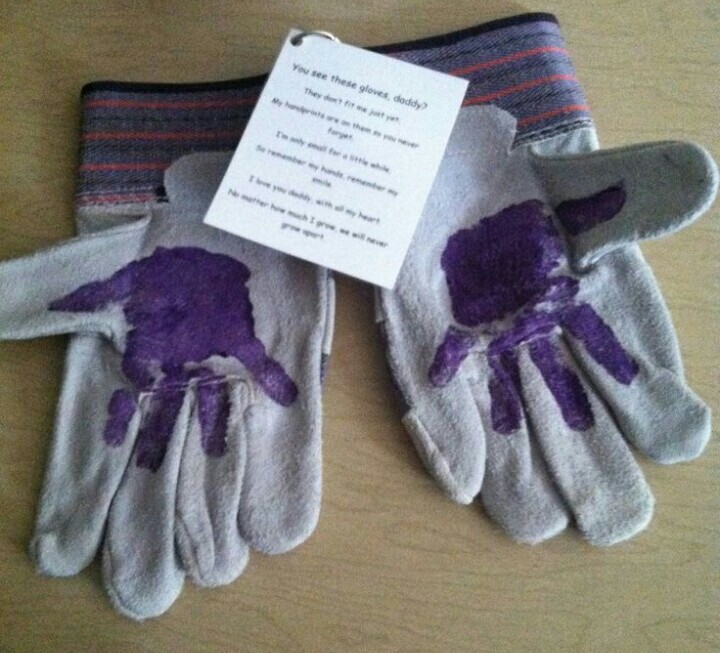 Father's Day gloves. I found this image on Pinterest and it's not linked to any other site, so I have no idea who originally came up with this idea or where to send you for directions, but nonetheless I thought it's a lovely little gift for Dad, whether he uses work gloves or not, just because it's rather iconic. Be sure to use fabric paint for the child's hand prints, or the paint will rub off super-fast.
8. Words of Affirmation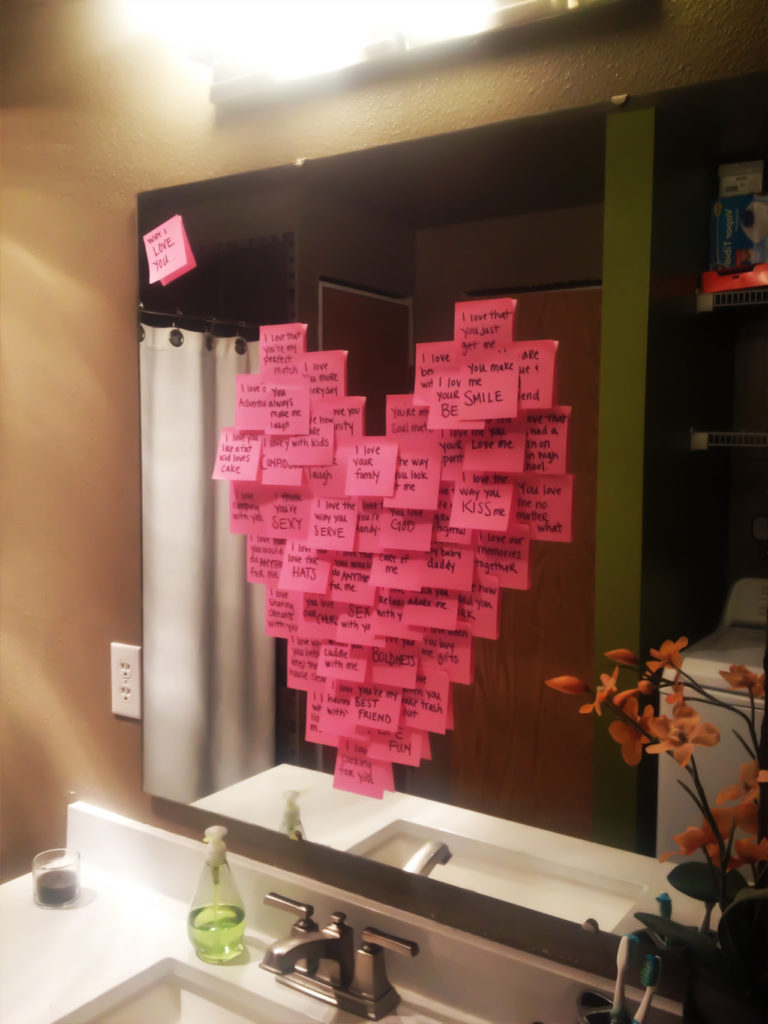 Words of affirmation. In the same spirit as #2 and #4, this is a simple way for both you and your kids to tell Daddy how much you appreciate him. I love the Post-It Notes creating one big shape, but you could also place dozens of notes around the house, car, etc so that he's finding them all day long. Or have everyone in the family write several notes and place them around the house! Visit Life Lives Here to see more about this heart-shaped affirmation.
So, those are just a few ideas to get you started! Do you have ideas you've used in past years you'd love to share with other readers? Please leave them in the comments!